Choose Anglepoise to create the perfect gift for someone special.
The team at David Village Lighting have compiled a list of the best gift ideas for someone special this Christmas. Selecting items from Anglepoise that are a variety of different price ranges and different styles, we have created a gift guide that will surely have something for everyone.
Under £100 – Anglepoise Original 1227 Fixed Mini Table Lamp (£97.50) – perfect for all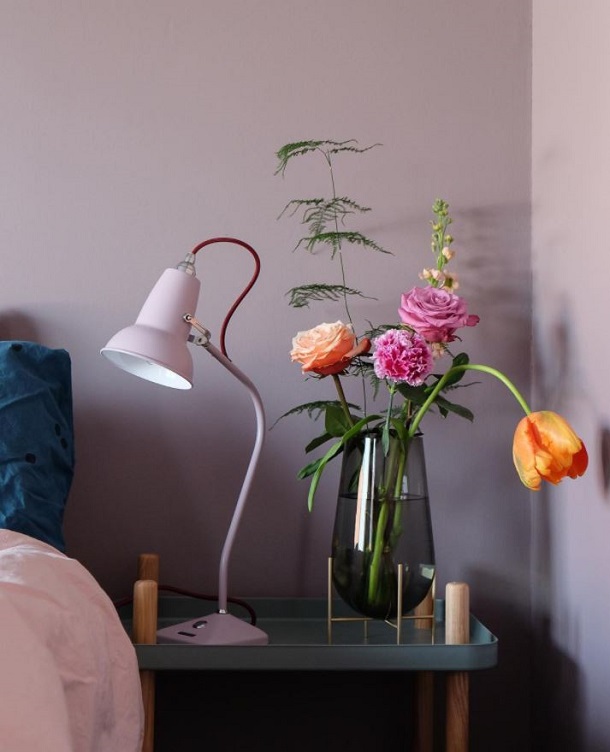 Reduced down to two thirds of the Original iconic lights size, the Anglepoise 1227 fixed mini table lamp is perfect for smaller spaces. This is a playful, versatile, contemporary version of the iconic and beloved, a quintessentially British, Anglepoise design, but on a smaller scale. Available in a selection of stunning colours, including dusty pinks (making it great for a dressing table) or a linen white (which is guaranteed to match any setting). Whoever you select this for, they will surely find a place for it.
£100-£200 – Margaret Howell collection (£160) – perfect for the trendsetter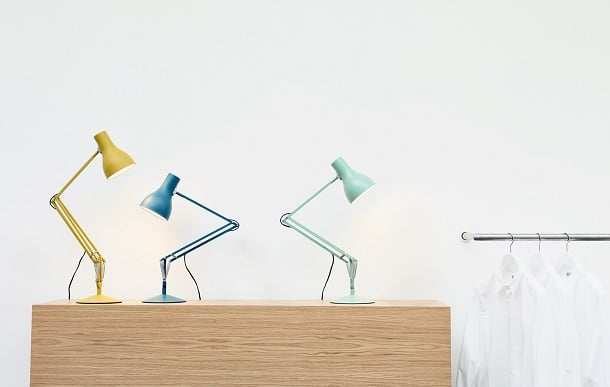 Brighten up someone's day with this colourful collection from esteemed British designer Margaret Howell. These fun, colourful table lamps use fashionable hues to create an eye-catching piece. Margaret has created a collection that aligns with the design qualities of her clothing brand; simplicity, functionality, authenticity and timelessness. With the choice of 3 stylish quirky colours, making your mind up as to which to colour to choose will be a tricky task! This would make a perfect gift for fashionista's or those who take an unconventional approach to interior design.
£200 + - Anglepoise Type 1228 Floor Lamp (£245) – perfect for reading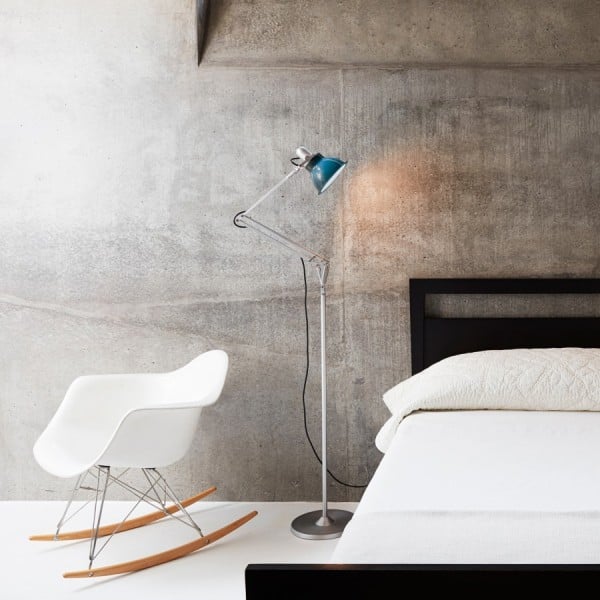 For something a little bit different, the Anglepoise 1228 Floor lamp will introduce a vibrant pop of colour to any interior design. With a highly flexible shade and an extra long reach, this is the perfect gift for someone who loves reading. When not used for task lighting, tilting the shade will disperse the light to create a warm, ambient glow. With 3 vibrant colour options, this floor lamp will make sure that your present has a lasting impact on your chosen person's interior.
Subscribe to our monthly newsletter or follow us on social media - for a daily dose of noteworthy design.
David Village Lighting Pinterest: @davidvillage
David Village Lighting Twitter: @DVlighting
David Village Lighting Instagram: @davidvillagelighting
David Village Lighting Facebook: @davidvillagelighting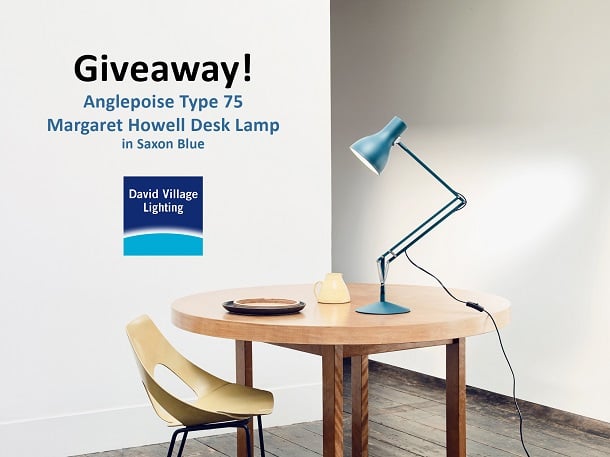 It's COMPETITION TIME and we are giving away an Angelpoise Type 75 Margaret Howell Desk Lamp in Saxon Blue.
You can enter the competition by heading over to either our Facebook, Twitter or Instagram.
Terms and Conditions apply. Please click here for more infomation.

New In – Margaret Howell Type 75 Table Seagrass
Late last year we told you all about the new collaboration between Anglepoise and Margaret Howell and the last finish of the trio, Seagrass, is now available.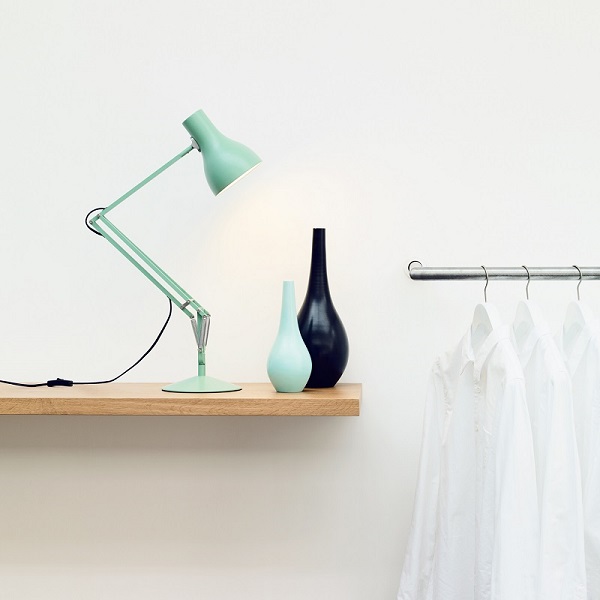 The collection now has three finishes; Seagrass, Orche Yellow and Saxon Blue which were chosen by Margaret Howell to be able to be used both in the home and office. The design remains the same as the original with a brushed aluminium finish and chrome plated fittings.
Click here to view the Anglepoise Margaret Howell Type 75 collection!
Visit us on our social sites to keep up to date on new products and what's on trend! You can find us on Facebook, Twitter, Instagram, Pinterest and now Polyvore!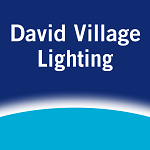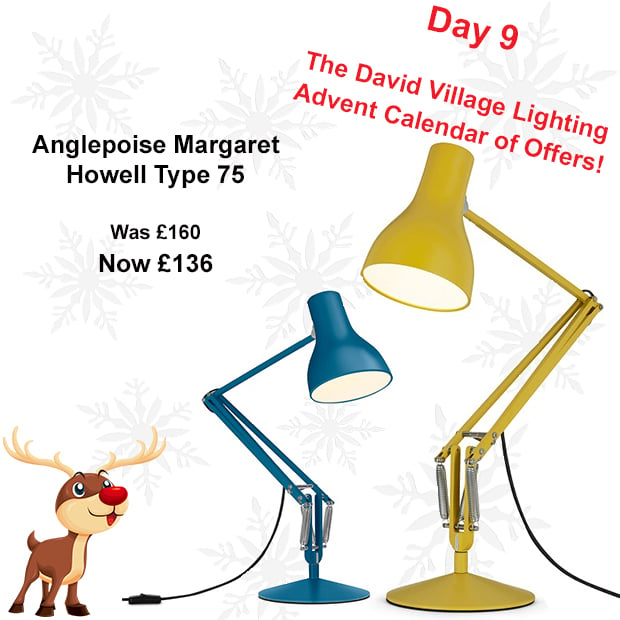 Click here to view this offer!
Visit us on our social sites to keep up to date on new products and what's on trend! You can find us on Facebook, Twitter, Instagram, Pinterest and now Polyvore!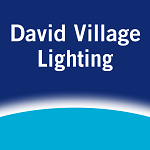 The new Margaret Howell Collection in collaboration with Anglepoise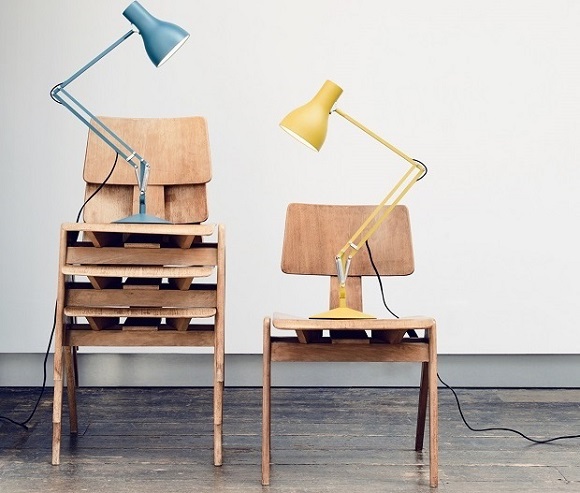 "I feel I've lived with Anglepoise most of my life – school homework under the light of an original black square based Anglepoise, and later acquiring various coloured styles designed in the 1960s and 70s. One favourite, rescued from a skip, is a Yellow Apex 90, later to inform the choice of Yellow Ochre for the re-modelled Type 75™ lamp" - Margaret Howell
We are excited to present to you the new Type 75 Margaret Howell collection for Anglepoise. Continuing a successful and longstanding relationship the Margaret Howell Collection features 3 exclusive colours: Yellow Ochre, Saxon Blue and available from January, Seagrass. The colours where chosen as to sit well in both domestic and working interiors.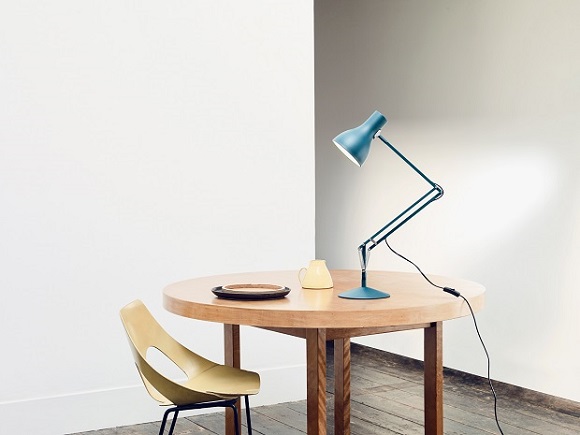 Margaret Howell is a contemporary British clothing designer, established for over forty years. Graduating with a fine art degree from GoldsmithCollege, London in 1969 she began making accessories which caught the attention of Vogue and other high end fashion magazines. Margaret Howell's first independently owned shop opened in 1980. Now on Wigmore Street, the store is used to stage exhibition that draw attention to aspects of British design. Since then she has received many awards and her design are sold worldwide with flagship stores in London, Paris, Florence and Tokyo.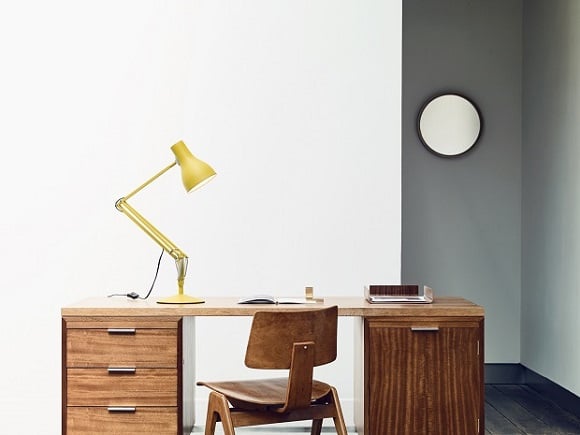 The brushed aluminium finish with chrome plated fittings is an admiring design which showcases similar qualities to that of Margaret's clothing collections with simplicity, functionality, authenticity and timelessness at the heart of the design. The Type 75's clean lines combined with the perfect balance and range of movement is made possible by the unique spring mechanism which defines the collection.
Click here to view the Margaret Howell Collection online!
Visit us on our social sites to keep up to date on new products and what's on trend! You can find us on Facebook, Twitter, Instagram, Pinterest and now Polyvore!