Introducing Kartell Matt Colours
Kartell have added two brand new matt finishes, matt white and matt black, to some of their lighting and furniture collections available on our website! The new finishes act to update and reform established ranges from the Kartell brand, bringing a new aspect to traditional and reliable collections whilst retaining their essence. Each of the following Kartell products is now available to purchase online in a matt black or matt white finish…
Venice Chair
The Venice chair was designed by the iconic Philippe Starck who created the chair after being inspired by the chairs seen in historic Venetian cafés. He uses the classic lines and silhouette evident in these chairs but updates the traditional design to the modern world using contemporary technology and materials. This chair is made from polycarbonate with a soft-touch treatment to give you maximum comfort. The material means you can also use it both indoors and outdoors and will be a stylish touch in gardens, patios, dining rooms and kitchen areas. The matt white and matt black finishes join six other colours to give you a wide choice for your exterior and interior.
Componibili Storage Unit
The Componibili is a modular unit that comes with 2, 3, or 4 storage compartments, perfect for any room in the house. The unit can rest on wheels so you can move it wherever you need, being both functional and versatile. The Componibili was designed in 1969 by Anna Castelli Ferrieri, being in production and a mainstay of Kartell for the last 40 years. The matt white and matt black finishes are added alongside ten exciting colours, bringing an update to a long-lasting and useful product that is universally acclaimed.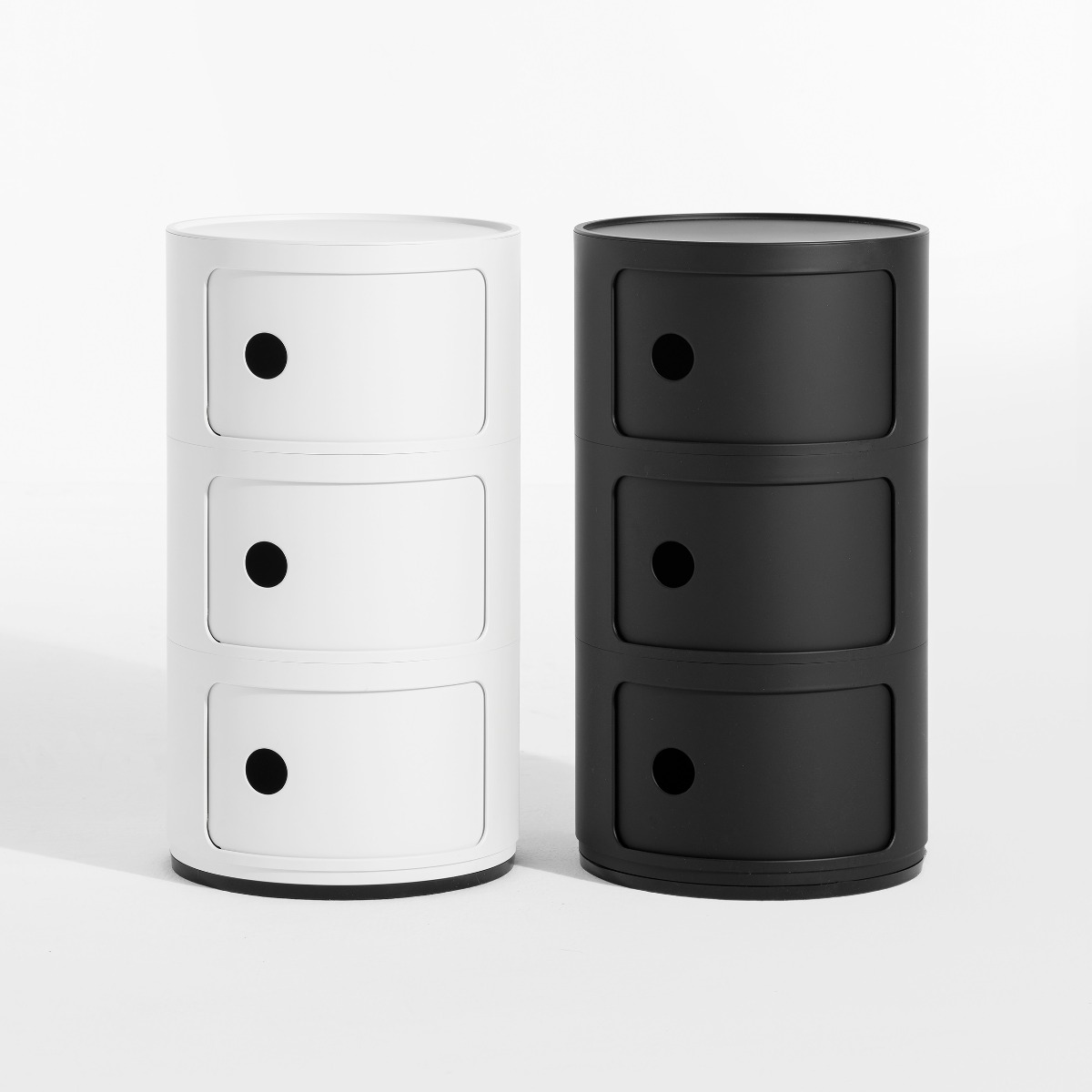 Aledin Tec LED Table Lamp
The Aledin Tec LED desk lamp was designed by Alberto and Francesco Meda and is most known for its distinct flat diffuser. The table lamp is adjustable, having a familiar silhouette and functionality so you can direct the light where needed. The desk lamp is made of two polycarbonate arms that encase aluminium rods that transmit electricity to the integrated LED light source. The lamp is also dimmable so you can have the perfect glow for your space, useful as a reading/task or ambient light in offices, lounges and more in homes and workplaces. The lamp is available in 5 translucent vibrant colours and is now joined by the two matt finishes, matt black and matt white, to bring a more sophisticated look.