Lighting Report - Shining a Light on Home Improvements
At David Village Lighting we often hear from customers about the difference a well-lit room can make to their family's happiness in the home. With the nights starting to draw in and shorter days ahead, we wanted to lift the lid on the nation's attitude to making the most of living spaces, from lighting to decorating and furnishing.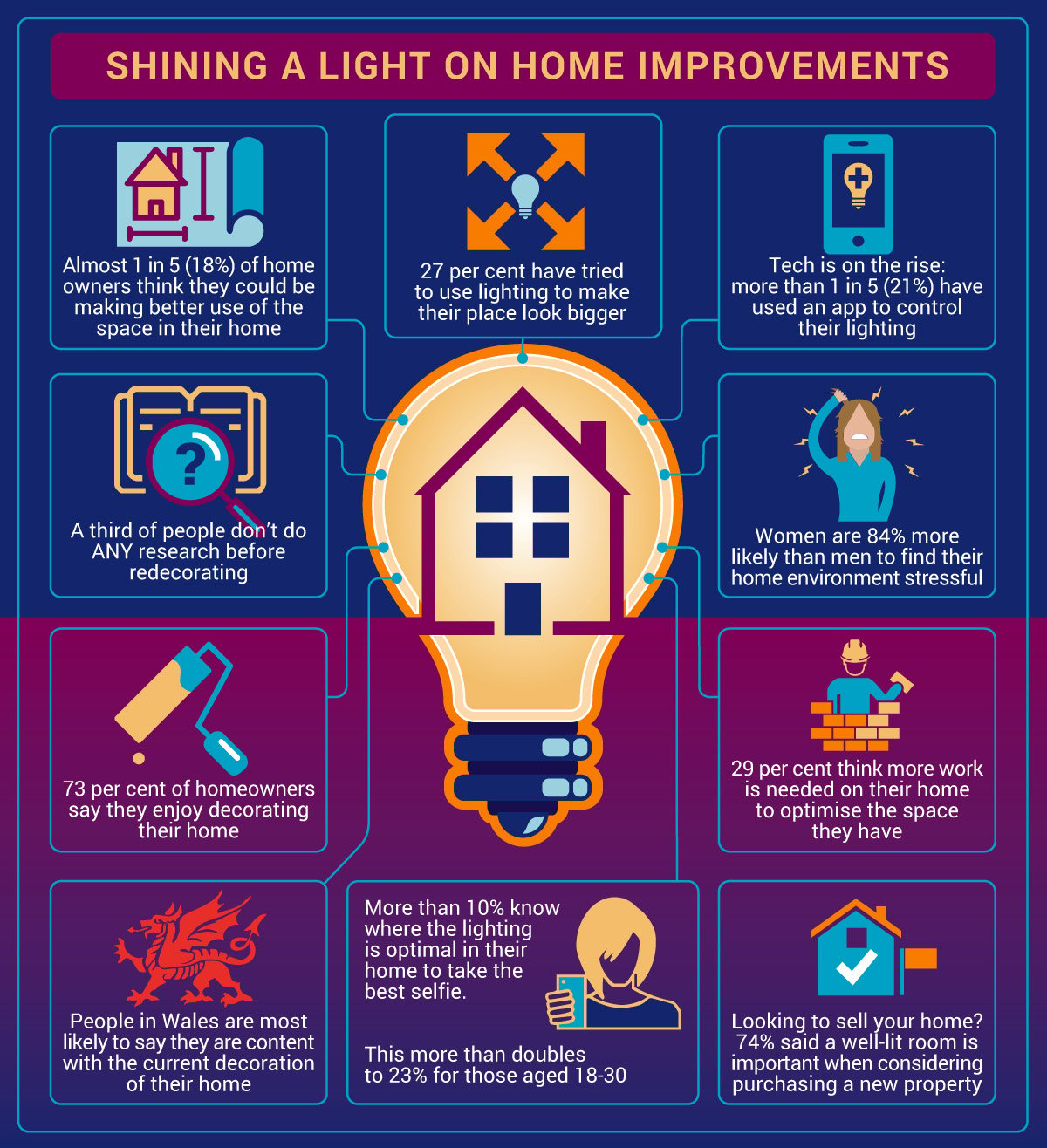 Whilst our research revealed that an encouraging majority of people feel they are 'making the most of the space in their home', over a quarter (26%) said they were not confident in making changes to décor to 'help living spaces reach their full potential'.
With this in mind, David Village has revealed his top tips to making the most of your home.
David Village's Top 10 Tips for Home Improvements
1. Choose lighting first. Plan your lighting before carrying out any work on your space. As part of your pre-project research, check the type of dimming system your lights of choice require. Many lights with integral LEDs can only be dimmed with additional cabling, which requires re-plastering.
2. Function over form. Before choosing a light, think about what function your light will serve within your space. A diffused light is perfect for brightening a room evenly. Directional light is ideal for illuminating a specific area of interest. Decorative lighting is not necessarily required for function but to add a stylish flair to your interior design. The correctly chosen light will help you make better use of your space.
3. Task lighting. Vital for every space, to suit the room's purpose and enable easy everyday living. For example, for bathroom lighting, Flos Globall Mini mirror mounted lights are ideal for applying make up, shaving or even a selfie!
4. Illuminate at varying heights. Easy to forget, lighting at a lower height can be equally as important as pendant and ceiling lights. Lighting from the walls down can create a wonderful low level light, perfect for relaxing in the evenings.
5. Exterior lighting. With good exterior lighting, a house appears warm and inviting. At the same time, this also improves home security. Try to treat the external space close to the house as part of the interior. Optimise your space: when planning the lighting, always stand inside and design to light the view you see.
6. The illusion of light. Mirrors, glossy surfaces and metallic finishes will bounce light around a room making your place feel larger. Brighten up dark areas by using large illuminated mirrors, such as Flos La Plus Belle LED, and team with an on trend metallic pendant.
7. Eco-friendly upgrade. LED lighting is a must. The rapid development of LED tech has meant that more products are available to upgrade your Halogen lamps to an LED equivalent – saving you money while minimising impact on the environment.
8. Colour. Use colour temperature to achieve mood lighting and optimise your space for different purposes. Create atmospheric zones with a warm colour temperature (2700k) for a welcoming, cosy ambience. Cool colour temperatures (4000k) are ideal for task lighting, helping you focus and see with accuracy. RGB colour changing functions are a fun addition to any space and great for entertaining - try the Artemide Tian Xia.
9. Brighten your wellbeing. Use lighting to aid your natural circadian rhythm, destress and ensure a good night's sleep. Install dimming switches and use separate circuits for different types of lighting providing you with the flexibility to brighten dull rooms by day and create relaxing lighting to wind down by at night.

10. App compatible. Embrace the trend for tech with App controlled LED light fittings, such as Foscarini Caboche, which allow you to operate your light from your mobile or tablet. You can change the colour temperature, group lights together to create lighting scenarios for different times of day and dim your lights with no extra wiring or re-plastering.
Our research questioned 2,000 nationally representative UK adults and was conducted by One Poll.