As the trends of 2022 become more and more clear, the overarching design feature that has taken off this year is orb-shaped glass shades. This trend has accelerated and has become a dominating feature within the world of designer lighting, from pendants to table lamps, wall lights to floor lamps, this globe-shaped lighting trend is in full flow! Here at David Village Lighting we give you the most up-to-date and new products straight from the brands themselves and we have been astonished by the stunning simplicity and craftsmanship that goes into every spherical design. Flos, Estiluz, &Tradition, Louis Poulsen, and many more have worked alongside designers who have all adopted the orb trend of 2022.
The Craftsmanship Behind the Opal Orbs
Iconic Glass Globe Designs
The success of the orb trend is clear in the iconic (or soon-to-be iconic) collections being released by some of the top designer brands. These collections use stunning glass craftsmanship to create a simplistic yet complex design that has spanned into many different applications. Designers have harnessed this trend and demonstrated how elegant and transcendent the bubble design can be. Ideal for stunning lighting at home and in the workspace, the orb design and the use of opal glass can create an elegant feature in your kitchen, bathroom, or desk space. Here are a few collections on our website that take the glass globe trend to new heights!
Louis Poulsen VL Studio Collection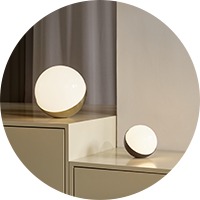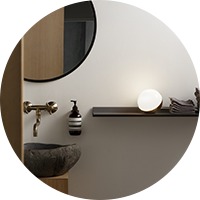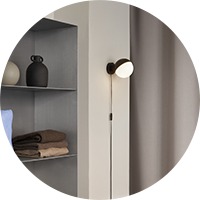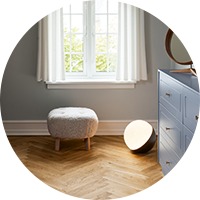 This brand new collection by Louis Poulsen includes a table and floor lamp and wall light, all of which feature an orb-like opal glass shade. The VL Studio collection was designed by Vilhelm Lauritzen, a Danish architect who in the 1940s was commissioned to design the Radiohuset (the headquarters of Danish broadcasting). He not only designed the building and its interior but also all of the lighting fixtures and fittings. This VL Studio design was originally used as the light outside the studios to indicate whether the studio was in use or not, showing a red light when recording is in progress and showing green when the studio is available. Released in 2022, the VL Studio collection features triple-layered, mouth-blown opaline glass shades with either a matt black finish or a brushed brass finish. This collection by Louis Poulsen is enjoying its rebirth in 2022 as the trend for globe-like designs has flourished.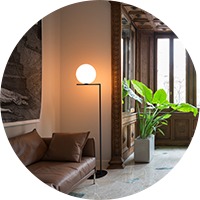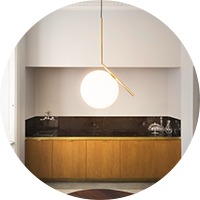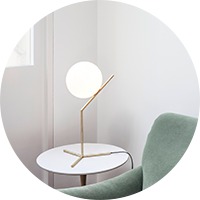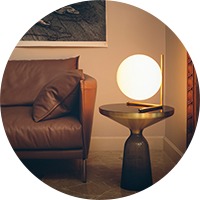 The IC collection features floor lamps, table lamps, suspension lights, and wall lights, all designed by Michael Anastassiades, a Cypriot-born London-based designer who has fully embraced the spherical design and was inspired by an unlikely source. The inspiration behind the design was the mesmerising way in which contact jugglers would spin crystal orbs on their bodies as if they were floating in mid-air. These opal glass shades are elegantly balanced on thin black, brass, chrome, or glossy red burgundy stems that aim to resemble the baton used by acrobats and jugglers. The large opal globes sit, almost like magic, on these thin stems and highlight the beauty and craftsmanship that goes into these hand-blown pieces of glass. The IC Collection by Flos has taken the glass globe trend and elevated it through this modern sleek design.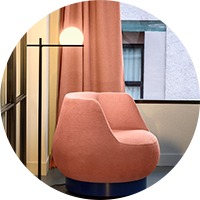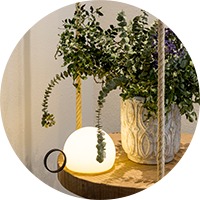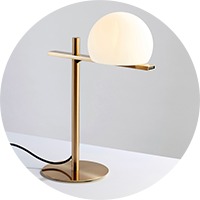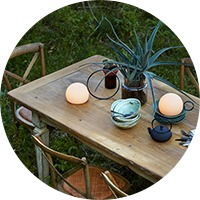 The Circ collection was designed by a young design duo called Daniel Vila and Ester Pujol who have a design studio called Nahtrang in the centre of Barcelona. They designed the Circ collection to demonstrate the beauty that is derived from enveloping spheres of light. Described as cute and wholesome as well as modern and stylish, the Circ collection features a floor, table, and portable lamp with either matt black or brass finishes. This orb shade is designed with a flattened bottom as it aims to appear as if it has been blobbed or squished onto the floor or table lamp stem. The portable lamp makes it appear as if you have placed a melted glass sphere onto a surface as it looks at home wherever you choose to put it. Estiluz uses simplistic ideas and designs for their products and the Circ is no exception, a stunningly simple design that uses the opal glass orb trend as its main feature.
The Newest Opal Orb Designs on our Website
By keeping our website as up-to-date as possible, here at David Village Lighting, we get to have the first look at some of the brand new designer lighting from across the globe. This exclusive insight has meant that we have seen this trend excel and create waves in the world of designer lighting. Here are some of our most recent additions to the website that feature this stunning orb design.
Lighting trends at David Village Lighting
By keeping our website up to date with all the new and exciting products being released by some of the top brands, we are the first to see new features, designs or materials excel into popularity. The use of opal glass has always been a firm favourite in interior design as it is a by-product of the growing 'Japandi' style trend that preaches simplicity, minimalism, and quality materials. From the plain white exterior to the highly skilled craftmanship, opal glass characterises the 'Japandi' values.
'Japandi', meaning the merger of Japanese style and Scandinavian style, has been adopted by this fabulous array of designers who have created stunning glass globe designs. From Flos to Karman, Estuliz to Parachilna, these designer brands understand the beauty and skill that comes from the design and manufacturing of the opal orb and have together honoured the material and style. Here at David Village Lighting, we stock the classics and the new, as trends tend to bring back old icons and create newly inspired products. For example, the VL Studio collection is a brand new product range that has been created solely based on a 1940s design that also used the opal orb idea.
As we celebrate the opal orb design and the 'Japandi' trend that just keeps on giving, the world of lighting design is looking forward to the next trend to take off. Keep a close eye on our website and our blog as we get you up-to-date on all the best lighting and design trends that are bursting into popularity.