In recent years outdoor living has become more and more popular, with more of us spending time at home and making the most of the outdoor space we have, using our holiday funds to make our own private places in the sun. 2020 was definitely the year of the garden, however, 2022 is the year we celebrate our outdoor spaces and bring them back to life with creative lighting solutions and designer furniture.
If your outdoor space is a small balcony or a large patio, here at David Village Lighting we have an array of options for you to choose from. Take a stroll through the lights we have on offer and have a peek at our outdoor furniture, ideal for bringing your garden to life for spring and summer.
Outdoor Zones
A new trend in garden design and exterior settings is the use of functional spaces. By creating liveable outdoor zones for every occasion, you can take full advantage of the outdoor space that you have. Whether it be a small terrace or large lawn, using lighting and furniture can elevate any space into a useable and pleasant area of your home. In this blog, we have carefully selected some of our designer outdoor furniture and exterior lights that we believe will create calming, stunning, and functional zones in your garden.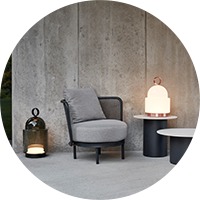 Relaxation Zone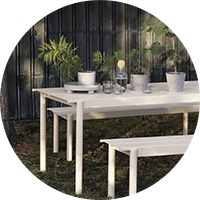 Dining Zone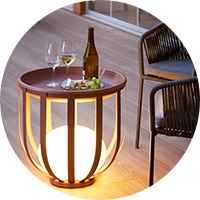 Social Zone
Multipurpose Zone
As life becomes ever more stressful and demanding, spending quality time in the outdoors has never been more important. Take a moment to enjoy the peacefulness of nature or delve into a good book in a relaxing and calming zone in your garden. By choosing a quiet spot in a secluded corner or transforming a small balcony into a slice of tranquil paradise, it is astonishing what a comfy chair and ambient lighting can do. Ideal for both a sunny summer's day or a late-night retreat, this mindful zone can not only bring functionality to your outdoor space but also bring a stress-free moment to your day.
Take a look at our selection of furniture and lighting for this zone of relaxation...
Alfresco dining or the act of getting together outdoors for food and drink is a small pleasure that is reserved for those warm summer evenings or cool sunny mornings. Outdoor dining has become ever more popular as our indoor dining spaces have been overcome by the working from home lifestyle plenty of us have adopted. By bringing light to our alfresco dining spaces, we can enjoy the outdoor dining experience for longer. As summer is approaching and our balconies, terraces or lawns become more and more inviting in the evenings, this is the time to transform our dining spaces in preparation for friendly get-togethers and family gatherings.
Take a look through our picks of designer furniture and lighting for your dining zone...
Our outdoor spaces have been the place we can gather with others and enjoy socialising in our outdoor spaces. By bringing the perfect lighting to an area of your garden, you can entice and welcome others to gather and enjoy the outdoors. The perfect designer furniture and lighting will enhance your space and bring light and warmth even on the darkest of evenings all year round. In social zones, it is important to think about the functionality of light and make sure to keep it stylish yet practical.
Explore our selection of outdoor social lighting and furniture so that you can create your own social gathering this summer...
For the smaller outdoor spaces such as a balcony, terrace, or small back garden having a light that can fulfil multiple needs and functions will not only save space but also be a more efficient lighting solution. By making the most of these smaller spaces we can bring them to life and create a homely, useable, and beautiful garden area. This more intimate outdoor space needs to morph and change as its function shifts from dining to relaxing or socialising. This means that the lighting must do the same!
Have a look through our selection of multipurpose outdoor lights ideal for those smaller outdoor spaces...
Preparing for Summer!

Whether you have space for a gathering or only just enough space for one, making your outdoor areas look well-loved and inviting is as easy as bringing in a touch of designer flare. This small selection of outdoor lighting and furniture is just a sample of all the stunning and practical exterior products that we stock. From brands such as Kartell, Muuto and Marset, we have a huge array of options to get you thinking about your next outdoor event! As summer approaches and those warmer days loom ahead, this is the perfect time to start preparing your garden for the sun. Browse our website for the perfect outdoor addition to your home.