Kartell Loves the Planet
A brand that has always put sustainability and the environment at the forefront of design, Kartell launched the Kartell Loves the Planet campaign, which sought to convert the majority of their catalogue with recycled, sustainable and green materials by 2021. Succeeding in their goal, Kartell have innovated many of their existing products as well as releasing new products that meet top environmental standards. Here are some of our bestselling and favourite products that are a part of Kartell Loves the Planet….
One of our long-time favourites, the Masters Chair was designed by the iconic Philippe Starck who combines three classic chair designs, the Tulip Armchair by Eero Saarinen, the Eiffel Chair by Charles Eames and the Series 7 by Arne Jacobsen to create a hybrid that is one-of-a-kind and original. The unique back and design of the chair allows for maximum comfort and is also suitable for use outdoors.
Kartell have now developed the Masters Chair to be made out of completely recycled materials, using thermoplastic technopolymer to achieve a fascinating structure that is lightweight yet reliable. The chair is available to purchase in a pack of two in 10 colours which includes 4 chic metallic finishes.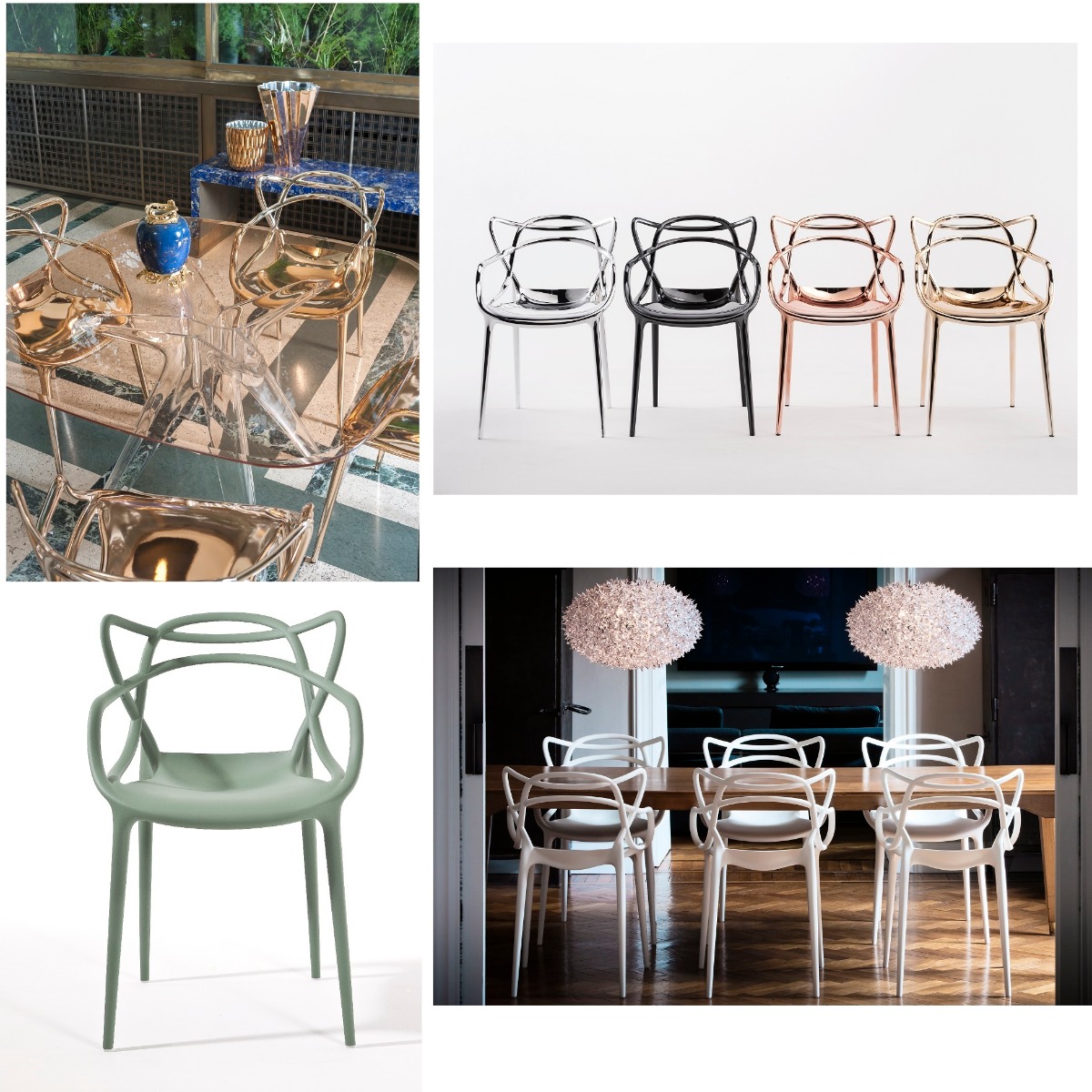 This gorgeous table lamp was designed by Ferruccio Laviani and is characterised by a classic and lavish style that is paired with forward-thinking materials. The lampshade is made from the newly developed Polycarbonate 2.0, which is a Kartell exclusive. The material is produced by synthesis and partly derived from industrial cellulose and paper waste and reduces carbon dioxide emissions by 60% compared to traditional plastic.
Available in 11 stunning colours, the Bourgie table light is a staple of lighting design and will look stunning in any interior and setting.
The Smart Wood collection is a furniture range that is made from new technology, where a thin layer of wood is moulded to produce a beautiful curvature in all the designs. This special patent means that minimal raw material is used in the design process, with the wood only being sourced from FSC certified forests which guarantees the best and most sustainable approach to using forest materials.
We have 4 different pieces from the Smart Wood series available for purchase, the Q/Wood chair, the P/Wood chair, K/Wood chair and the S/Wood ottoman, all having a variety of finishes and woods to choose from. Each piece of furniture has a beautiful shape to provide comfort and ease and would be a wonderful addition to any space.
The bestselling Louis Ghost chair is another Philippe Starck creation that takes inspiration from Baroque era style. The chair is aptly named after Louis XV who reigned in France during this era when extravagant and luxurious style was in fashion. Starck updates it for the modern day with a plastic version which is now made from the sustainable Polycarbonate 2.0 material.
Shockproof and waterproof, this chair is suitable for dining rooms, bedrooms, kitchens and more and is available to purchase in 8 colours, with customisation available upon request. You can also buy the Victoria Ghost chair which has a slightly slimmer design with no arm rests or treat the kids with the fun and vibrant Lou Lou Ghost chair.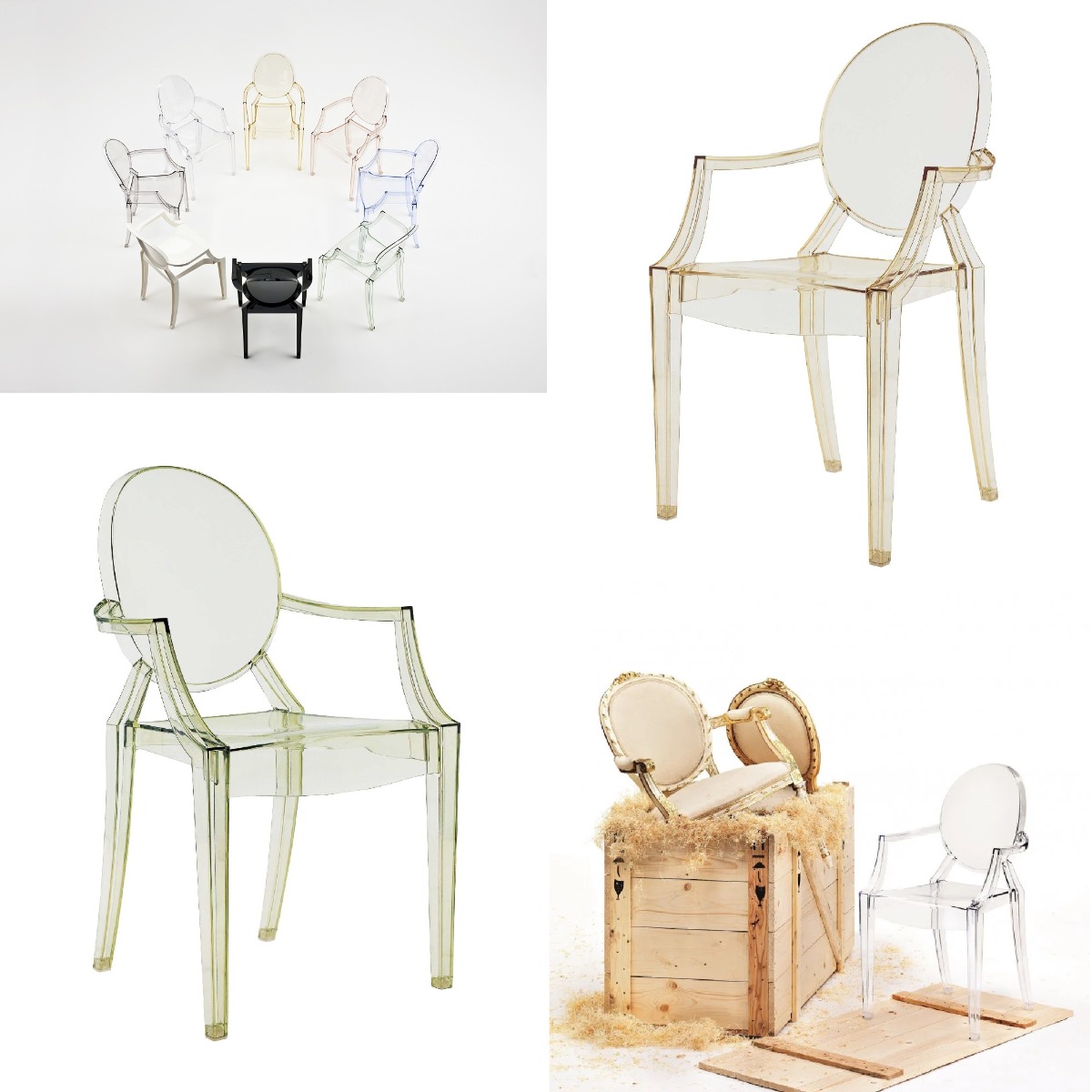 The Componibili Bio storage unit is one of the most interesting and innovative pieces of furniture available on our site. The storage unit is made from 100% biodegradable material, that has been developed by Kartell using plant-based waste from the food industry. The waste goes through a natural synthesis and biological process to create a biomass that transforms into a quality material. This never seen before biodegradable material can now change the face of furniture, as pieces won't affect the environment if they are not in use anymore.
The Componibili Bio unit is available in four lovely pastel colours, pink, green, yellow or cream for a stylish and modern storage solution.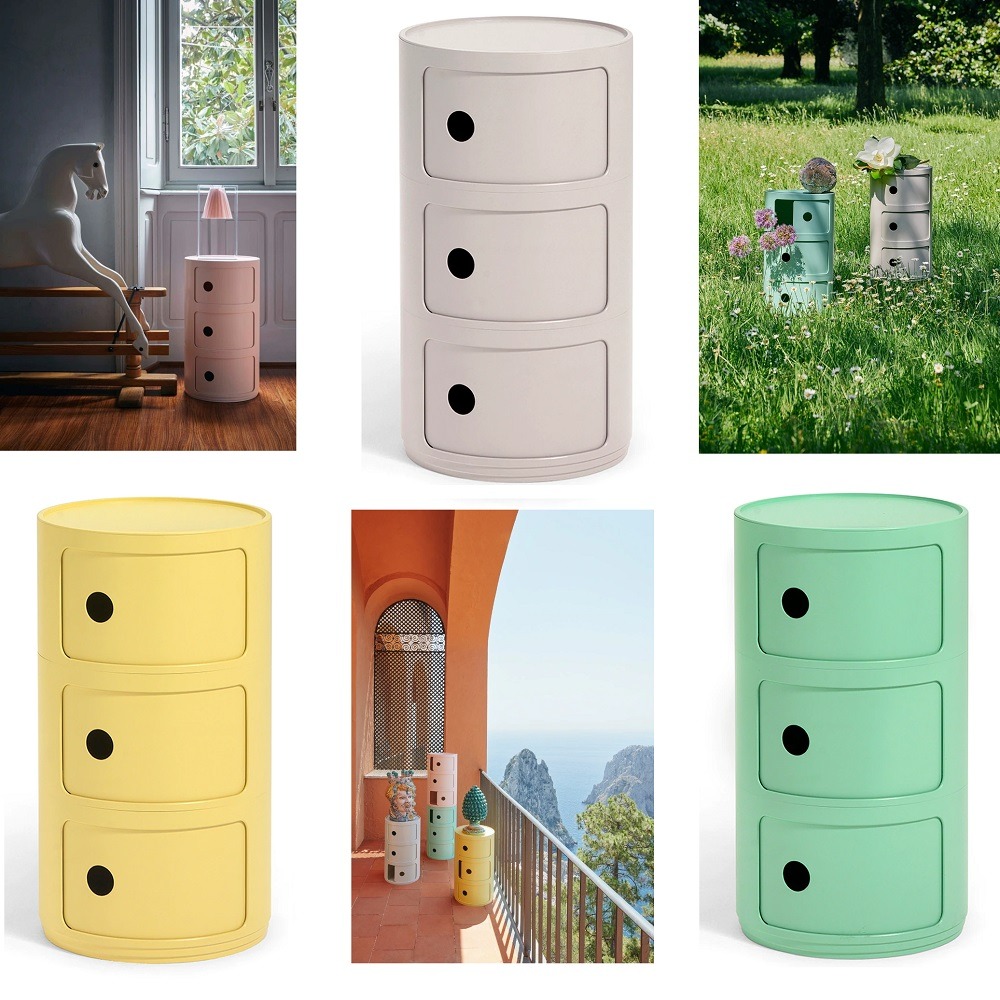 The E' pendant was designed by Ferruccio Laviani and has clean and essential lines, forming a familiar design in a contemporary way. Like his Bourgie lamp, this pendant light is made from the exclusive Polycarbonate 2.0 material developed as part of Kartell Loves the Planet. The E' pendant lamp will add a fun and vibrant touch to any setting and will create a sparkling and intriguing effect.




Available in two matt colours, white and black or in five transparent colours, rose, yellow, crystal, green and light blue.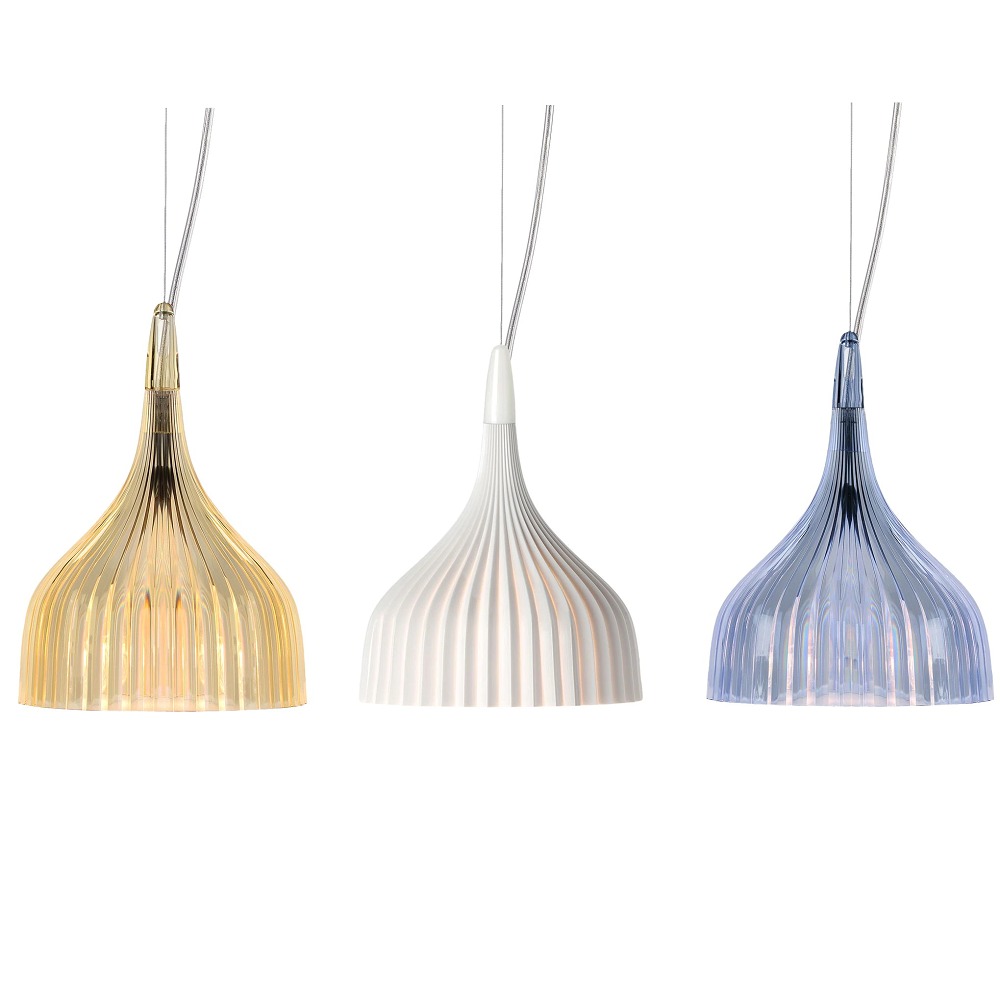 Kartell have renovated their catalogue and range by developing new sustainable materials that have little to no impact on the environment. Kartell's ethos that lighting and furniture should be produced to stand the test of time also contributes towards their Kartell Loves the Planet initiative as they make long-lasting pieces that will satisfy users for decades. Join Kartell in their eco-saving campaign by checking out their charming and timeless products on our website now!