Designer lighting brands are constantly changing and evolving, producing innovative and new ways of interacting with lights. With technology now easily at our fingertips, many of our top brands have released app controlled lights and smart home devices which allow the user to control everything via Bluetooth. Here are some of our top picks for contemporary living and smart lighting design….
Foscarini MyLight
The Foscarini MyLight series takes some of their most popular designs and applies them to smart technology, being controlled by the handy Casambi app. The app allows you to control everything from the dimming setting to the time your lights turn on, creating the perfect lighting scenarios for your home or project. Foscarini's useful short user guide further explains the features of their various MyLight products.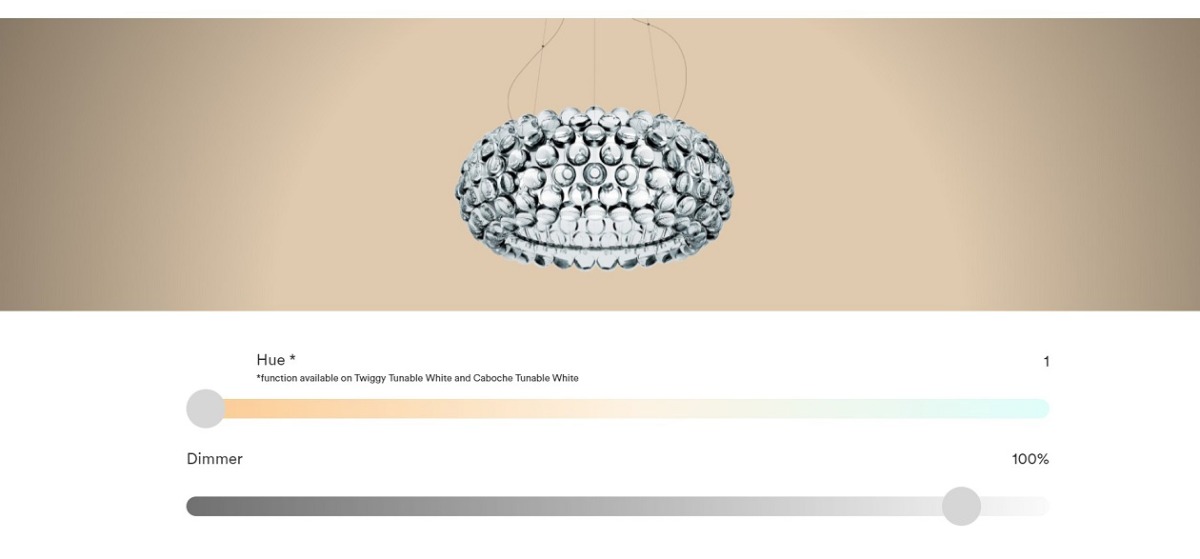 Click on the image above to discover more about Foscarini MyLight
Aplomb Large MyLight LED Pendant Light
The Aplomb large pendant is made from hand poured concrete, having a raw and contemporary aesthetic suitable for any modern interior. The larger size makes the Aplomb perfect as a central light and the integrated LED light source shines directly down being particularly useful above tables and surfaces in dining areas and kitchens. Control the light intensity using the Casambi app and choose from a white, grey or brown colour finish.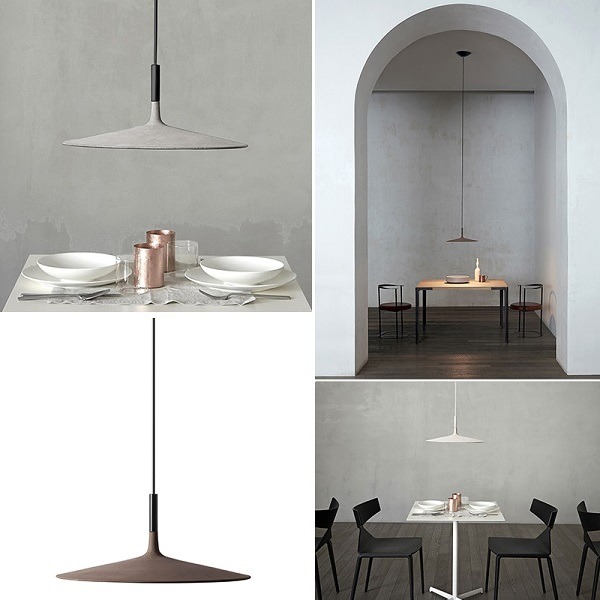 Twiggy MyLight Tunable White LED Floor Lamp
One of the most iconic lights from the Foscarini brand, the Twiggy floor lamp is an acclaimed statement piece that is useful as an ambient light or as a task and reading lamp in any setting. The arched silhouette creates an intriguing look and the floor lamp is available in a vibrant red or more subtle greige, black graphite and white colour finishes. This MyLight is also a Tunable White product which allows you to control colour temperature so you can emulate natural light indoors throughout the day and night.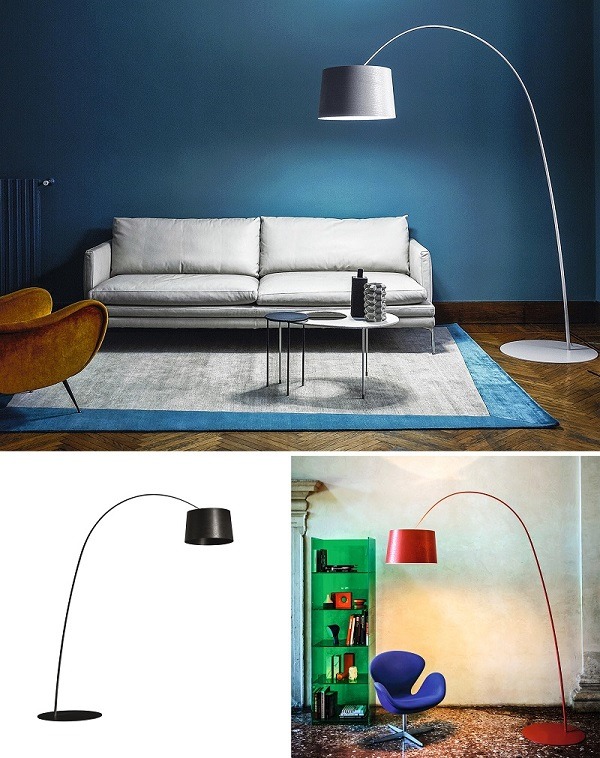 Caboche Plus MyLight LED Pendant Light
An opulent and luxurious light, the Caboche Plus pendant light is made from PMMA pearls in a grey or transparent finish to add a touch of extravagance to any interior. The light source diffuses outwards creating a warm and soft glow that is perfect for use as a central light and also comes with the Tunable White feature so you can control the temperature from 2700K to 5000K (warmest white to very cool white) to create the right mood for your daily routine. A bestselling and renowned pendant lamp suitable for many types of spaces.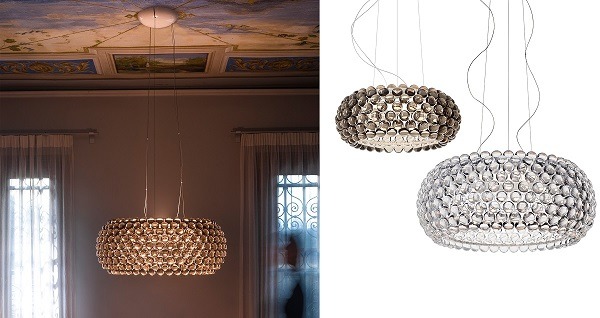 Artemide App
Artemide have developed their own app which allows you to control up to 500 single or group lights! The possibilities are endless with this app as it can be used in private homes or in public spaces to control lights in real time or to create pre-set scenarios for throughout the day amongst many other settings. The app also creates a more sustainable approach to lighting as it keeps energy low and requires minimum effort, installation and maintenance. Check out the video below to see the full capabilities of the Artemide app!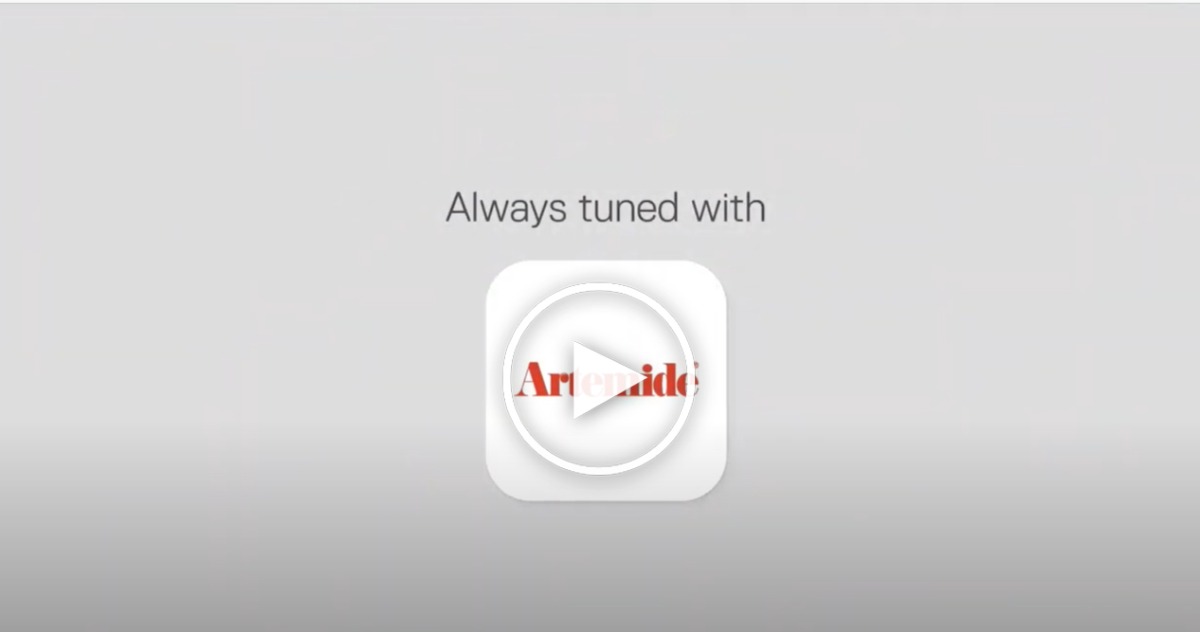 Calipso LED Collection
The Calipso range was designed by Neil Poulton who used a photograph of the moon and a complex algorithm to generate the characteristic honeycomb design. Representing the quirks and irregularities of nature's geometry the Calipso lights are made up of thin tube sections being a perfect blend of decorative and optical intelligence. The Calipso app compatible versions are available in both suspension and wall/ceiling applications, being a wonderful lighting solution in both professional and private interiors.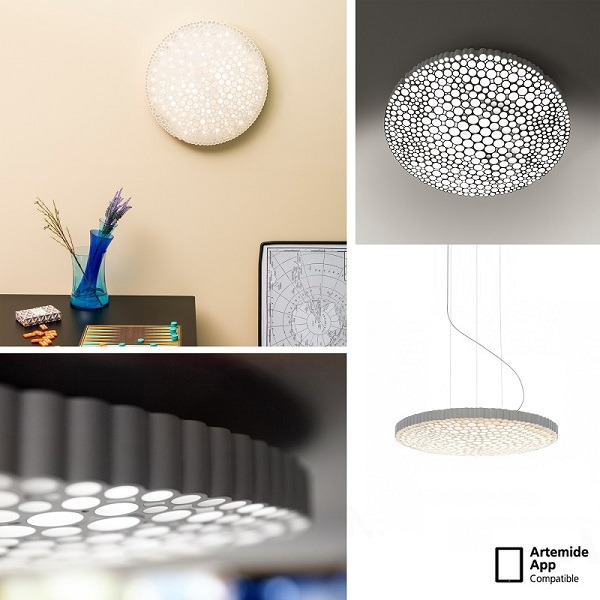 Ilio LED Floor Lamp
Designed by Artemide's founder Ernesto Gismondi, the Ilio floor lamp is an excellent example of modern and contemporary design. Comprised of a single sleek structure, the integrated LED light source sits in the top to emit an indirect and effective glow, wonderful for creating the exact ambience you want for your space. Control many settings with the Artemide app and choose between rubin red, glossy black or white colour finishes.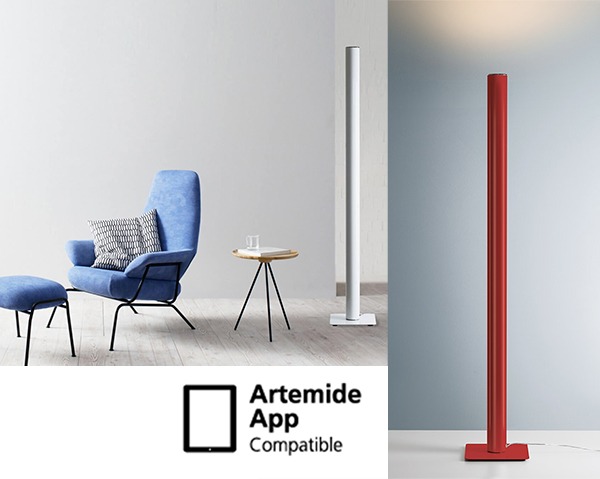 Arrival LED Collection
The Arrival series was created by design duo Ludovica + Roberta Palomba and embodies a sculptural and dynamic form for an elegant and sophisticated aesthetic. The design is defined by three loops which interlace, featuring subtle LED strips that sit on the inside to create an ambient and functional glow. Available in a matt gold or black finish, the floor lamp and ceiling light versions can be controlled by the Artemide App for tailored and personalised light settings.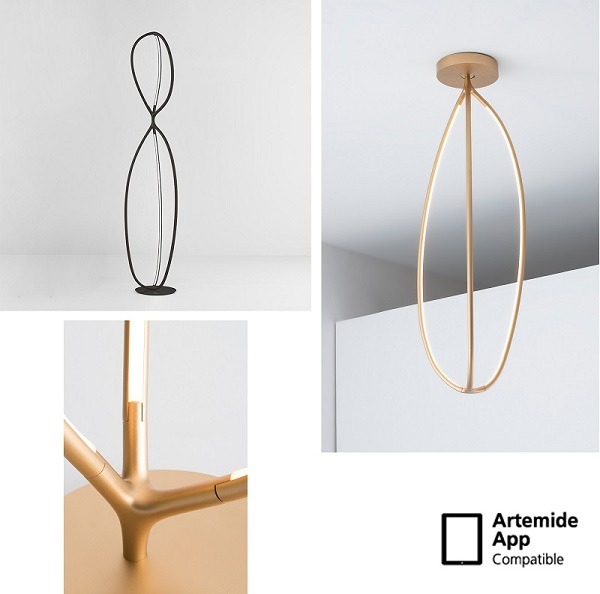 Moooi Wireless Wall Switch
The Moooi wireless wall switch is an easy to use and versatile device that is perfect for smart home living. Compatible with their Gravity and Raimond II collections, the switch installs into your home's existing wiring and is compatible with many dimming solutions such as 0-10V, Zigbee 3.0 and Casambi which can integrate with Apple HomeKit, Google Home, Amazon Alexa or Philips Hue.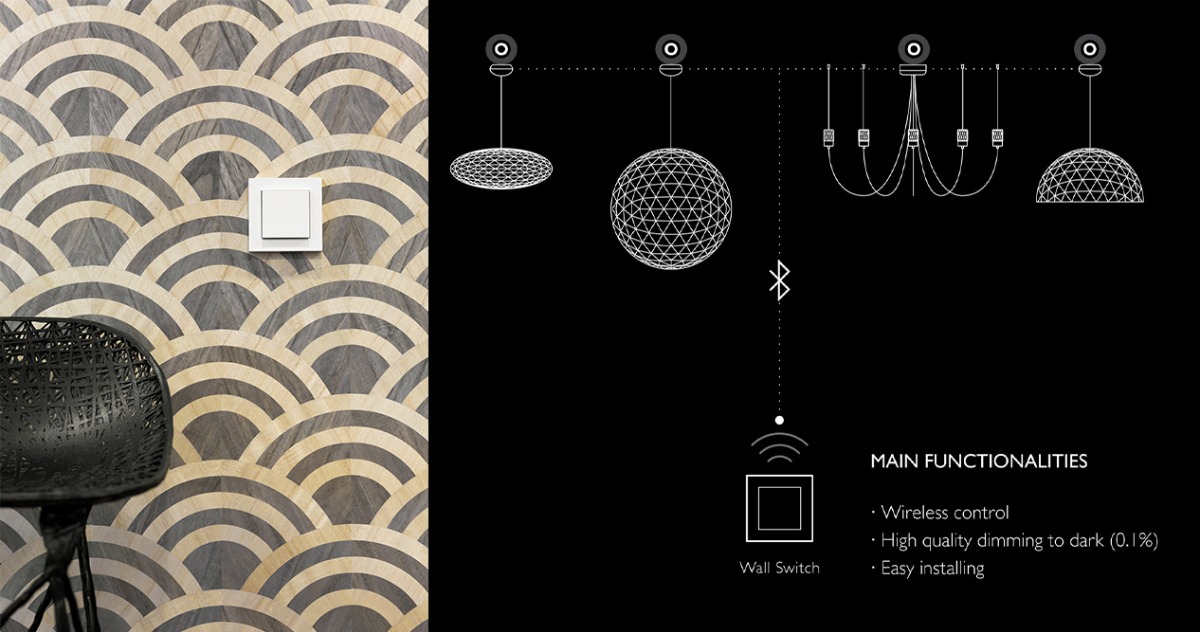 Click on the image above to find out more about the Moooi Wireless Wall Switch
Gravity LED Chandelier
The Gravity chandelier was designed by Paul Cocksedge, exclusively for Moooi. The light is a striking and eye-catching piece which modernises the traditional chandelier with flexible and movable cables. The cables hang beautifully creating a classic silhouette that can be manipulated by the user to suit their needs. Available with either five or seven light sources, the Gravity can be controlled via Bluetooth using the Moooi wireless wall switch.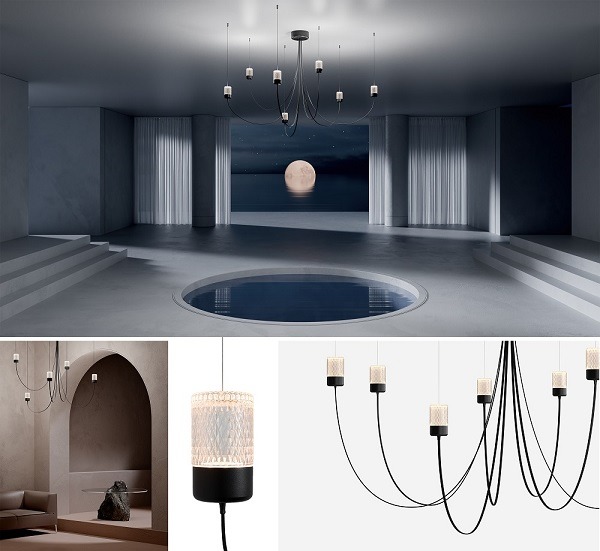 Raimond II LED Collection
Designed by Raimond Puts, the Raimond II range updates the original Raimond pendant which was released in 2009. Fascinated by prime numbers and inspired by the geodesic dome, Puts created a pendant light which combines two stainless steel spheres that interlace to create a cross pattern. The integrated LED light sources sit in this pattern creating a twinkling effect that resembles stars in the sky. Available in various spherical sizes and in the Dome pendant and Zafu pendant versions, all the pendant lights in the Raimond II series can be easily controlled via your smart device.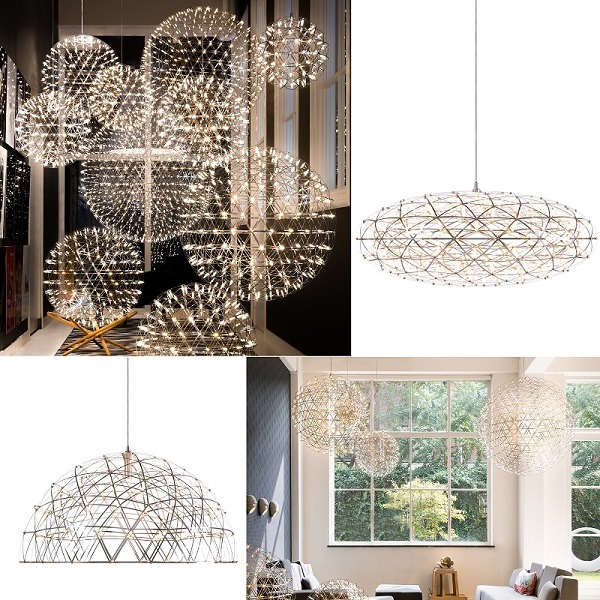 Our top smart lighting choices will truly modernise your interior, with many more app compatible products left to discover on our site!