David Village Lighting presents 3 Iconic Muuto Designs



At our new showroom in Sheffield, we're pleased to be able to showcase Muuto's stylish and highly versatile lighting range including three of their most iconic designs: Unfold, Under the Bell and E27 Pendant.

"New perspectives on Scandinavian design" - Based in Denmark, Muuto's traditional outlook is characterized by functional, honest aesthetics and quality craftsmanship. The name Muuto comes from the Finnish word Muutos, meaning new perspectives. The Danish brand pride themselves on paving the way and using new cutting edge materials, techniques and bold creations with help from their handpicked design team. Muuto represents the best in Scandinavian design, sought after worldwide and provide a modern way of living.

At David Village Lighting we too value contemporary aesthetics and developing technologies to benefit the modern market. We admire Muuto for their versatility, creative design ideas and an unbeatable range of colours. Here we outline three of Muuto's most popular lighting products:

Inspired by industrial pendant lights, this quirky redesign is made from a silicon rubber material. This soft friendly aesthetic gives a more versatile look, blending in beautifully with residential and commercial interiors. A variety of fifteen colours to work with and more were added to follow the changing trends. Unfold is a popular and stylish design which stays current with its industrial edge and varied colour pallet.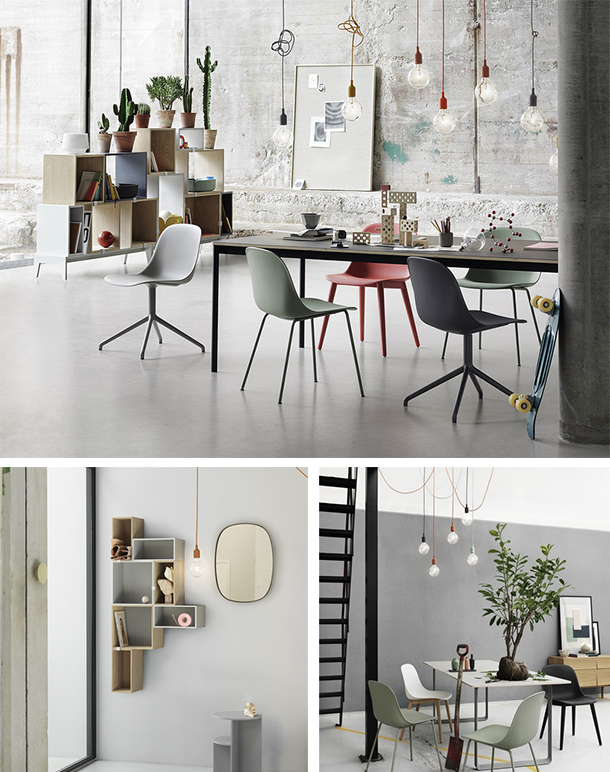 Much like the Muuto Unfold, the E27 pendant is available in a variety of colours which get expanded upon with popular interior trends. The design is pure in form, consisting of a raw LED filament bulb and a soft rubber socket. The design is also inspired by industrial styles, its curved form and sympathetic material makes this a firm favourite for residential spaces.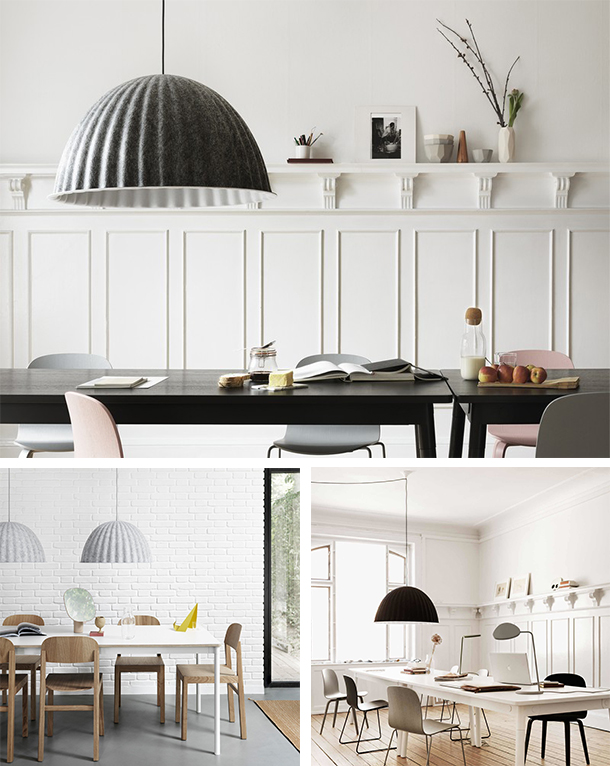 A unique and clever design by Iskos-Berlin for Muuto, Under the Bell, has seen extreme success, especially within the commercial sector. The Fibrous material and form enables absorption of sound and improves the overall acoustics in a room. Under the Bell 'embraces and shelters' people beneath it, creating an intimate and focused atmosphere. The ever-increasing popularity of the design has seen the release of a new smaller 55 cm size, making Under the Bell as versatile as ever.
Take a look at the Scandinavian chic designs of Muuto, welcome Nordic design and functionality into your space.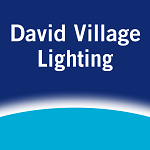 Visit us on our social sites to keep up to date on new products and what's on trend! You can find us on Facebook, Twitter, Instagram and Pinterest.