Beautiful New Lighting at Muuto HQ in Copenhagen
We were very excited to be invited to visit Danish brand Muuto's Copenhagen HQ in August for an exclusive preview of their new products for Autumn 2019. Here we take a look at the new Muuto products that the DVL team saw in Muuto's HQ showroom.

Muuto Strand, designed by Benjamin Hubert, is a completely new range of pendants in Muuto's Autumn 2019 collection. Here's a glimpse of the new Strand Pendants displayed beautifully in a cluster in Muuto's HQ showroom.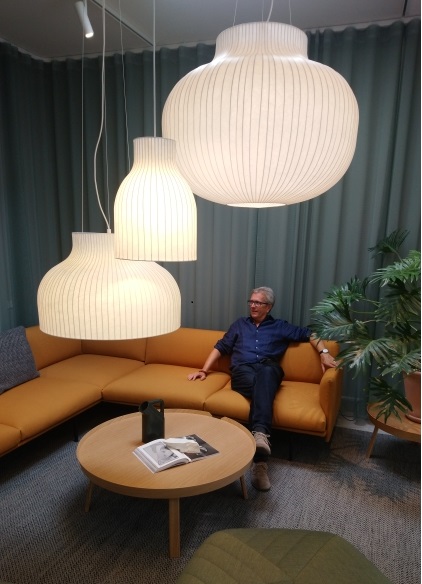 David Village himself, basking in the ambience of the new Muuto Strand Pendants.
Made from an inner steel structure, the Strand Pendants are covered with a light polymer cocoon resin and get their name from the small visible strands within their cocoon like coatings.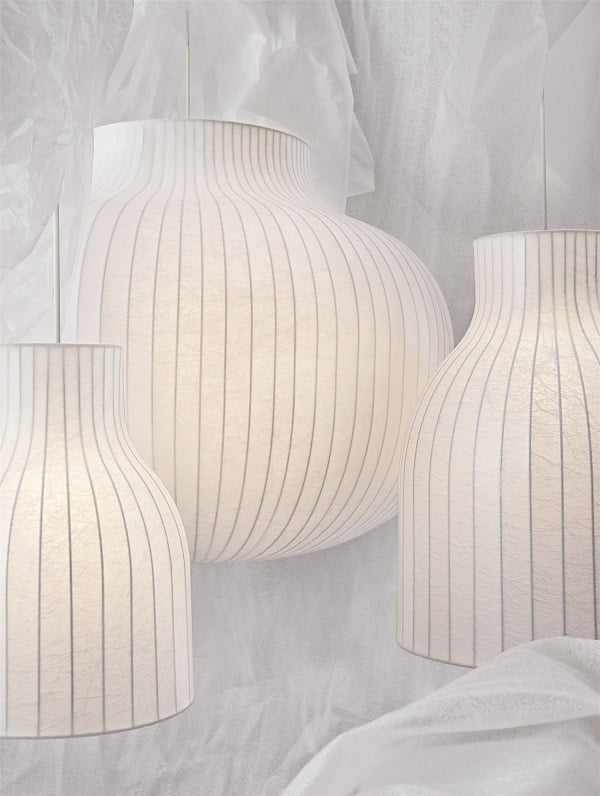 On closer inspection, you can see the fine strands within the pendants' polymer cocoon resin coating, the inspiration for the collection's name.
The Strand pendants provide an ambient diffused glow to light up your room due to the slight transparency of the shade in addition to upward and downward directional light through their top and bottom openings. Muuto Strand is available in two versions named after their shapes: Strand Open and Strand Closed.
The Open version is available in three sizes and provides a larger amount of direct downward light due to the larger opening in the bottom of the pendant.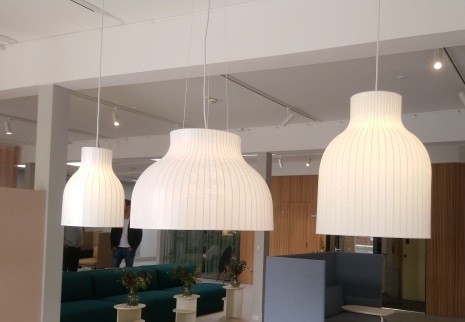 The three sizes of the Strand Open Pendants look great displayed as a trio in Muuto HQ, Copenhagen.
The Closed version, which is reminiscent of a plant bulb in shape, is available in three sizes, and does have a small opening at the bottom, despite its Closed name.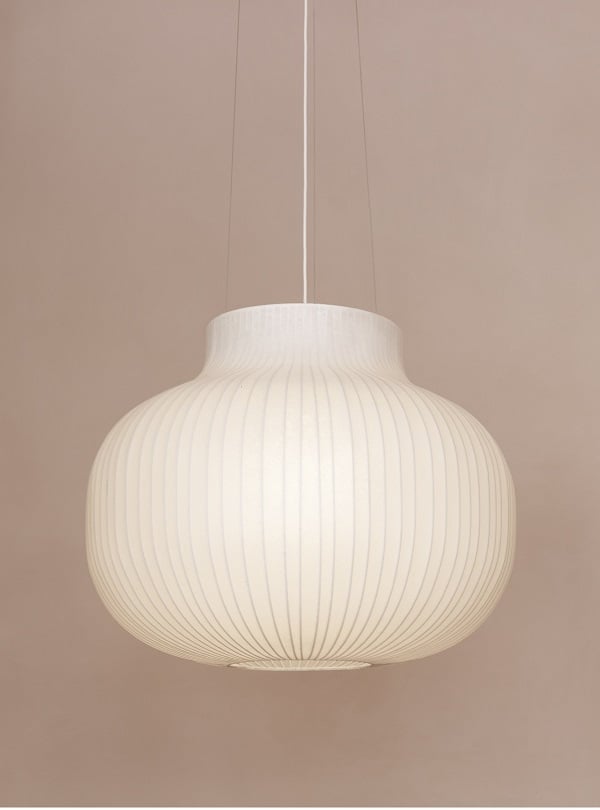 Muuto Strand Closed Pendant
Muuto Leaf: new colours

The Muuto Leaf floor and table lamps are available in two new beautiful colours: Copper Brown and Dark Green. The Dark Green is a reference to the Leaf lamp's design inspiration (which is of course, the shape of a leaf) and the Copper Brown is also reminiscent of the rich warm hues of Autumnal leaves.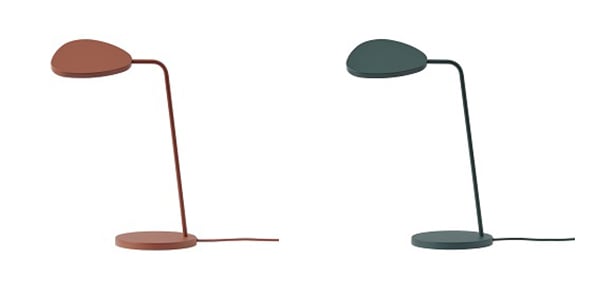 Muuto leaf table lamps in new colours: Copper Brown and Dark Green
Muuto Grain pendant: new colours
Muuto have released two new colour options for their ever popular Grain Pendant: Dark Green and Blue-Grey. As we saw at Muuto HQ, the Grain Pendant is ideal for task lighting or for creating cosy corners in your home.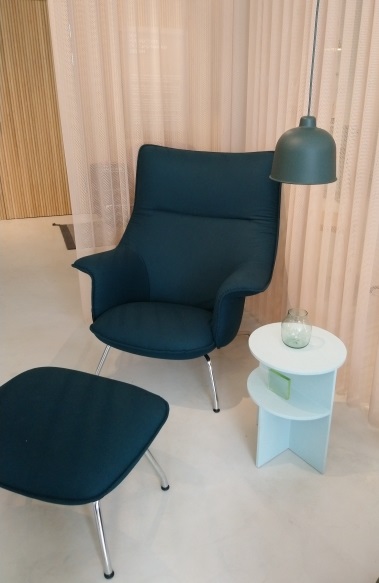 A cosy corner in Muuto HQ's showroom: Muuto Grain Pendant in the new Dark Green finish.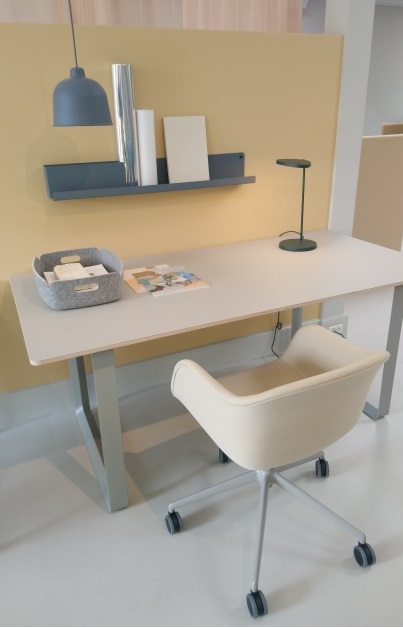 We have desk envy! Muuto Grain Pendant in grey-blue and Muuto Leaf table lamp in Dark Green.
Muuto Pull Floor Lamp: new colour - grey
We adore the new grey lacquered oak finish for the Muuto Pull floor lamp. This new version comes with a dimmer switch attached to the cord. Like the original Pull Floor Lamp, the direction of lamp's light can be adjusted by pulling the cord and changing the position of the shade. This versatile floor lamp is perfect for living rooms, hallways, bedrooms, hallways and offices.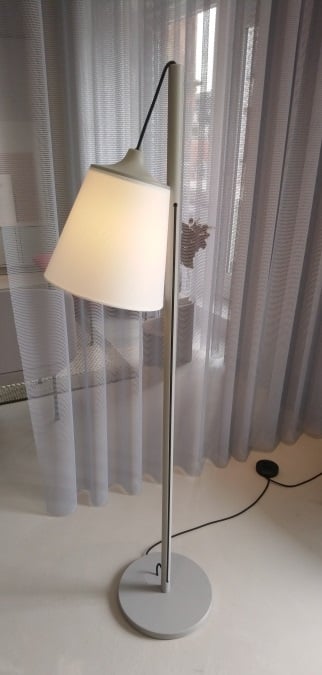 Muuto Pull Floor Lamp in the new Light Grey finish with dimmer switch.
Muuto Ambit Wall Light
Muuto's recently released Ambit Wall Light is the latest edition to their Ambit collection which includes three sizes of pendant and the Ambit Rail Suspension Light (an excellent option for above a kitchen island or table). Ambit Wall is available in 4 colours: white, black, grey and taupe and can either be hardwired or plugged into a wall socket. At Muuto HQ, Ambit Wall is used to add warmth to this cosy seating area.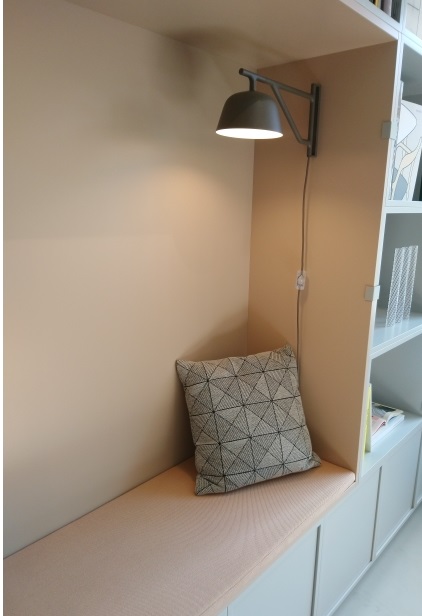 Muuto Ambit Wall Light: ideal as a reading light in a cosy corner or bedroom