New in from Luceplan at David Village Lighting
Luceplan has released brand new collections for 2018, as always stretching the boundaries of modern design and creative functionality. The themes of these new designs are timeless traditional pieces which are highly versatile, customisable and easily integrated into any contemporary space.
Soon to be a design classic, this timeless blown glass collection will complete any contemporary home.

Designed by David Dolchini, Lita is an elegant simple design, and with it being available in wall, pendant, ceiling and table versions, there is something for everyone in this collection. This design is highly versatile, making it easy to incorporate into a wide variety of modern spaces. With the diffuser being created from opaline blown glass and with the structure available in wooden or painted aluminium designs, this makes the Lita a timeless and memorable character.
A brand new design from Luceplan, the Farel has a minimalist feel with an industrial twist.

For the first time, Luceplan has introduced an iconic dome structure in the form of Farel. Designed by Diego Sferrazza, the Farel is created using sound-absorbing thermoformed material and outer fabric cladding, resulting in a robust, vintage style. With a variety of finishes, both internally and externally, this unique architectural structure can be customised to integrate into any room.
A new addition to the Compendium collection, the circle pendant emits harmony and diffused light for an eye-catching effect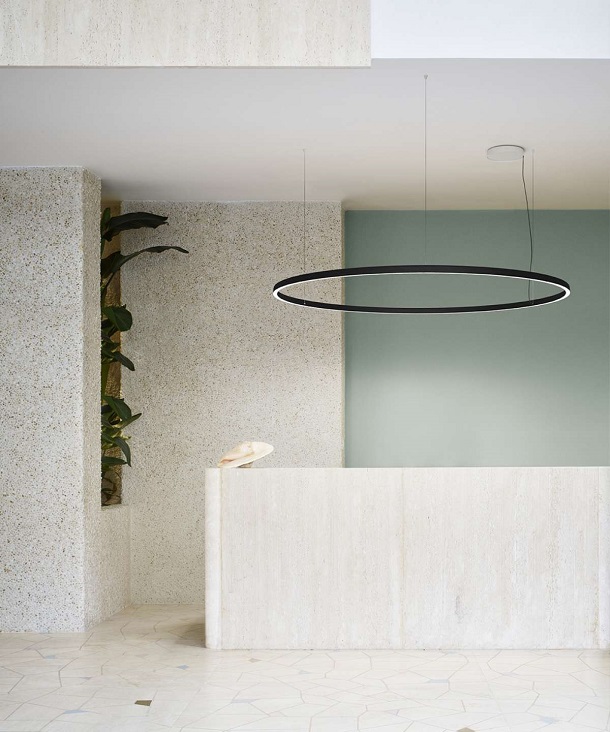 Adding to their existing popular Compendium family, Luceplan have created the stylish, unique circle pendant. From the mind of Dabiel Rybakken, this geometric design exhibits poetic nature and harmony. Powered by LED's, this pendant light emits direct emissions when angled downwards or diffused light when installed upwards, creating a highly customisable effect. This eye-catching piece is available in 3 variations of sizes, allowing you to create your own bespoke lighting design.

Subscribe to our monthly newsletter or follow us on social media - for a daily dose of noteworthy design.
David Village Lighting Pinterest: @davidvillage
David Village Lighting Twitter: @DVlighting
David Village Lighting Instagram: @davidvillagelighting