Our top 5 portable lamps!
Portable lamps are the ideal lighting companion for any time of the year, a personal light which gives a little more illumination exactly where you need it. When we are again blessed with some warm and sunny weather, this is where portable lamps can come in handy! Being completely wireless and having extended charge time means these stylish lamps can come outside with you and prolong your enjoyment of the outdoors.
Indoors, the usefulness of the portable lamp does not end! The compact size is ideal for adding an ambient glow to shelves and bookcases, they are ideal as an individual reading light or even setting the mood over dinner. The options are endless!
So which portable lamp is ideal for you? Take a look at some of our suggestions below; we think you will be spoilt for choice.
Artemide Come Together
If you are a fan of sleek Italian design, then the Artemide Come Together is the perfect contemporary lamp for you. Designed by Carlotta de Bevilacqua in 2018, a technological advancement from their first portable lamp in 1999 called Sui. Bevilacqua seeks independence from mains power, to set light free and bring ambience to wherever we need it and for long periods of time. Come Together is cleverly shaped to encourage one to grab the lamp and take it with them, it's futuristic style looks like it could accompany a man through space, or an individual throughout their lifetime.

Come Together has a powerful LED integrated light source, featuring a built-in dimmer. The lamp can last up to 16 hours on a single charge, connected via USB-C. This stylish portable lamp is available in five colour finishes to suit a wide variety of interior colour schemes: white, black, red, plus metallic aluminium and copper.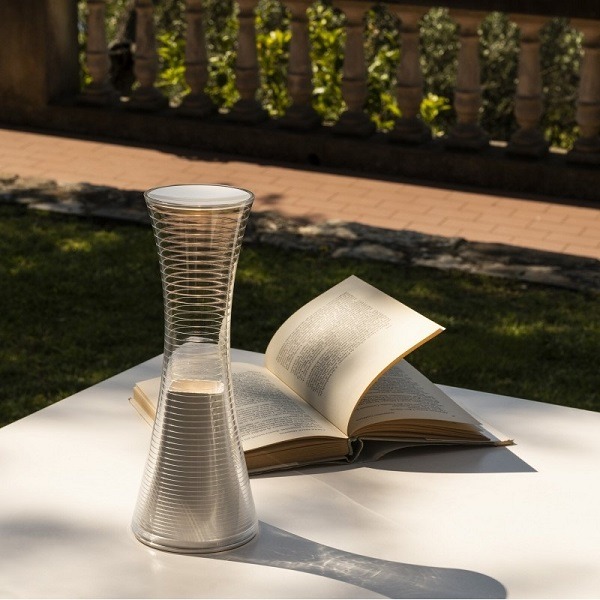 Marset Follow Me
If you are looking for something a little more playful, combining beauty and functionality, then Marset's Follow Me lamp will be ideal for you. Follow Me was design by Inma Bermudez in 2014 for Barcelona based lighting brand, Marset. In just a few short years since its creation, Follow Me became a design icon due to its high popularity and went onto win the Red Dot award in 2016. In the past year, Marset have expanded the collection to include a large size and 4 more colour options for the original model.

Follow Me's most notable feature is its whimsical but functional oak handle which arcs over the polycarbonate domed diffuser. The oak handle is embellished with brass fixings which match the touch dimmer on the base of the lamp.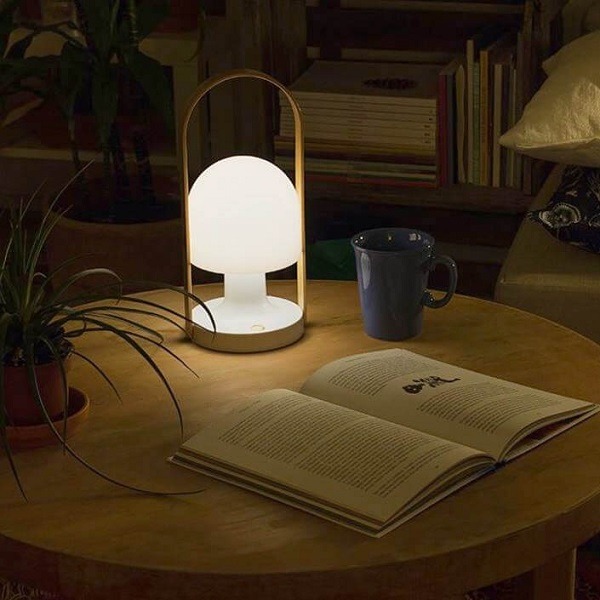 Flos Bellhop
Bellhop was designed in 2018 by Edward Barber and Jay Osgerby for the iconic Italian lighting brand, Flos. Originally based on their earlier commission for the London Design Museum, Flos sought to work with the designers on developing a pioneering portable table lamp that highly functional and stylish. The small and compact form lends itself to adorning bookshelves, yet is powerful enough to spread an atmospheric pool of light on table tops both indoors and out.
Flos see the Bellhop as the modern-day candle adding a cosy ambience but with the sleek minimal look of Italian craftsmanship. Bellhop portable lamp can last 24 hours on a single charge, featuring a battery level indicator on the base to not take away from the overall aesthetic. If you are looking for a highly versatile lamp which is both playful and contemporary, then look no further than Flos Bellhop.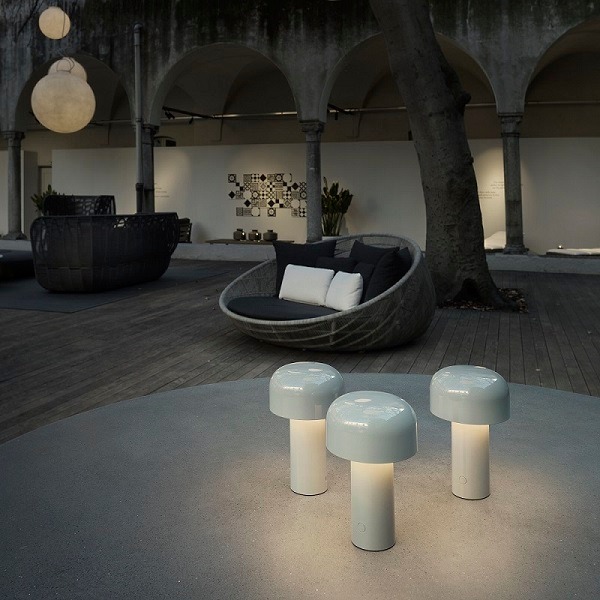 Menu Carrie
Unbelievably stylish with sleek lines and a lightweight feel, Menu's Carrie portable lamp was made for the design aficionado! From the creative minds of the well-known design house: Norm Architects, their minimalistic and masculine style has been applied to a highly functional portable light. The sturdy frame is made from powder-coated steel and available in 5 colour finishes, with a blown glass opaque diffuser to give a soft and comfortable light. The light quality was essential in this project's development, in Denmark 'Hygge' is an important part of the culture to create a warm an inviting environment in which to relax and be together with family and friends. Creating an atmospheric glow through lighting is a key element in Scandinavian style.

A single charge will allow the Carrie lamp to accompany you for up to 10 hours, also featuring a 3 stage dimming button on the base trim of the lamp. Carrie by Menu is ideal for evenings outdoors, reading in low light or simply setting the mood.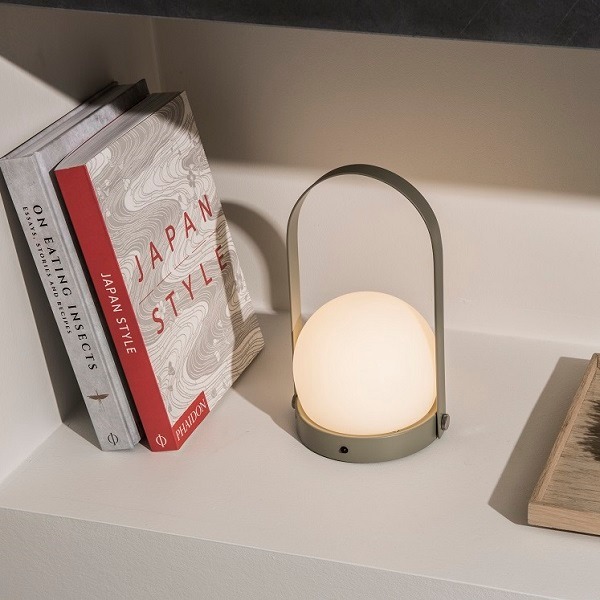 Louis Poulsen Panthella Portable
The newest addition to the portable lamp collection is Panthella Portable from Louis Poulsen, based on the original and iconic Panthella lamp which began life as a white/opal floor lamp popular in the 1970s. As success continued, the brand developed a table lamp of two sizes and multiple colours. Finally, this year we see the release of a Panthella Portable lamp, which is small, playful and oozes Scandinavian style.
As with the original Panthella lamp, the design has been created around avoiding harsh light or glare, which is why we have a lovely domed shade for aesthetics and functionality. Panthella Portable lamp gives 5 hours of full light from a single charge with 3 dimming levels to choose from. This light and compact form lends itself to move with your around the home and garden, heightening your experience of everyday life.