Premium design destination: Ashgate Road, Broomhill.
Our extensive portfolio of authentic, contemporary lighting and furniture finds a new home in the heart of Sheffield's Broomhill.
(New showroom not yet open...coming soon).
As a reflection of the modern designs hosted within our brand portfolio, our new location's contemporary architecture is considered - from the external facade right through to what will be the largest contemporary lighting showroom in the UK.

The David Village Headquarters
Our dedicated team are now providing support and services from our new Ashgate Road premises. Bigger and brighter open plan offices will provide us with the additional space needed for our teams to expand in the coming months - as we continue to evolve our services.

The largest contemporary lighting showroom in the UK.
Due to open early winter, our new showroom will house a carefully curated selection of design icons from across the globe. We're taking time to create a space which is inspired and contemporary whilst reflecting the buildings original double-height industrial ceilings.
Clearance items from our old showroom are available to purchase online via our website here.

We know from our extensive industry experience that timing is everything.
Our new premises provide us with the unique opportunity to hold larger quantities of your favourite brands and designs within our expansive on-site warehouse.
Over the coming months, we will continue to increase our in-stock offerings on selected brands and products - with immediate dispatch available for projects with short deadlines.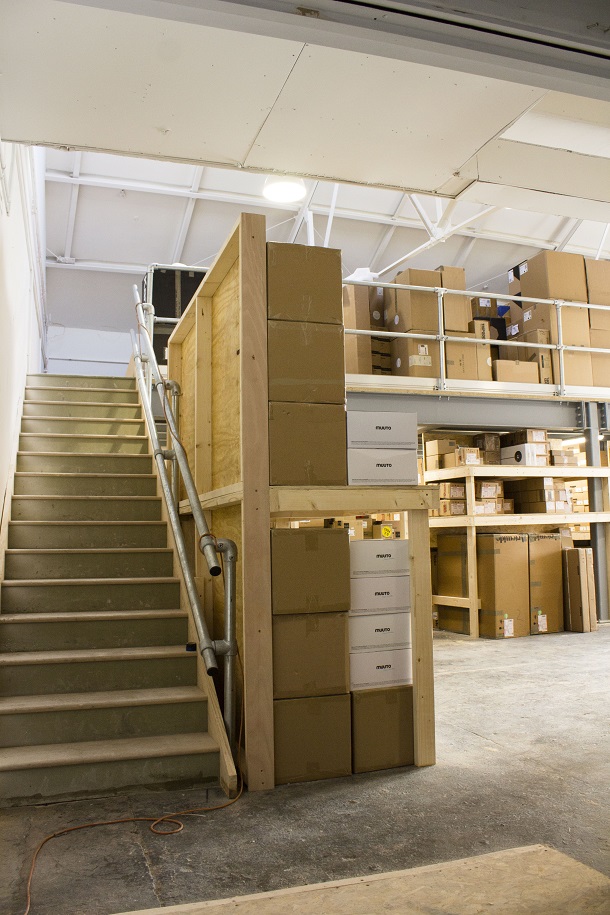 For the latest offers, design news and updates from industry insiders...
Subscribe to our monthly newsletter or follow us on social media - for a daily dose of noteworthy design.
David Village Lighting Pinterest: @davidvillage
David Village Lighting Twitter: @DVlighting
David Village Lighting Instagram: @davidvillagelighting
How to: Scandinavian Chic with Muuto
A trend that has taken the interior design scene by storm: Scandinavian living. Minimal designs, uncomplicated aesthetics and completely functional, there is no wonder why the world has fallen in love with the ways of the far north.
One brand offering the complete Nordic lifestyle is Muuto, comprising of lighting, furniture and accessories. Here is how to incorporate Scandinavian chic into your own home:
Create a cosy corner.
Soft fabrics, comfy pillows, side tables and functional lighting. These components make up the ideal space to recharge your batteries and indulge in a moment to one's self.
Social dining.
A large part of the Scandinavian lifestyle is to live socially, whether that is sharing a meal or memories over drinks. Open spaces for kitchen and dining areas are popular to allow everyone to partake in the experience. Generous tables, plentiful chairs and dining accessories all help to make each gathering a social event to remember.
Personalised storage.
Unique storage systems designed by you, to fit your own requirements and tailored to your needs. Personalised storage helps tidy your space stylishly, displaying items that express your personality and add interest to your home. Muuto provide alternatives to standard storage solutions, giving homeowners and interior designers the chance to create a display worthy of being the main feature.
Check out Muuto for the ultimate selection in Scandinavian living.
Visit us on our social sites to keep up to date on new products and what's on trend! You can find us on Facebook, Twitter, Instagram, Pinterest and now Polyvore!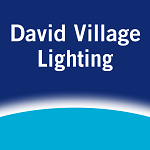 Tom Dixon reinvents a 17th century English archetype, the Wingback chair. It has been given an update to suit the 21st century, ergonomics have been tweaked to achieve ultimate comfort and a 'rakish' silhouette for an up to date styling.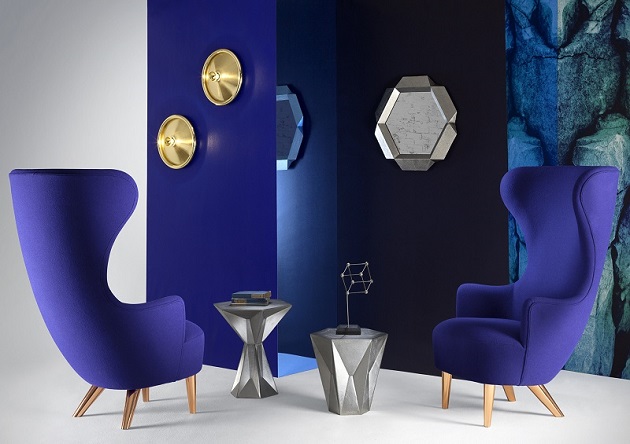 This new collection of chairs is made from a high quality fabric called Kvadrat, with their wide range of colours and finishes customers can create a unique chair to suit their surroundings. There are also two preset colours chosen by Tom Dixon – classic black and blue, with option of black or copper legs. The promotion of these stunning chairs has made the blue/copper legs combination an iconic look for the reinvented chair.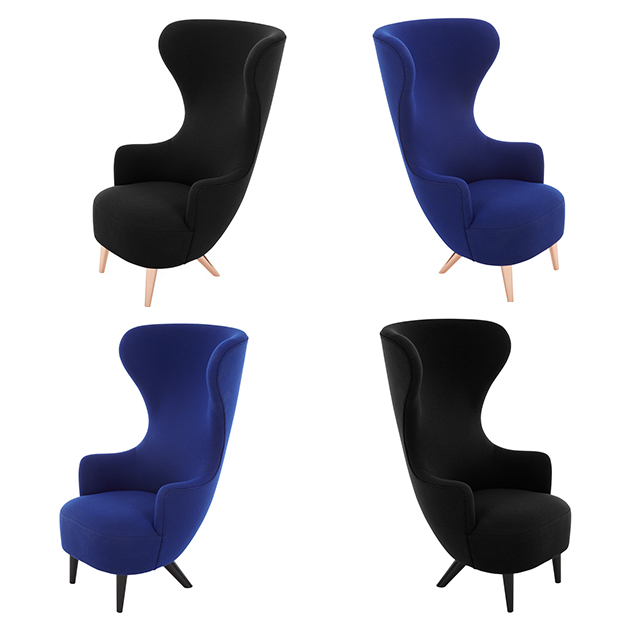 There is also a set of Dinning chairs included in the new collection, inspired by the familiar early modern British designs. That theme of slight extravagance, the look of wealth and luxury are conveyed by these lavish seats. Though these designs are entirely functional in their ability to provide comfort, which can be important when entertaining.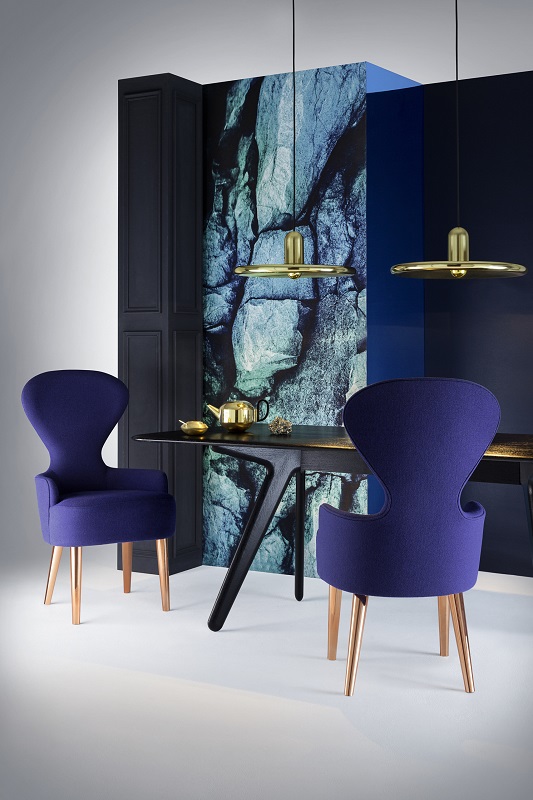 Discover this new and exciting range online now!
Visit us on our social sites to keep up to date on new products and what's on trend! You can find us on Facebook, Twitter, Instagram, Pinterest and now Polyvore!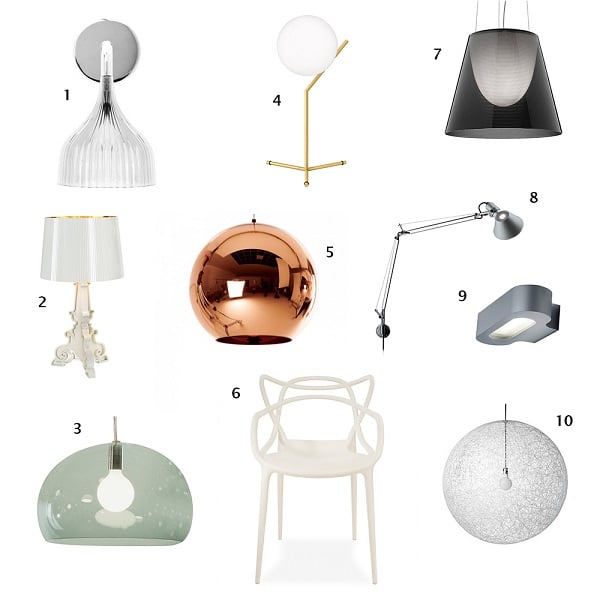 We are starting a new series on the blog showcasing the best sellers for each month, giving customers a view of what's on trend and which are constant favourites. For the month of April we have seen pale washes of colour or white which match the spring time theme, metallic hints are still popular in brands such as Tom Dixon, Artemide and Flos – a trend seemingly here to stay!
1. Kartell E' Wall Lamp 2. Kartell Bourgie Table Lamp
3. Kartell Fly Suspension 4. Flos IC High Table Lamp
5. Tom Dixon Copper Shade 45 Suspension 6. Kartell Masters Chair
7. Flos K-tribe S3 Suspension 8. Artemide Tolomeo Parete Wall Lamp
9. Artemide Talo Wall Light 10. Moooi Random 50 Suspension
Visit us on our social sites to keep up to date on new products and what's on trend! You can find us on Facebook, Twitter, Instagram, Pinterest and now Polyvore!