Celebrate Tom Dixon this Christmas at David Village Lighting



With the Christmas season fast approaching, here at David Village Lighting, we have collated some of Tom Dixon's hottest collections that will transform your home during this winter season.
The Copper pendant shade is an iconic interior design favourite, perfect for a wide variety of modern spaces.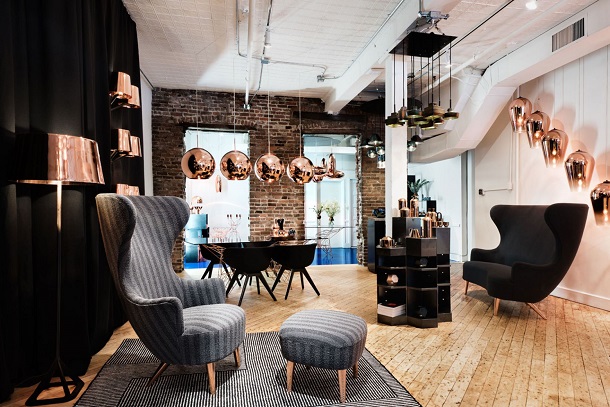 Looking like they have fallen straight off a Christmas tree, these elegant Copper pendant lights will brighten up the long nights with their warm metallic glow. Perfect for a traditionalist, these instantly recognisable iconic pieces by Tom Dixon, will leave any scrooge in high spirits.
Luxury metallic Melt pendant, a traditional design but with a contemporary twist.

Featuring luxurious metallic shades (bang on trend this winter season), these reflective Melt pendant lights mimic the shape of a traditional bauble, but with a modern, stylish twist. Add a festive kick with traditional copper red and gold shades, these highly unique jolly lights will spice up any room ready for December. These pendant lights are truly eye catching when hanging in clusters, allowing you to create your very own unique Christmas tree design.

The Void pendant light is an ideal metallic feature light for any season, bringing style and sophistication to any room.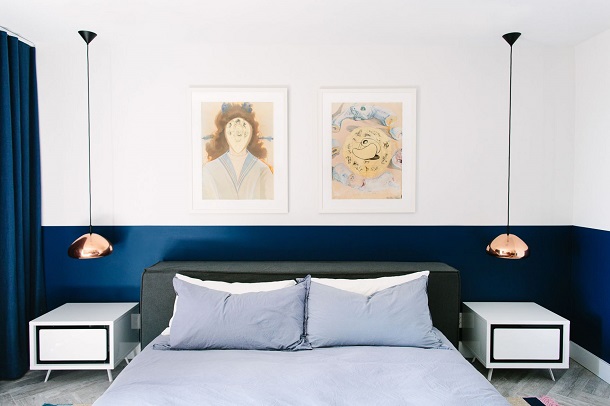 For those who want to keep on the trends but who doesn't want their rooms to be turned into a grotto, these Void pendant lights are a staple this season. Adding only a nod to the festive season, these highly transferrable pendant lights will take any room from season-to-season.
Subscribe to our monthly newsletter or follow us on social media - for a daily dose of noteworthy design.
David Village Lighting Pinterest: @davidvillage
David Village Lighting Twitter: @DVlighting
David Village Lighting Instagram: @davidvillagelighting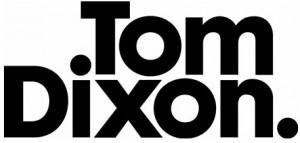 Brand Focus
Tom Dixon began his design career in the mid 80's and by the late 1980's he was working for Italian giant Cappellini, where he designed his iconic 'S' chair.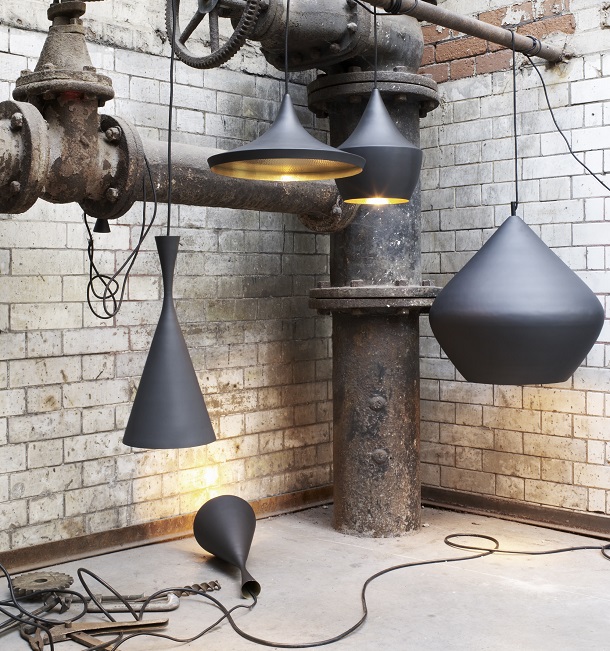 Throughout the 90's Tom Dixon became a household name and was appointed head of design at Habitat and later became Creative Director.
In 2002 the brand 'Tom Dixon' was established and is now available in over 95 countries. He is obsessed with honest materials and is committed to innovative design.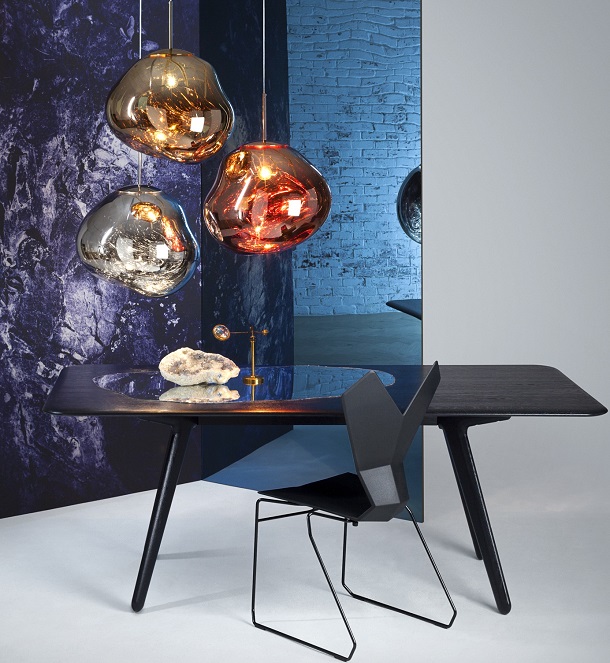 Tom Dixon has worked on many high-profile projects including The Royal Academy in London, Jamie Oliver's London restaurant and Shoreditch House.
Tom Dixon is inspired by its unique British heritage and launches lighting, furniture and accessories collections bi-annually in Milan, New York, London and Paris.
Their best sellers include the iconic Beat, Copper and Etch lighting collections.
Click here to view the Tom Dixon collection!
Visit us on our social sites to keep up to date on new products and what's on trend! You can find us on Facebook, Twitter, Instagram, Pinterest and now Polyvore!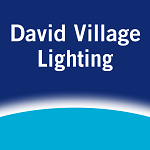 A trend which never fails to impress is Metallic details, added to an interior they create an element of luxury or as a statement piece within a space. Tom Dixon is well known for his metal themed designs and does not disappoint with the new Melt collection released this month – just in time for the Milan Euroluce exhibition!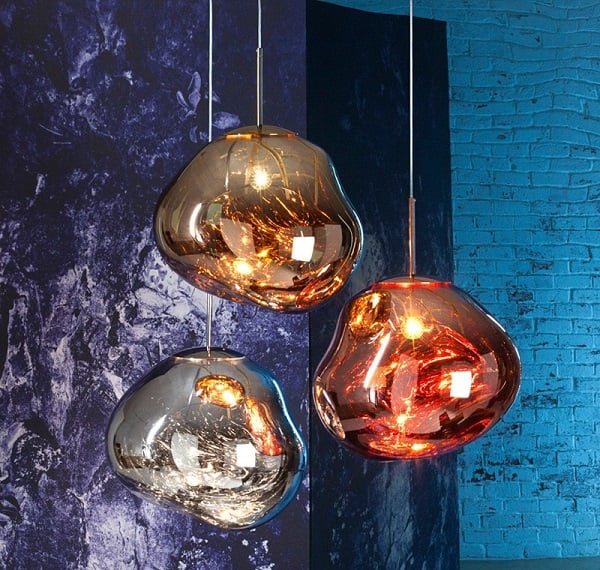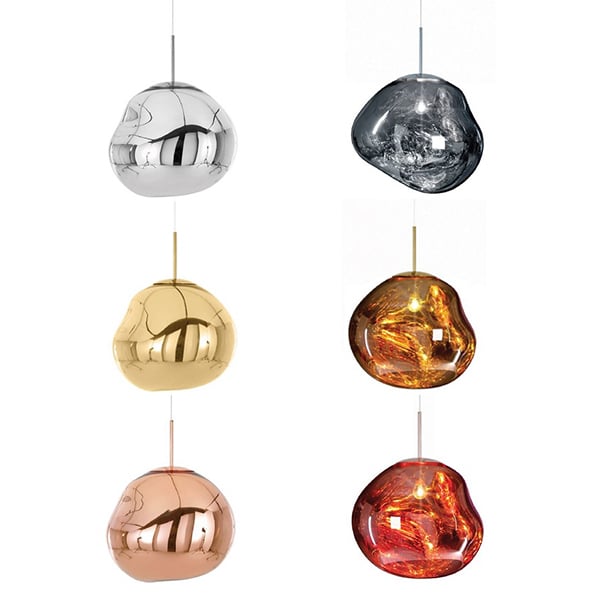 Tom Dixon Melt pendants are available in full and mini sizes, chrome, copper and gold which are popular colours from Tom Dixon.
The unique feature of these pendants is their transformation when lit. Turned off the pendants resemble their iconic Copper shade and Bronze shade with a 'melted' appearance to the form. However when the Melt is lit they resemble molten metal, the copper and gold finishes take on a warm and fiery look, the chrome similar to silver being melted for jewellery. This new collection is perfect for someone wanting to update their interiors for the metallic trend.
Visit us on our social sites to keep up to date on the Euroluce exhibition and what's on trend! You can find us on Facebook, Twitter, Instagram, Pinterest and now Polyvore!