Tom Dixon: The bestsellers of 2018/19



Formed in 2002, the talented and untrained designer Tom Dixon created a brand under his own name to research and develop his industrial lighting & furniture designs. Some of Tom Dixon's bestselling items are his earlier and most iconic pieces.
The Beat light collection was released in 2006 and has been a firm favourite amongst interior designers, architects and enthusiasts ever since.

"I was involved in an initiative in Jaipur to create alternative possibilities for the rapidly vanishing craftsmen and their skills, and the Beat Light was born from that project" - Tom Dixon. Created and inspired by the traditional brass work of the Northern Indian craftsman of Moradabad, Tom Dixon introduced these skills into his own collection. The Beat lights feature elements such as spun, braised and beaten brass, all formed by hand to make each pendant unique.
Available in four shapes: stout, tall, fat and wide, as well as four colourways.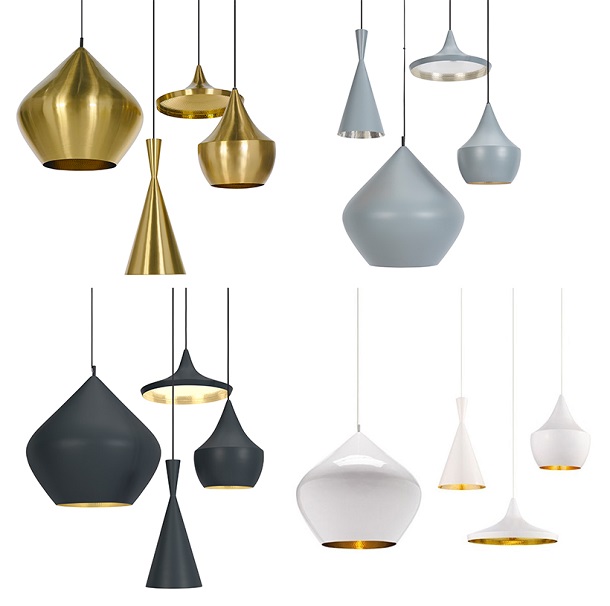 The Variety in size and colour makes for a dynamic and personal display of Beat lights, ideal in a linear formation over a dining table, or as a cluster over a kitchen island.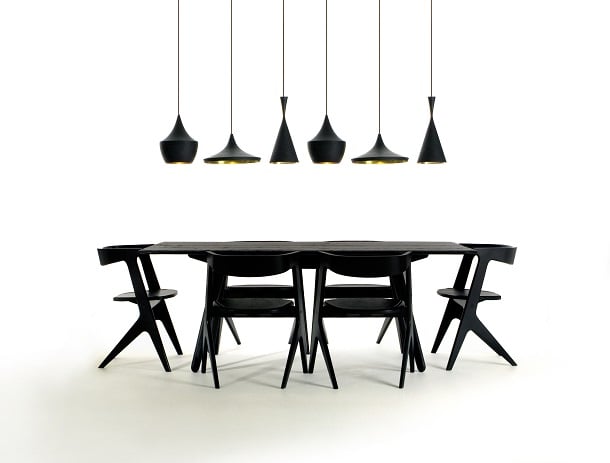 The Beat family has grown over the years due to its huge popularity, expanding to table, wall and floor lamps.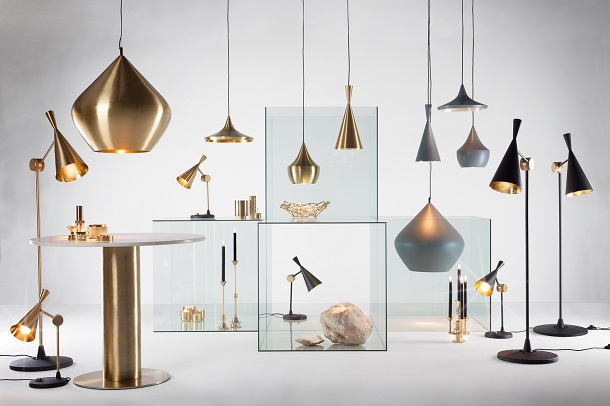 Making technological advancements into vacuum metallisation creates new possibilities, giving life to Tom Dixon's vastly popular Melt pendant.
In 2015, Milan's Salone del Mobile exhibition saw an exciting array of new and experimental lighting designs, Melt was the star! During the exhibition Tom Dixon even performed with his band under a glowing canopy of Melt pendants.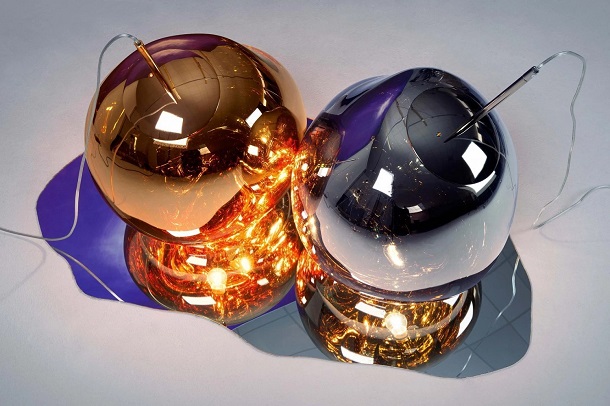 Melt resembles two pendants by Tom Dixon (Mirror ball & Copper round) which have been melted to produce this new unique design. The Melt pendants take on a warped effect in the vacuum process, a key feature being the opaque metal finish when not illuminated, then glowing transparency when lit.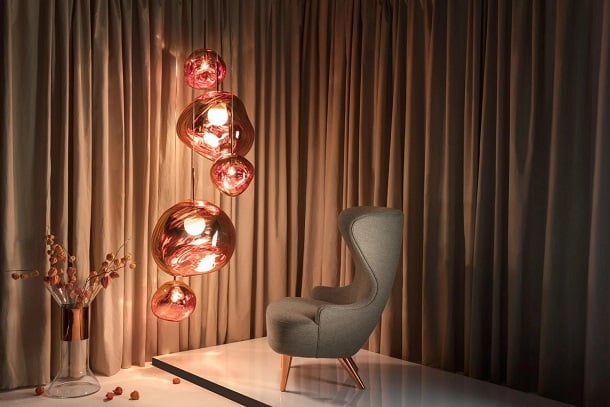 Tom Dixon's Melt light makes the perfect cluster feature due to its irregular shape, staggering the small and large size at varied heights has a very engaging effect.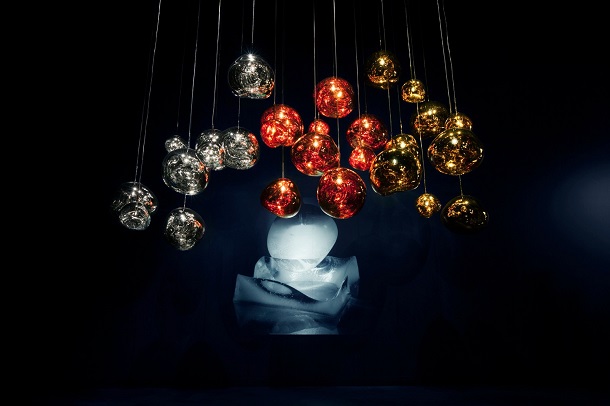 As we settle into 2019, we look forward to seeing the ever-changing trends and up-coming inventions from the creative mind of Tom Dixon. Shop Tom Dixon's best selling lighting and keep an eye out for more exciting releases on the David Village Lighting website.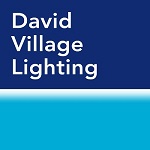 Visit us on our social sites to keep up to date on new products and what's on trend! You can find us on Facebook, Twitter, Instagram and Pinterest.
Premium design destination: Ashgate Road, Broomhill.
Our extensive portfolio of authentic, contemporary lighting and furniture finds a new home in the heart of Sheffield's Broomhill.
(New showroom not yet open...coming soon).
As a reflection of the modern designs hosted within our brand portfolio, our new location's contemporary architecture is considered - from the external facade right through to what will be the largest contemporary lighting showroom in the UK.

The David Village Headquarters
Our dedicated team are now providing support and services from our new Ashgate Road premises. Bigger and brighter open plan offices will provide us with the additional space needed for our teams to expand in the coming months - as we continue to evolve our services.

The largest contemporary lighting showroom in the UK.
Due to open early winter, our new showroom will house a carefully curated selection of design icons from across the globe. We're taking time to create a space which is inspired and contemporary whilst reflecting the buildings original double-height industrial ceilings.
Clearance items from our old showroom are available to purchase online via our website here.

We know from our extensive industry experience that timing is everything.
Our new premises provide us with the unique opportunity to hold larger quantities of your favourite brands and designs within our expansive on-site warehouse.
Over the coming months, we will continue to increase our in-stock offerings on selected brands and products - with immediate dispatch available for projects with short deadlines.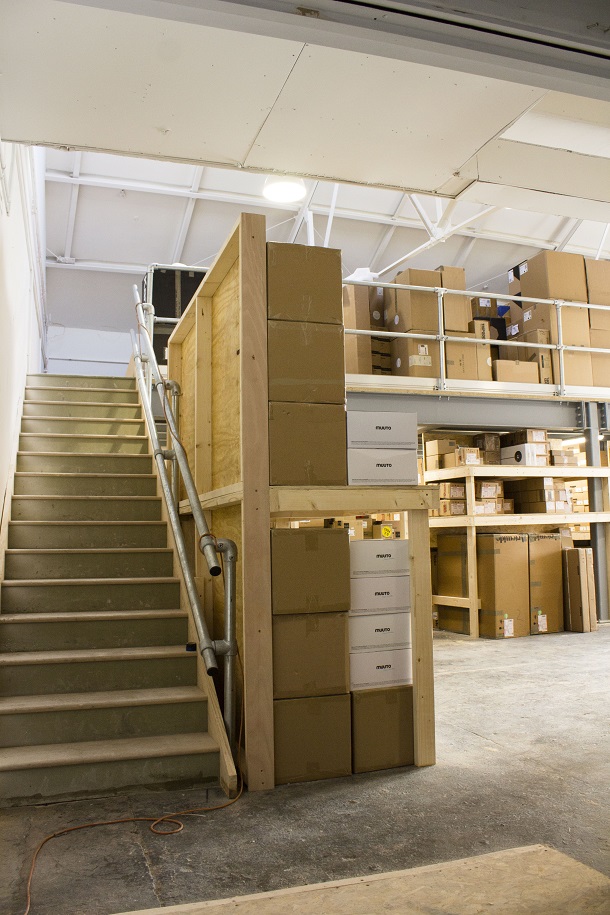 For the latest offers, design news and updates from industry insiders...
Subscribe to our monthly newsletter or follow us on social media - for a daily dose of noteworthy design.
David Village Lighting Pinterest: @davidvillage
David Village Lighting Twitter: @DVlighting
David Village Lighting Instagram: @davidvillagelighting

According to Vibia, going out is the new staying in. However, we don't agree!
Many up-and-coming restaurants, trendy eateries and stylish bars are recreating the cosy calming feel of home. With the best comfort food being served, relaxing environments and casual dining situations, these experiences are inspired by the contentment of home.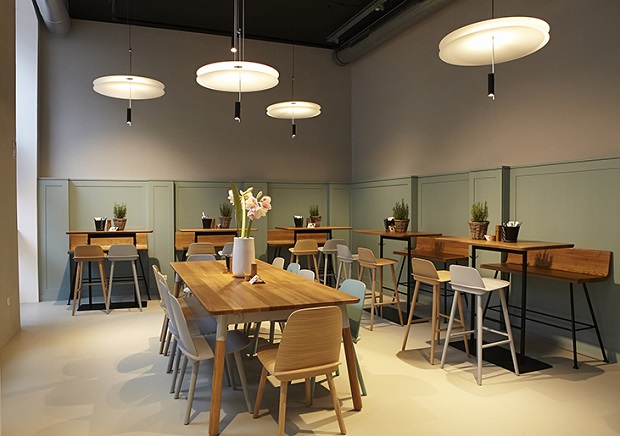 By staying in, you can create the ambience you desire for intimate gatherings or bustling dinner parties.
One of the many reasons we dine out is the extraordinary experience we get from a new and unique environment. Recreating the sense of occasion with personalised design at home can transform the way we approach dining, as well as how we treat the everyday rituals.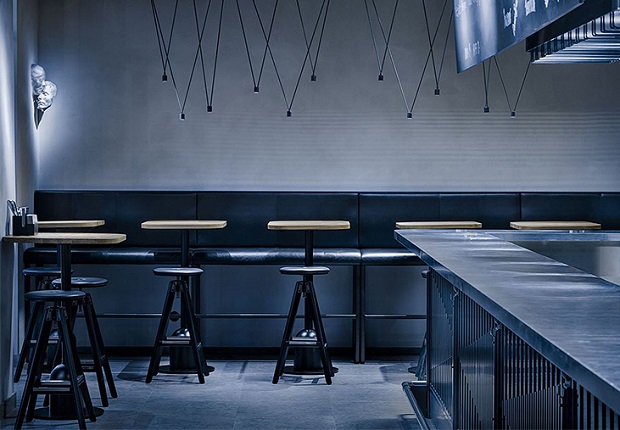 The right lighting can influence the entire interior design, whether you're aiming for a minimalist style or a casual inviting space.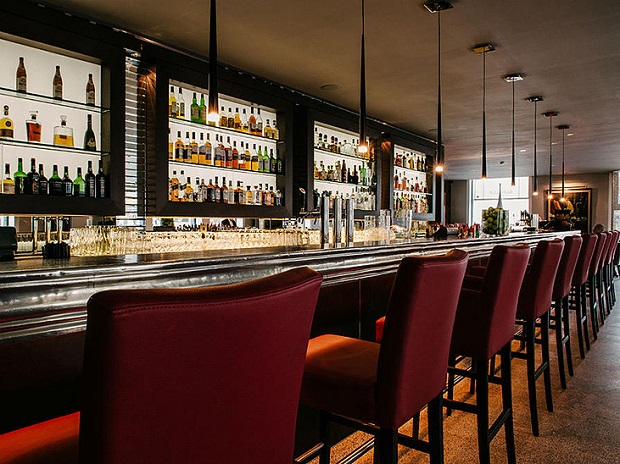 Get inspired by Vibia lighting to create a dining/kitchen area worth staying in for!
Visit us on our social sites to keep up to date on new products and what's on trend! You can find us on Facebook, Twitter, Instagram, Pinterest and now Polyvore!