/
Brands
/ Brokis

Brokis from David Village Lighting
Brokis was founded in 2006 by Czech entrepreneur and engineer Jane Rabell. The company combines handblown glass with other refined materials such as wood and manually pressed metal. The company's original lighting collection, designed by renowned Czech and foreign artists, has received numerous awards in prestigious design competitions around the world. Brokis's lighting collection features modern functional fixtures, decorative objects and unique lighting solutions for both residential and commercial interiors. David Village Lighting are delighted to have the addition of Brokis to our selection.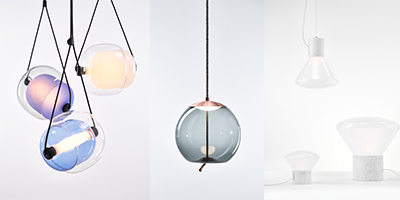 Brokis - from the Village Blog
12 May 2017


New Brand – Brokis
We are excited to announce our latest brand to be added online, Brokis. The Czech based lighting design company stands for the synthesis of exquisite design, superior quality, and the remarkable craftsmanship of Bohemian glass.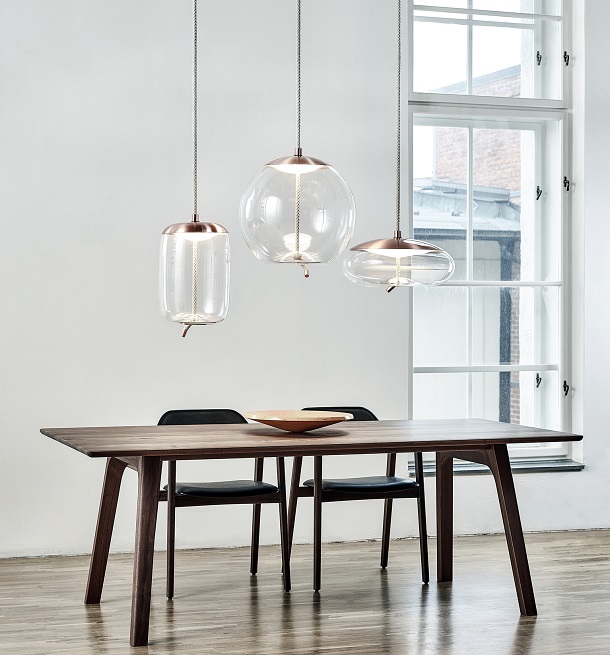 Brokis was founded in 2006 by successful Czech entrepreneur and engineer Jan Rabell. The Company combines hand-blown glass with other refined materials such as manually pressed metals and woods, creating designs which push boundaries.
The companies lighting collections designed by renowned Czech and foreign designer have achieved international acclaim and received numerous awards in prestigious design competitions worldwide.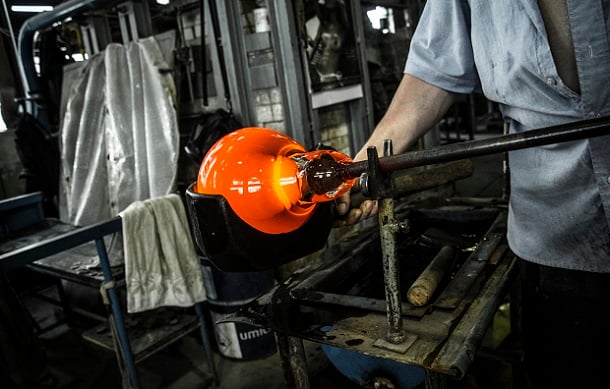 Nearly ten years prior, in 1997 Jan Rabell acquired the ailing Janštejn Glassworks which was founded at the beginning of the 19th century on the southeast of Prague. The demand for traditional glass products had declined and time-honoured techniques were at risk of being lost.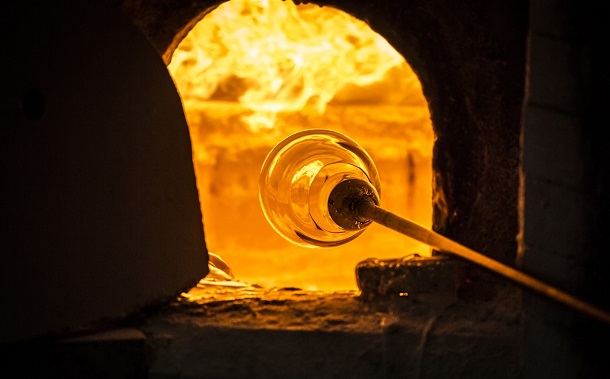 Rabell's vision was to restore the factory to its former prestige and to bring bohemian glassmaking traditions into the 21st century. Rabell wanted to create a brand which offered different designs than previously produced at the Janštejn Glassworks. New production techniques were refined, others revived and outdated ones discontinued.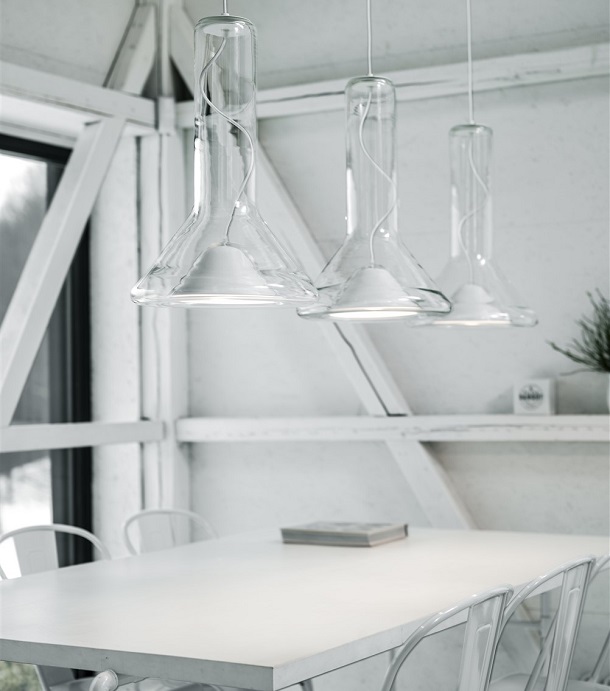 Brokis has established itself as a leading innovator in glass lighting and today operates in 70 countries. Brokis has also recently showcased its designs at the worlds largest design exhibition, Euroluce.
We already have some of the range online and we will be adding more in the coming days so keep your eyes peeled.
Click here to view the Brokis collection!
Visit us on our social sites to keep up to date on new products and what's on trend! You can find us on Facebook, Twitter, Instagram, Pinterest and now Polyvore!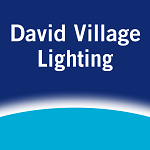 Share this:
3 August 2017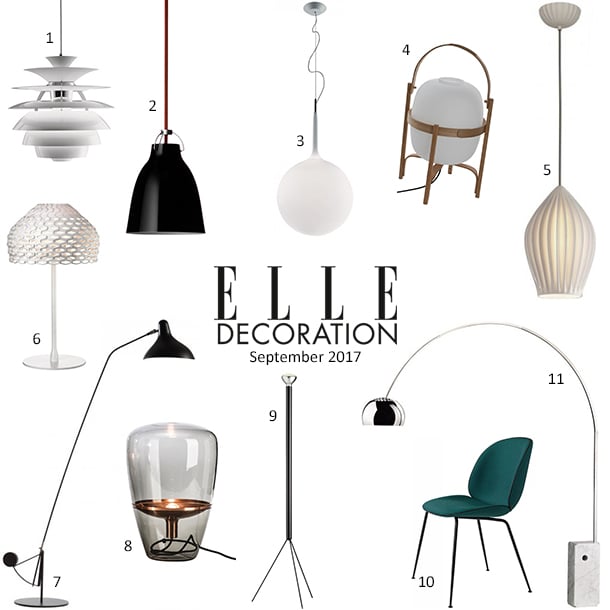 September's issue of ELLE Decoration looks at the new modern and how you can get the hottest new trends this season. The issue also features the 9 big kitchen trends right now with the 'social kitchen' including the Artemide Castore, shown above.
Click on the links below to view the lights featured in ELLE Decoration!
1. Louis Poulsen PH Snowball 2. Light Years Caravaggio 3. Artemide Castore
4. Santa & Cole Cesta 5. Original BTC Fin 6. Flos Tatou 7. Lampe Gras Mantis
8. Brokis Balloons 9. Flos Luminator 10. Gubi Beetle 11. Flos Arco
Visit us on our social sites to keep up to date on new products and what's on trend! You can find us on Facebook, Twitter, Instagram, Pinterest and now Polyvore!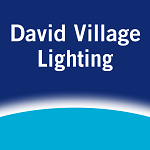 | | |
| --- | --- |
| Tags: | Artemide, Brokis, David Village Lighting, Designer Lighting, Elle Decoration, Flos, Gubi, Interior Design, Lampe Gras, Light Years, Louis Poulsen, Original BTC, Santa & Cole |
Share this:
14 July 2017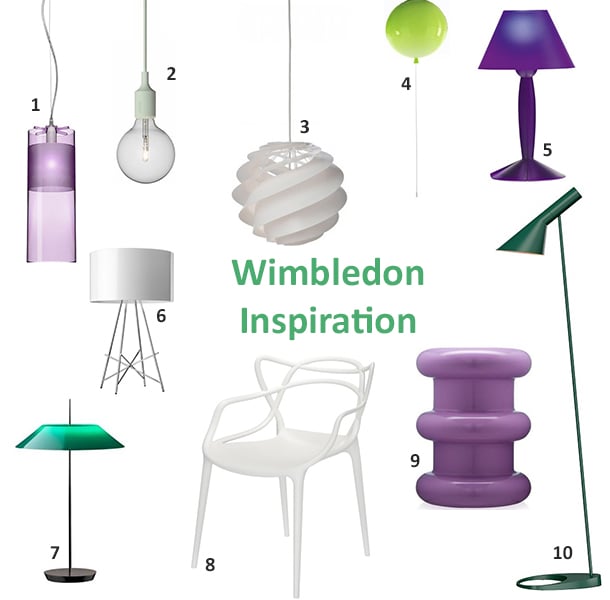 As the tension rises on the court we take some inspiration from the Wimbledon colours. Purple and green are two colours which can add a quirky pop of colour to your interior and be a key piece in creating a theme throughout your home.
Above we've picked out some designs which show of the Wimbledon shades!
1. Kartell Easy 2. Muuto E27 3. Le Klint Swirl 4. Brokis Memory
5. Flos Miss Sissi 6. Flos Ray 7. Vibia Mayfair 8. Kartell Master
9. Kartell Sotass 10. Louis Poulsen AJ
Visit us on our social sites to keep up to date on new products and what's on trend! You can find us on Facebook, Twitter, Instagram, Pinterest and now Polyvore!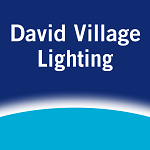 | | |
| --- | --- |
| Tags: | Brokis, David Village Lighting, Designer Lighting, Flos, Interior Design, Kartell, Le Klint, Louis Poulsen, Muuto, Vibia, Wimbledon |
Share this:
23 June 2017

Our 10 Favourite Recent Releases
Over the last couple of months we have added lots of new and exciting designs and we have picked out our favourite ten to share with you!
Muuto Ambit Rail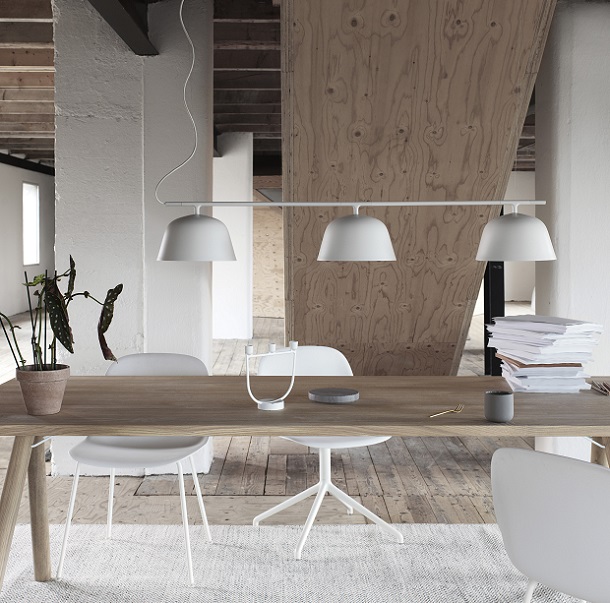 The new Muuto Ambit Rail is an extension from the Ambit series. The design is constructed using three Ambit shade mounted onto a tube leaving a minimal yet striking impression of a reformed, modernised chandelier. A key focus of the Ambit Rail is its fluidity with all joints and cable hidden and the supporting wire remarkably thin.
Moooi Perch collection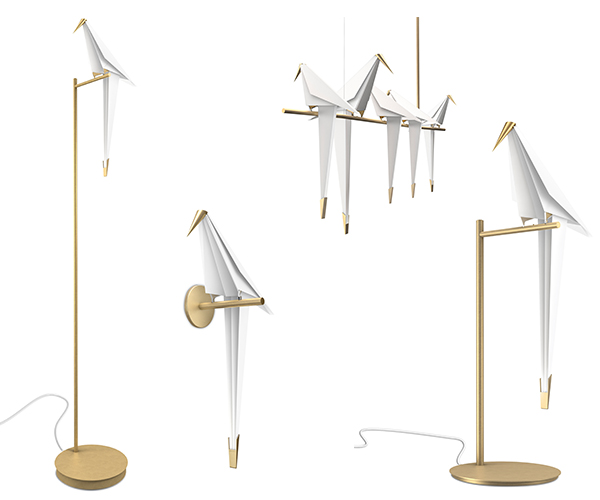 It's too hard to pick just one item from the new Moooi Perch collection so we've picked it all. With perch, designer Umut Yamac has designed a collection which encaptures the beauty of an exotic bird blissfully perched upon a tree. The collection is timeless, created with paper and brass detailing. The beautiful simplicity of the collection means you can either fill the room with a forest or pick just one as a statement piece.
Anglepoise Original 1227 Ceramic Collection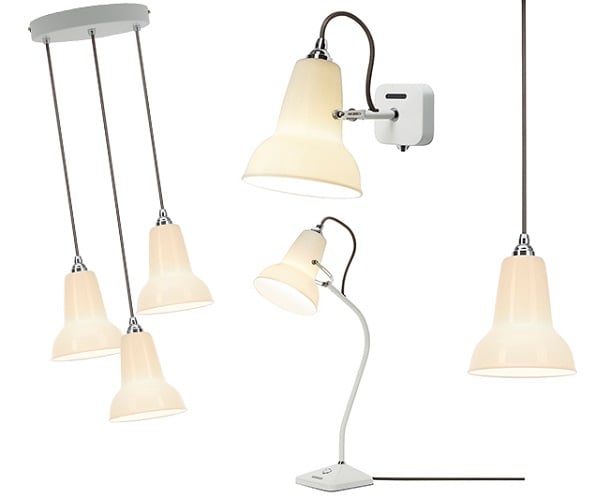 The new Ceramic collection by Anglepoise includes a pendant, a cluster, a table lamp and a wall lamp which all exude simplicity and elegance. The collection features a glossy bone china shade with chrome plated fittings and a grey fabric cable. Formed from the purest bone china, the white glossy shade turns translucent when on radiating a soft, ambient light around the room. 
Brokis Knot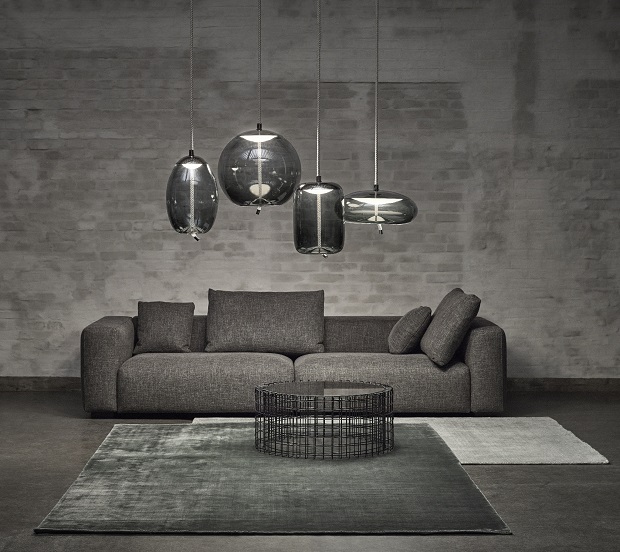 The Knot is a statement collection which includes 4 pendants each with different shaped mouth blown glass shades. The beautiful design combines coarse natural fibres with smooth, transparent blown glass and a robust cord with seemingly pulls the bottom of the glass inwards. The collection creates an impressive display whether hung along or in a group.
Bocci 84 Series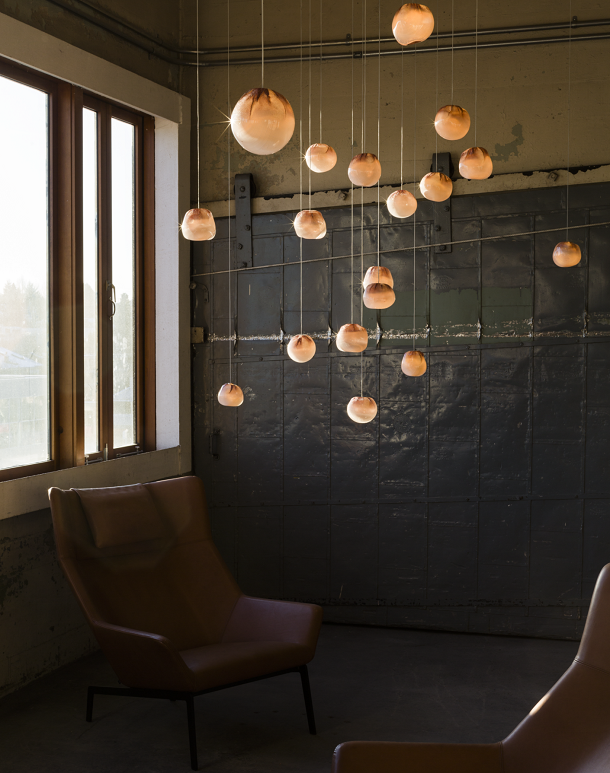 Despite not officially being available until September we couldn't wait to get it online to show off to you. The new Bocci 84 is collection which has many compositions and at the bottom of each cable has a white glass moil which is captured inside a fine copper mesh basket and then plunged into hot clear glass creating the shade. Sometimes the copper mesh basket folds and crinkles, adding specificity to each piece.
Axo Orchid Collection
The latest collection by Axo is Orchid which includes wall, ceiling, suspension and floor lamps which are available in either white or sand. Austrian designer Rainer Mutsch designed the collection with two separate yet complementary souls, one outer that of nature with its flower shaped diffuser and the other which is more hidden, a high tech integral LED.
Kartell Aledin
The new Aledin table by Kartell includes two different styles, Tec and Dec. The Aledin Tec has a flat head which gives out an adjustable direct light thanks to the movement of the diffuser head. The Aledin Dec is a more decorative shape with a cone shape diffuser with the light which Dec gives out is wider and more atmospheric. The two polycarbonate arms create the structure and are available in a range of fun colours.
Moooi NR2
A relation to the existing Non-random collection by Moooi the NR2 is a collection with three suspensions and a floor version. The elegant bubble shade is available in either white or black thread and is fitted with and integrated LED which gives out a soft diffused glow. The NR2 is currently available in the medium size with the small pendant, large pendant and floor version available soon.
Resident Bloom
The latest release from resident is a beautiful pendant made from a finely perforated mesh core and frosted blown glass. The two combined projects a soft focus texture onto the inside of the shade. The Bloom pendant is inspired by the gentle dynamic flow of paper lanterns and is available in either black or white.
Foscarini Twice as Twiggy
The Twice as Twiggy is a design by Marc Salder who was inspired by the flexibility of a fishing rod and has become an icon of contemporary design. The release is an oversized version of the original Twiggy and retains the lightweight feel and flexibility while create a statement even in a large room. The design has been able to be achieved thanks to a steel cable which is concealed within while the lampshade, which is both large and extremely light-weight, is balanced by the appropriately sized base.
Visit us on our social sites to keep up to date on new products and what's on trend! You can find us on Facebook, Twitter, Instagram, Pinterest and now Polyvore!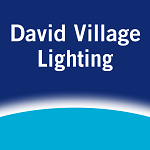 | | |
| --- | --- |
| Tags: | Anglepoise, Axo, Bocci, Brokis, David Village Lighting, Designer Lighting, Foscarini, Interior Design, Kartell, Moooi, Moooi, Muuto, Resident |
Share this:
24 February 2017

During our visit to the Stockholm Furniture and Lighting Fair we got the chance to see some of the latest designs from the brands that we work with.
Light Years
Released late last year the Suspence collection from Light Years is already a popular design of theirs. The inspiration for the design by GamFratesi's was translating a movement into a physical shape. The pendants design is perceived to be uninterrupted with an infinity diffuser at the bottom which prevents glare and creates an elegant diffused light.
Released at the same time was the Suspence Nomad which is designed to be placed on a horizontal surface for example a floor or staircase. Just like a nomad it can be moved from place to place with ease by lifting the silicone handle at the top.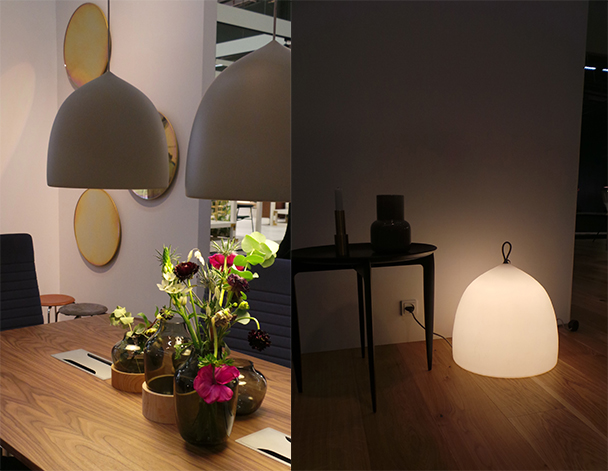 Orsjo
Konkret is a brand new pendant by Orjso which caught everyone attention at the fair. The series puts Orsjo's constituent material to the test. Despite the pendants name suggesting a much harder material it is made from ash veneer with a black ombre tint and has fine details such its brass studs which attached the leather straps.
"I wanted to challenge the way we use wood as a material for lights and show how the texture of the material can be changed through its design and how this also creates a natural and warm light," says designer Jonas Edvard.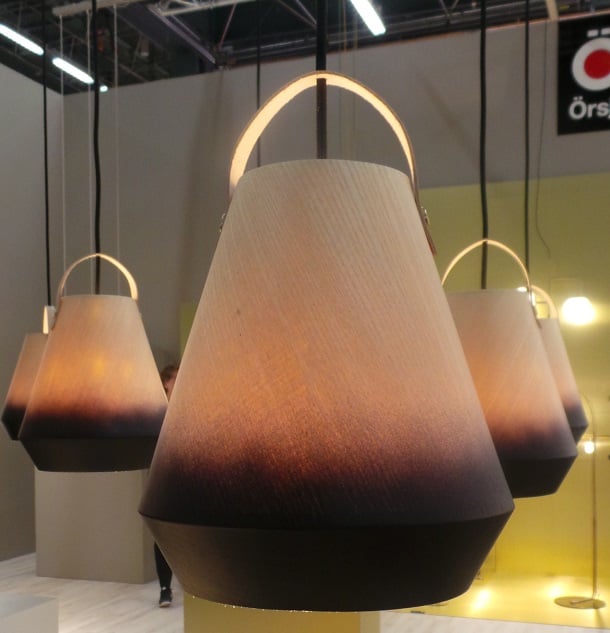 Louis Poulsen
This year Louis Poulsen has released one new design and has updated 2 of it most popular collections. At their stand in Stockholm they had all three of the latest releases. Shown below are a few designs from the updated PH collection and the new Above pendant. Keep your eyes peeled as we will soon be revealing the second collection to be updated by Louis Poulsen.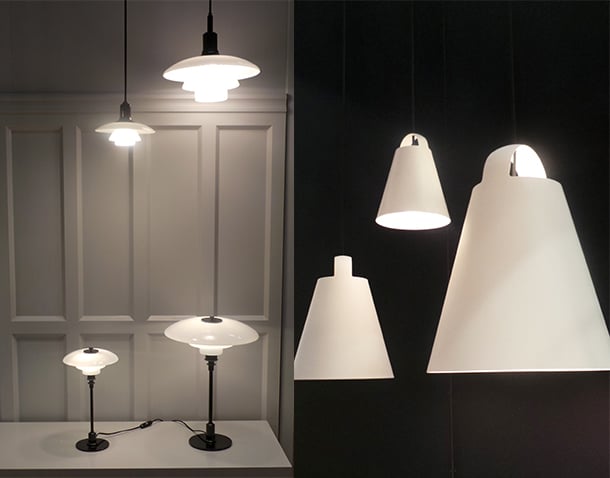 Foscarini
Late last year Foscarini along with the Aplomb Large released the Spokes 2 Large pendant and the New Buds collection. The three designs have already proved popular with their simple and modern design. All three work well to be placed either in the home or in a commercial area.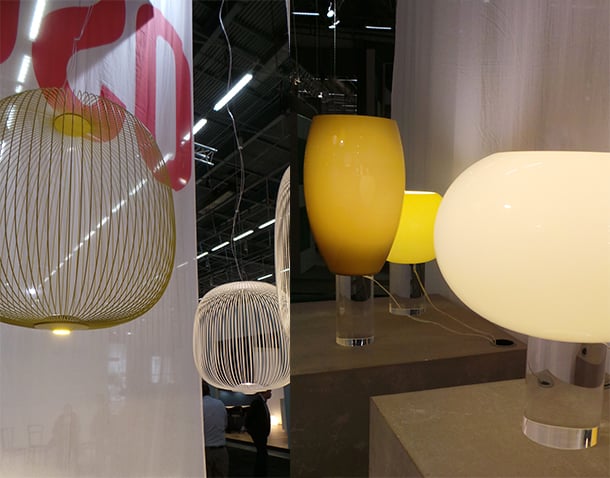 Secto
Finnish based lighting company Secto made a simple yet stunning display. The company specialises in hand-made wooden design lighting. Their stand showed two new designs, the new Teelo table and a yet unnamed wall light. The Teelo table has a simple yet stylish design which incorporates a sculptural tone and secto's signature clean lines.
The new wall was designed in response to the clear demand for a light which is not suspended but fixed. The design brings a new character to ceiling and wall fixtures where wood is not a material commonly used.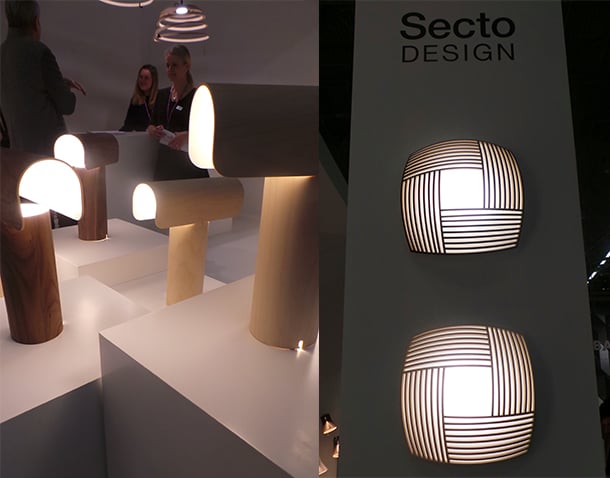 Hay *Coming soon*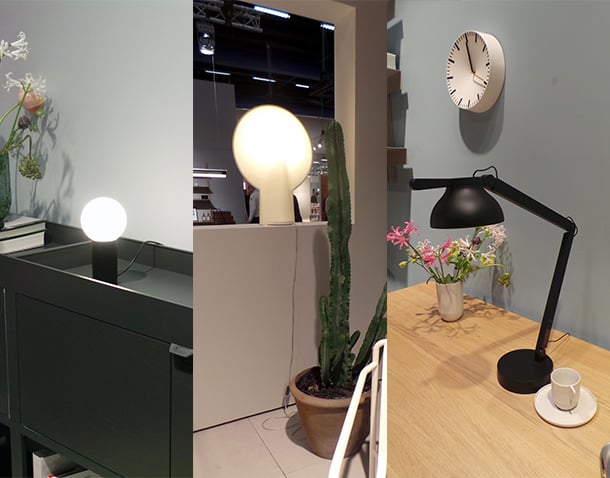 Brokis *Coming soon*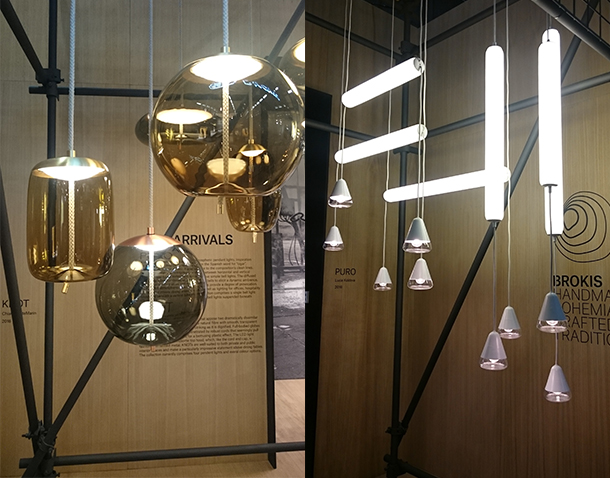 Visit us on our social sites to keep up to date on new products and what's on trend! You can find us on Facebook, Twitter, Instagram, Pinterest and now Polyvore!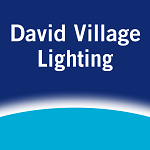 | | |
| --- | --- |
| Tags: | Above, Brokis, David Village Lighting, Designer lighting, Foscarini, Hay, Interior design, Konkret, Lighting design, Light Years, Louis Poulsen, New releases, Orsjo, Secto, Stockholm, Suspence |
Share this: