/
Brands
/ Prandina
Prandina from David Village Lighting
Prandina is an Italian brand who started in interior lighting design in 1982. Since the outset Prandina's creative philosophy has fulfilled criteria of simplicity and formal precision, functionality and lasting quality that have enabled the brand to gain a recognised position in the international market. Oriented toward effective and recognizable lamps, Prandina believes in productive teamwork in synergy with established and emerging designers from around the world, looking for new ideas in lighting, breaking with the current trends and conventions.
Prandina - from the Village Blog
Prandina Wins Smart Lighting Award
24 June 2016

Pandina celebrate success as they are awarded the Best Modern Decorative Lamp of 2016 at the Venetian Smart Lighting Award prize ceremony. Their new floor lamp Effimera won the award at the event, organized by Luce in Veneto. The jury was composed of lighting designers and influential personalities from the lighting world, evaluating the design of both the aesthetic aspects and functionality.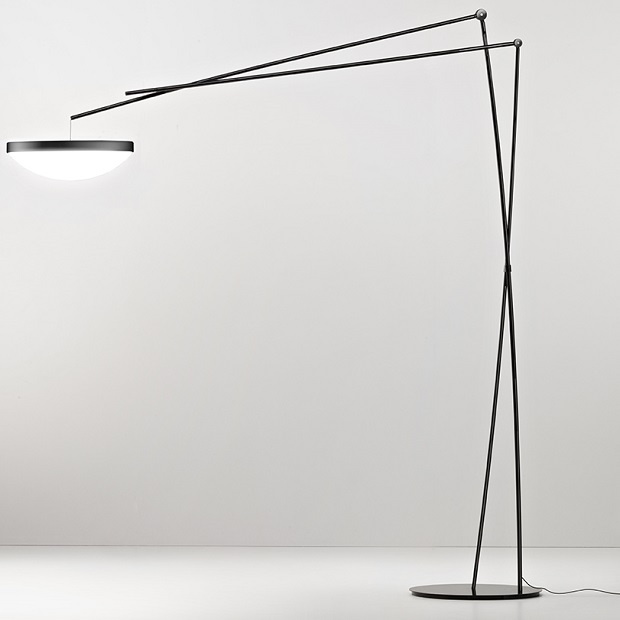 Prandina has recently released their new designs for 2016 and we've picked out some of our favourites.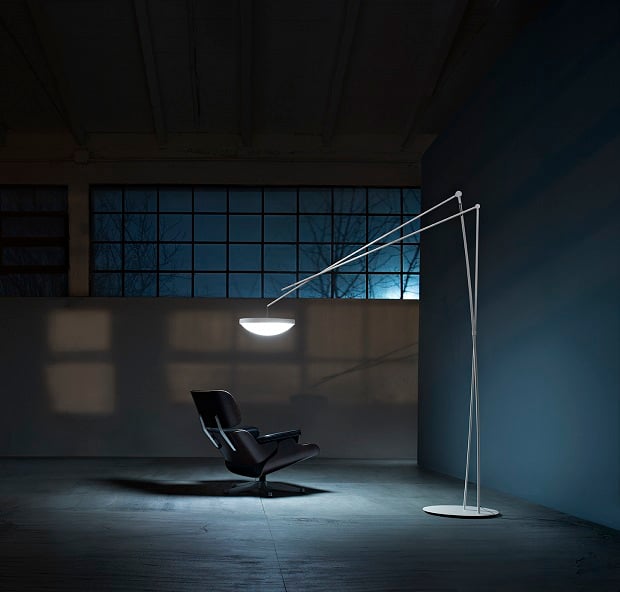 The Effimera has an adjustable height which lends well to it suitability of being positioned in a living area or used as a reading light. The mechanisms used are discreetly hidden inside the structure and comes with an optional fabric lampshade for a diffused warm glow.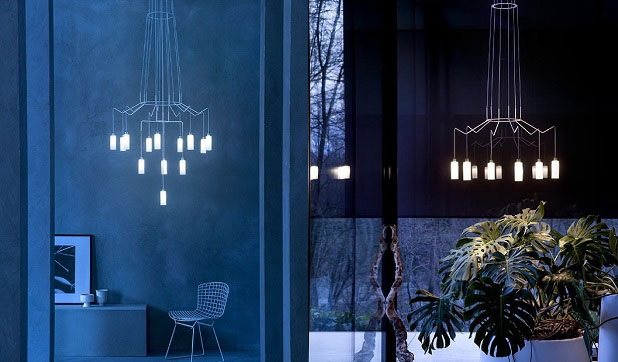 The Chan Design comes in huge range of variations ideal for tailoring it to the space in your home. The suspension light is perfect for diffused lighting and is available in both a white painted or brass galvanised steel structure. Thanks to the overlap of different structures it is possible to realize various compositions up to a maximum of thirteen lights for a personalised touch.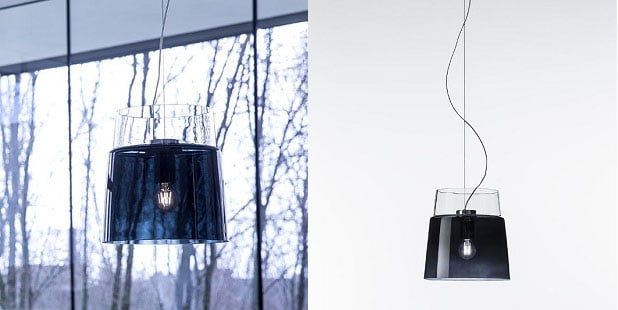 The elegant Vestale design is brought together by a combination of matte and clear glass. The shade comes in either a Smokey grey or White brushed shade, ideal for adding a modern touch to your home.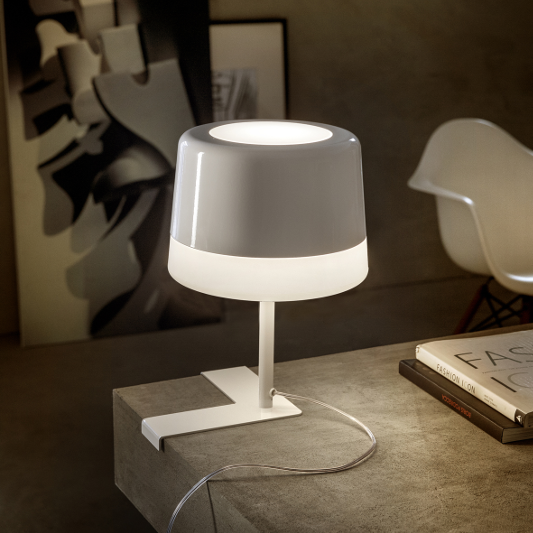 The gift table is designed by DINN! for Prandina. Its unique design allows the lamp to merge with the style of the furniture on which it is placed, creating a graphic element between its base and the surface. The collection is going to be further developed with the introduction of different colours, a new round base and a floor version.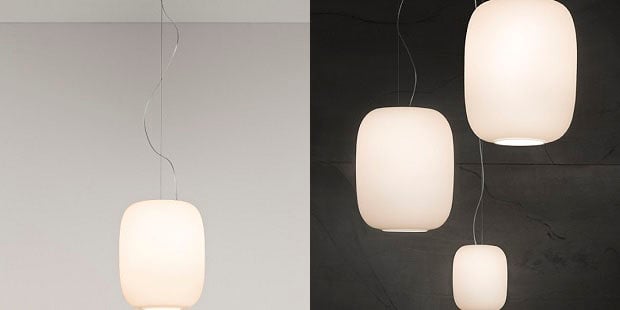 The Santachiara opal blown glass diffuser is sleek and timeless. The harmonious design of the Santachiara combined with the glare-free light provides atmospheric illumination in every room.
We already have some of the most popular Collections by Prandina available online and more ranges will be added soon. For any requests please don't hesitate to contact us.
Visit us on our social sites to keep up to date on new products and what's on trend! You can find us on Facebook, Twitter, Instagram, Pinterest and now Polyvore!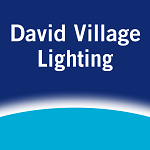 Share this:
10 November 2016

Artemide Tolomeo Foscarini Aplomb Anglepoise Type 75 Margaret Howell
Terzani Orten'zia Wastberg Studioilse Flos Snoopy Artemide Pirce Louis Poulsen NJP
Artemide Unterlinden Light Years Mondrian Flos Superloon Bocci 73
Original BTC Chester Foscarini Binic Flos Arco Light Years Caravaggio Read
Fabbian Flow Fontana Arte Pinecone Louis Poulsen AJ Louis Poulsen VL38
Davide Groppi Saba Bocci 14 Artemide Castore Louis Poulsen mini Panthella
Flos IC Original BTC Walter Flos Zeppelins Flos Toio Flos Serena T Flos Soft Spun
Wastberg Dalston Fontana Arte Volee Verpan VP Globe Artemide Minomushi
Luceplan Fly-Too Flos Viscontea Oluce Coupe 3320/R Flos Taccia Prandina Effmera
Vibia Pin Foscarini uto Flos Kelvin Foscarini Kurage Vibia North
Anglepoise Original 1227 Desk Artemide Eclisse Artemide Grantio
Visit us on our social sites to keep up to date on new products and what's on trend! You can find us on Facebook, Twitter, Instagram, Pinterest and now Polyvore!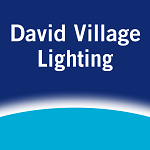 | | |
| --- | --- |
| Tags: | Anglepoise, Artemide, Bocci, David Village Lighting, Elle Decoration, Fabbian, Flos, Fontana Arte, Foscarini, Interior Design, Lighting, Light Years, Louis Poulsen, Oluce, Original BTC, Prandina, Terzani, Verpan, Vibia, Wastberg |
Share this:
14 October 2016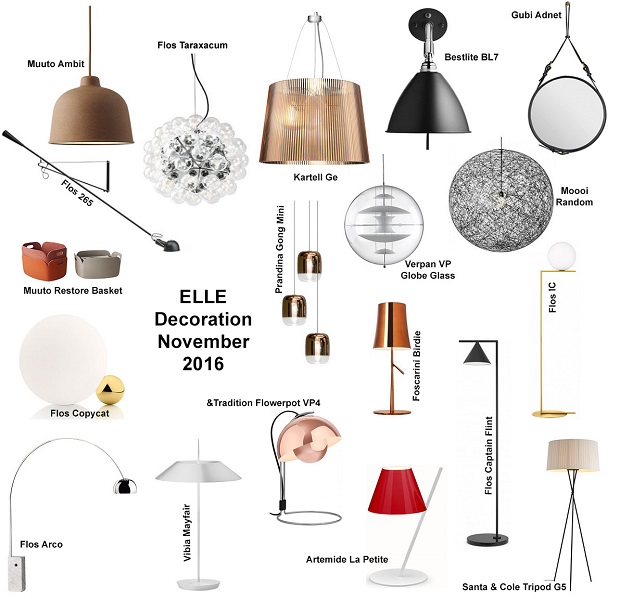 This months Elle Decoration looks at the 'Mood of the Moment'. With calming tones and natural materials the lighting featured will inspire you to create a sleek and stylish interior using neutral shades and crisp autumn metallic finishes. The magazine is accompanied with an essential bathroom guide, because every room deserves to be on trend.
From Top to Bottom, Left to Right
Muuto Ambit Flos Taraxacum Kartell Ge Bestlite BL7 Gubi Adnet
Flos 265 Prandina Gong Mini Verpan VP Globe Glass Moooi Random
Muuto Restore Basket Flos Copycat Foscarini Birdie Flos IC
Flos Arco Vibia Mayfair &Tradition Flowerpot VP4
Artemide La Petite Flos Captain Flint Santa&Cole Tripod G5
Visit us on our social sites to keep up to date on new products and what's on trend! You can find us on Facebook, Twitter, Instagram, Pinterest and now Polyvore!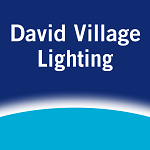 | | |
| --- | --- |
| Tags: | Artemide, Bestlite, David Village lighting, Elle Decoration, Flos, Foscarini, Gubi, Interior Design, Kartell, Lighting, Moooi, Muuto, Prandina, Santa&Cole, &Tradition, Verpan, Vibia |
Share this:
30 September 2016
Autumn Metallic Madness
As we move into autumn we're focusing on metallics with crisp copper shades and sparkling silver detailing. Below we have some autumn inspiration for your home!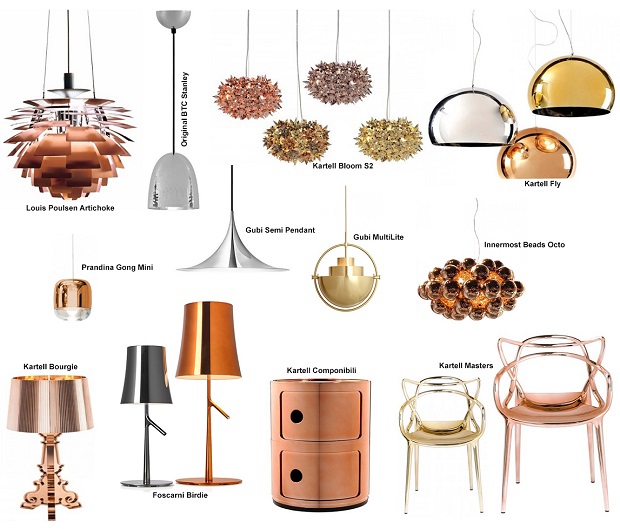 Products Shown Top to Bottom, Left to Right
Louis Poulsen Artichoke Original BTC Stanley Kartell Bloom S2 Kartell Fly
Prandina Gong Mini Gubi Semi Pendant Gubi Multilite Innermost Beads Octo
Kartell Bourgie Foscarini Birdie Kartell Componibili Kartell Masters
Visit us on our social sites to keep up to date on new products and what's on trend! You can find us on Facebook, Twitter, Instagram, Pinterest and now Polyvore!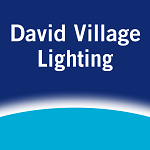 Share this:
8 July 2016
Our Favourite New Products This Month!
Bover Siam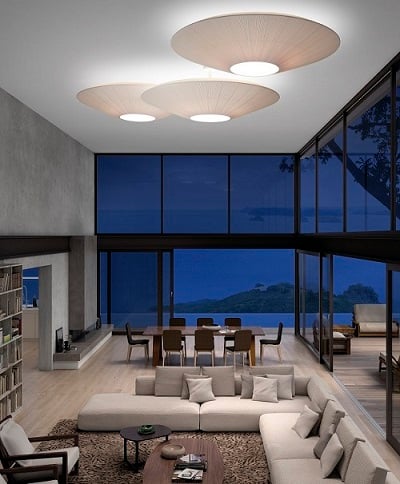 Designed by Joana Bover the beautiful SIAM lamp has an oriental feel with its clean yet stylish hand-wrapped ribbon design available in red, white or cream. The lamp can be grouped in number of formations in turn creating an elegant impact of suspended light.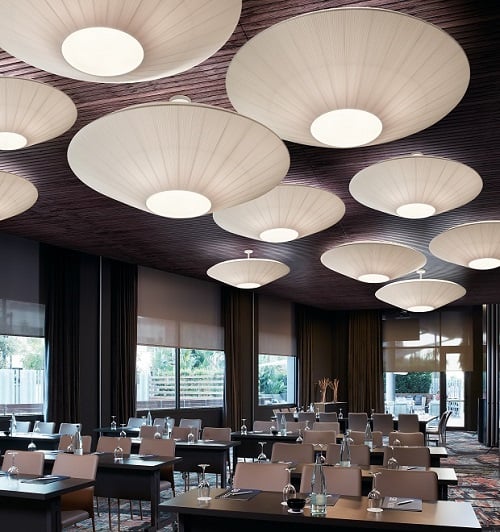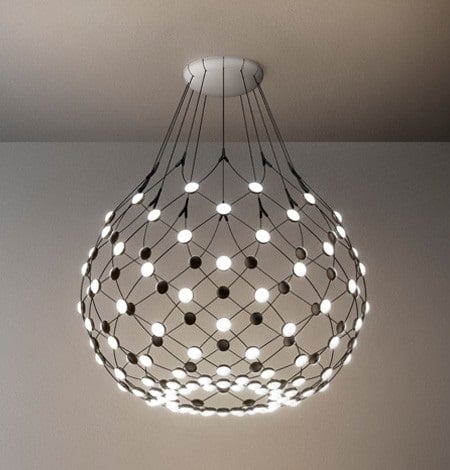 Luceplan Mesh
The Luceplan Mesh is a suspension lamp offering multiple lighting scenarios for personalisation and functional performance. The lightweight, almost transparent structure is composed of a network of metal cables with the LED's positioned at their intersections .The structure of the lamp allows freedom in the control of the lights: the intensity can be adjusted, and its possible to choose which sections to illuminate.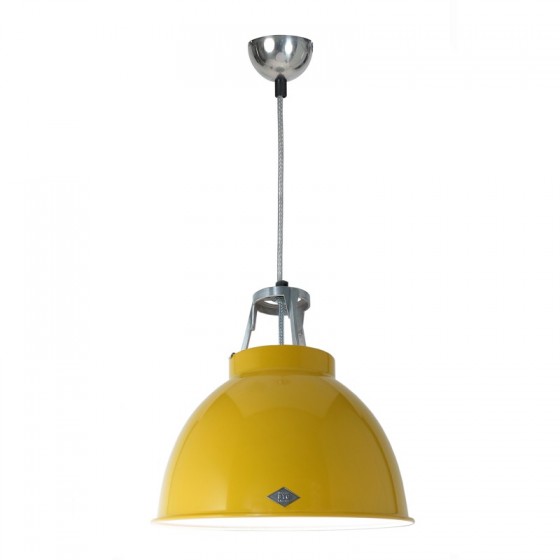 Original BTC Titian
The titian is an original 1940s design, frequently seen in factories and industrial units of the period. There is also an option for the titian with an etched glass visor which helps prevent glare and provides a softer, more diffused light.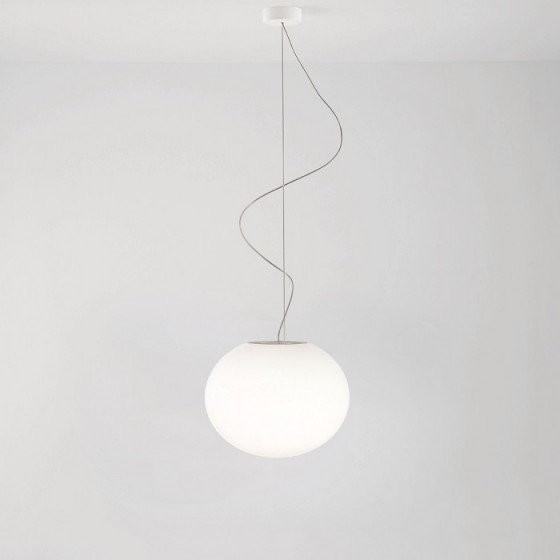 Prandina Zerodieci
The Prandina Zerodieci Suspension S7 is a suspended lamp perfect for diffused lighting. With a matt white painted ceiling rose the lamp offers a sleek and simple yet stylish design, perfect for the home. With an opal white blown glass diffuser the lamp is available with an Eco or LED option.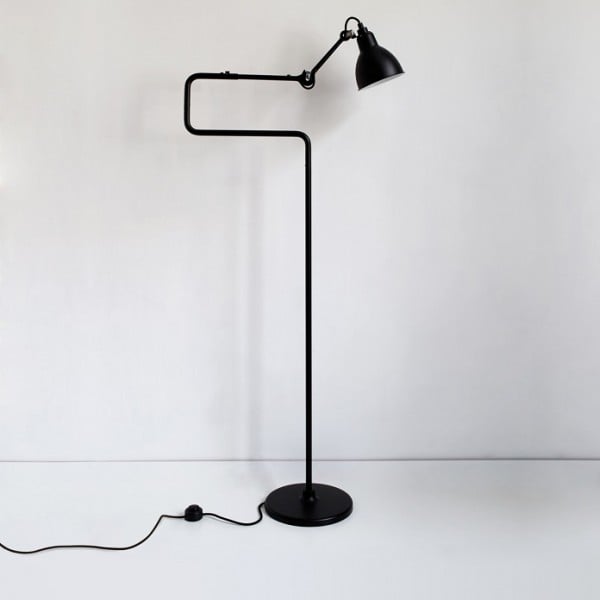 Lampe Gras Nº411 Floor
The Lampe Gras Nº411 floor lamp is perfect to use for reading and rooms suited for directed light. The lamp is created with wonderful proportions and an adjustable design which thanks to its double-elbow allows it to be rotated twice through 340°.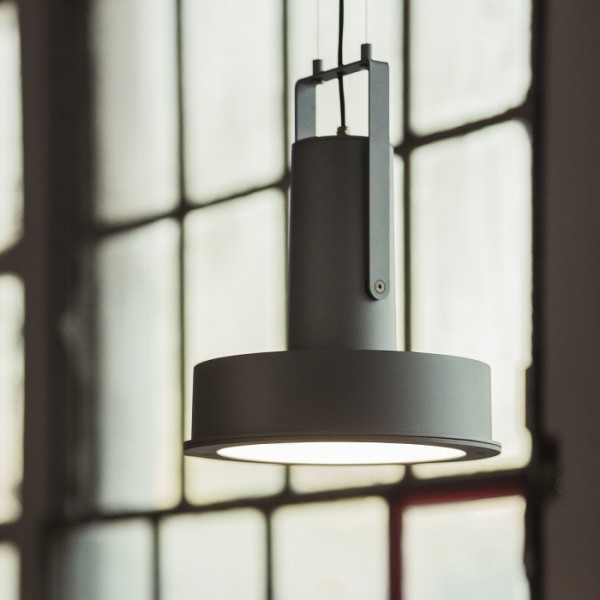 Santa&Cole Arne Domas
The Santa & Cole Arne Domas Hanging Lamp is both urban and elegant featuring a LED spotlight, designed in house by the Santa & Cole team. It is the expression of cutting-edge technology in its most natural form and suitable for both indoor and outdoor use with an IP 55 rating.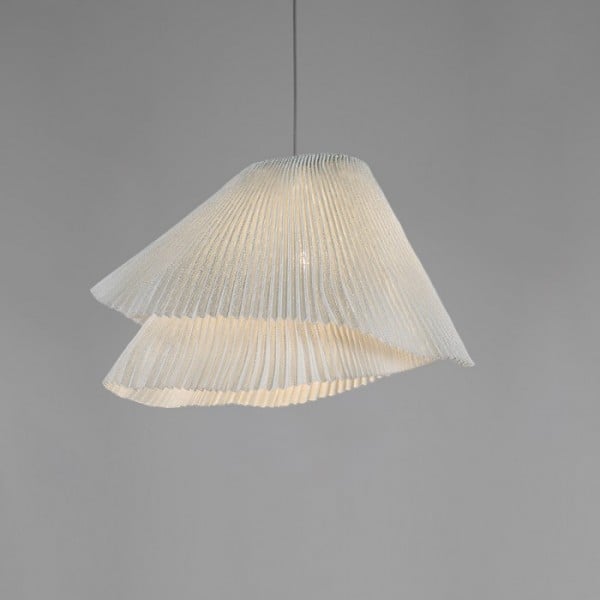 Artuo Alvarez Temp Vivace
The Arturo Alvarez Tempo Vivace is a pendant lamp made with painted stainless steel mesh. This material, crafted in fine pleats, forms two overlapped layers that create two different soft flowing effects.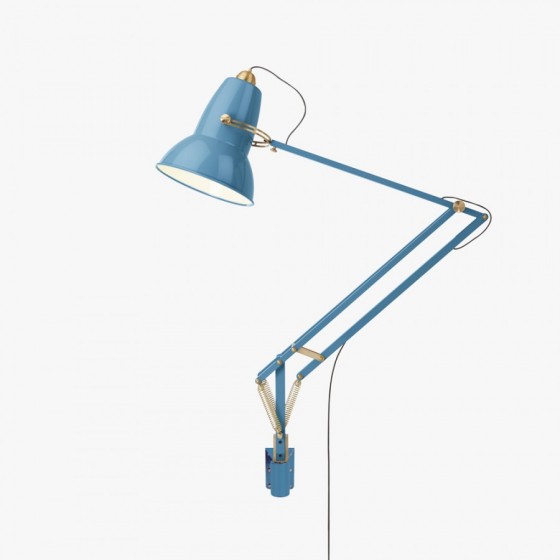 Anglepoise Original 1227 Giant Brass Wall
Sophisticated brass detailing on the fittings and fasteners, an engraved brass fork block logo badge and a carefully chosen five-shade colour palette makes the Original 1227 Giant Brass wall mounted lamp a serious investment piece. The articulated arm provides total flexibility, allowing smaller spaces to enjoy some over-sized chic.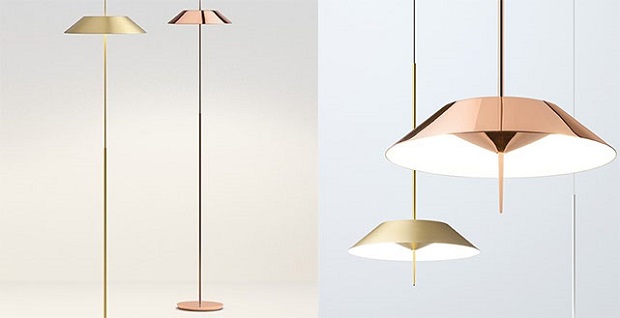 Vibia Mayfair Floor/ Suspension
The Mayfair lamps are a Diego Fortunato design. The entire Mayfair collection incorporates LED lighting and comes in various finishes: Green or Orange, Graphite or White and Gold or Copper.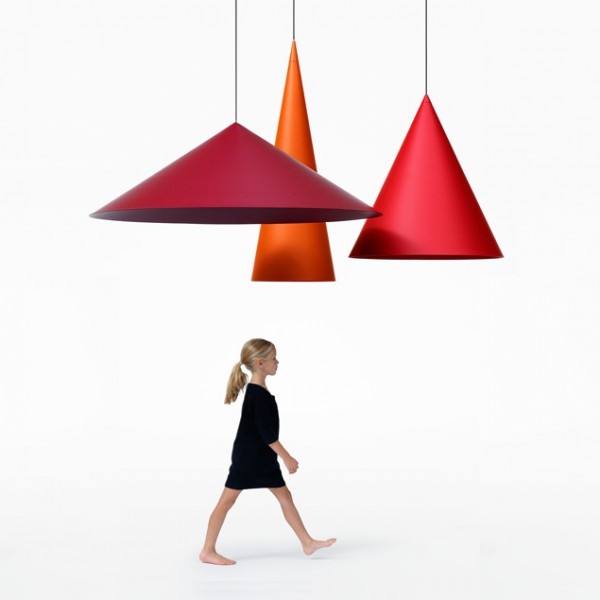 Wästberg W151 Extra Large Pendant
The Wästberg W151 Extra Large Pendant is based on the most basic of geometrical shapes, the cone. The lamp comes in three variations: the tall and narrow, the conical and the coolie. All three are super-sized, pushing the limits of manufactured spun aluminium, yet it will still fit through a normal doorframe.
With these new products comes more so keep your eyes peeled for the latest designs!
Visit us on our social sites to keep up to date on new products and what's on trend! You can find us on Facebook, Twitter, Instagram, Pinterest and now Polyvore!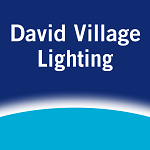 | | |
| --- | --- |
| Tags: | Anglepoise, Artuo Alvarez, Bover, Lampe Gras, Luceplan, Original BTC, Prandina, Santa & Cole, Siam, Vibia, Wastberg |
Share this:
Clerkenwell Design Week 2015!
22 May 2015
We visited Clerkenwell Design Week 2015 in London to see some of our amazing manufacturers, to find out what's new in their collections. We were mainly eager to see Zero Lighting, Secto Design, Prandina, Artemide and Gubi – All of which are very popular on our website!
The first brand we saw in the Design Factory was Zero Lighting, where we were introduced to new additions in their range.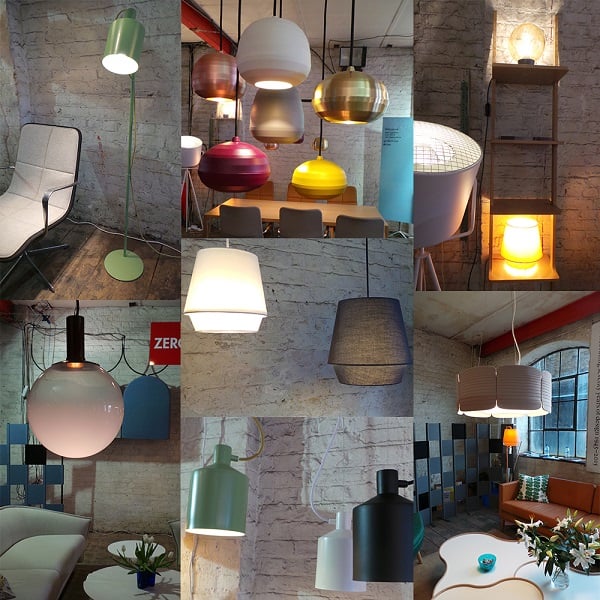 Seen here is the new Silo Floor lamp, Pom Pendants, Elements table lamp, Fog and Stampa pendants. All available in a range of colours as well as custom colours.
Prandina's stand made an impact with a huge cluster of Gong metallic pendants hanging around the company name, the new matching Gong table lamps were also on display. A new pendant has been released called Theodora and displayed in a set to show sizes and colour options available, the design is aimed at domestic spaces such as bedrooms because of its soft nature and diffused effect.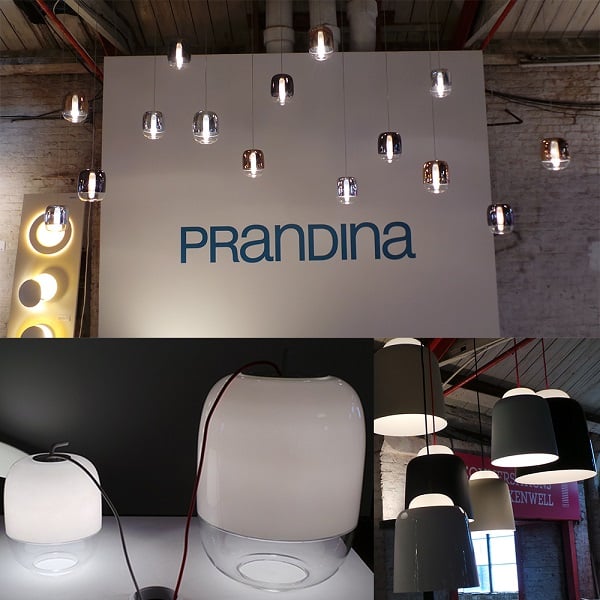 Secto Design made an appearance with the new oversized extendable wall lamp, which was designed to move around a space as the inhabitant changes it.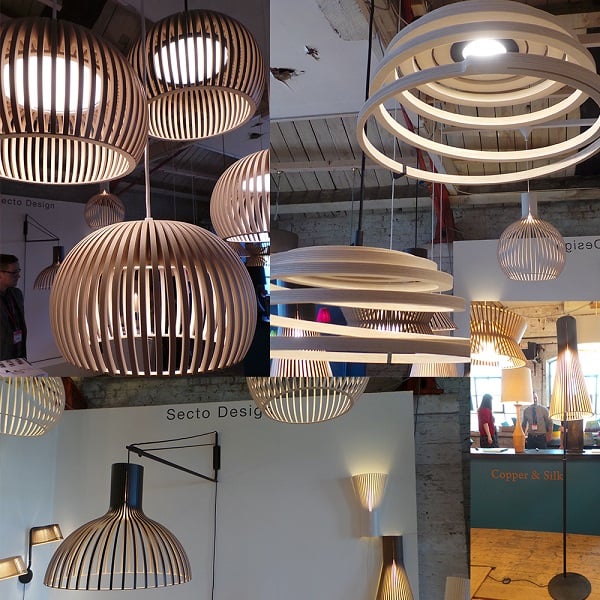 Artemide's stand was un-missable with their new Glass Collection, a range of handcrafted glass pendants with impressive detailing on the body. Also new for 2015 is the La Petite table lamp, with it's playful tilted design and sleek finish, were sure this lamp will prove popular.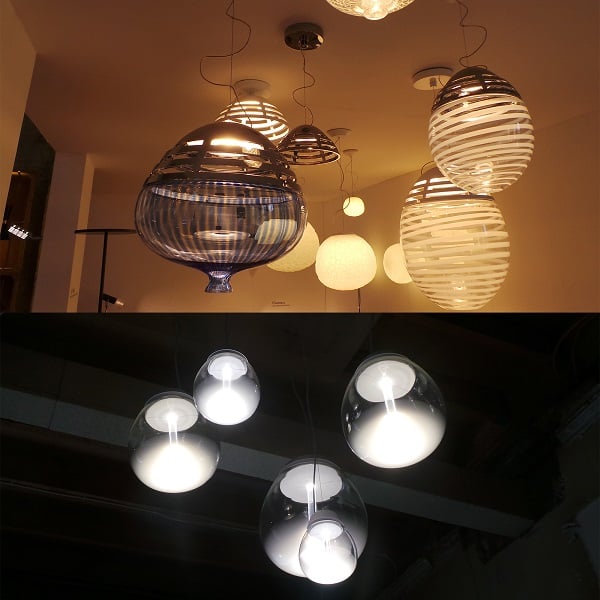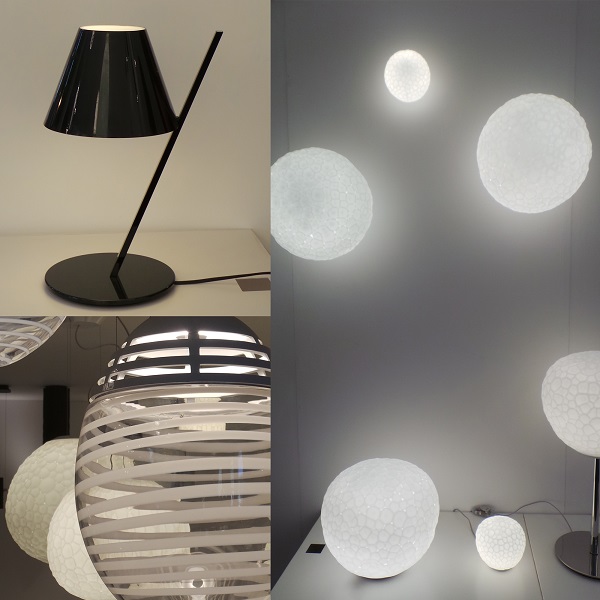 Finally we made a trip to the Icon House of Culture where Gubi put on a stunning display, amongst lush interiors and inside a shabby yet grand venue they created a very trendy take on the vintage chic style.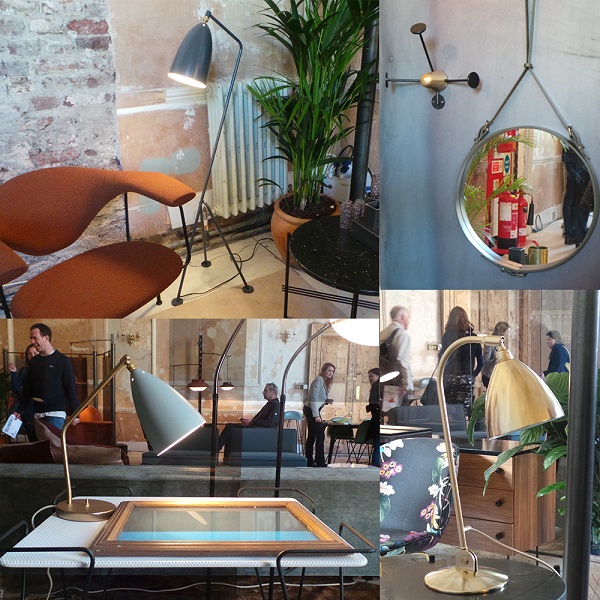 Gubi put on display the new Collar pendant which has been highly anticipated, this is the first look at the fitting since Euroluce Milan.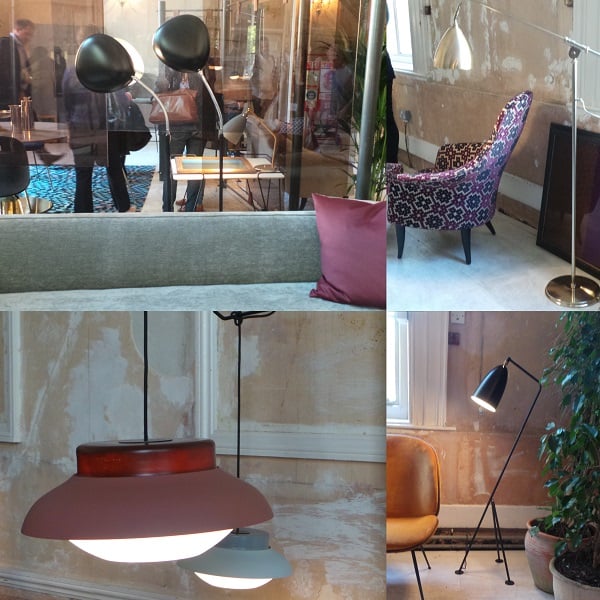 At Clerkenwell Design Week we also saw some new brands whose collections were interesting and enjoyed looking around, such as Orsjo and Deadgood. Watch our website for new brands becoming available!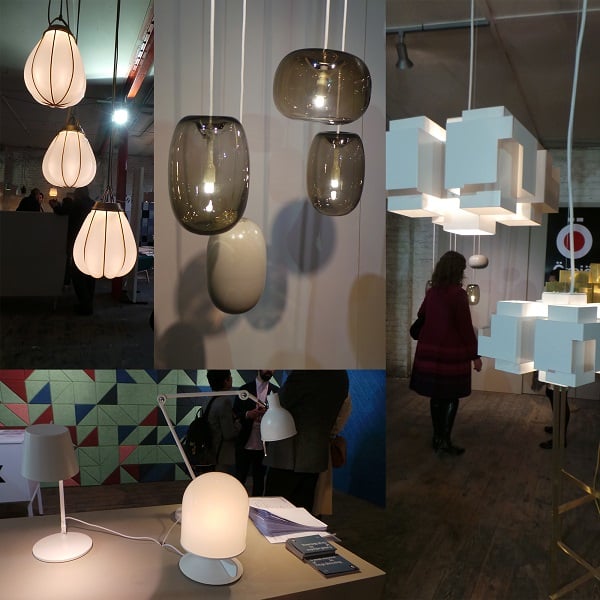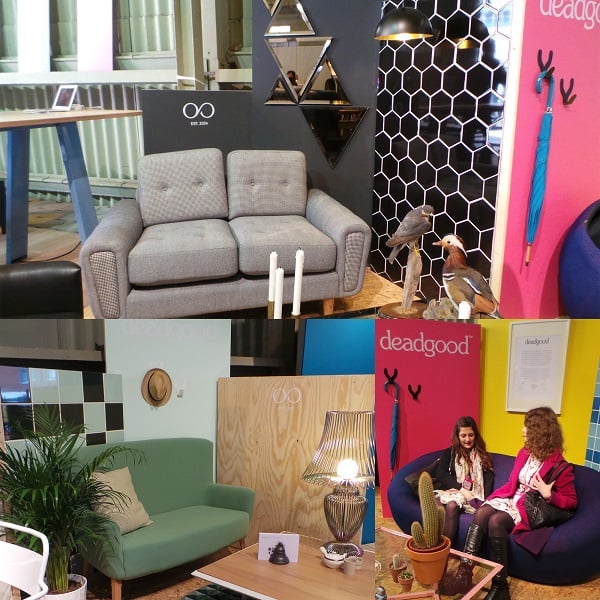 Thank you to everyone at the show who we met and made us feel welcome!
Visit us on our social sites to keep up to date on new products and what's on trend! You can find us on Facebook, Twitter, Instagram, Pinterest and now Polyvore! 
Share this:
Prandina – New Product and Project
22 January 2015
Italian brand Prandina are known for their quality and recognisable lighting products, the brand is successful internationally and pride themselves on their precision and functionality. Prandina have done particularly well recently with their collaboration with the Leonardo Da Vinci airport in Rome. The theme of the air port's terminal 1 was "Dolce Vita" to honour the famous movie, for this Prandina revealed the new Ginger floor lamps to illuminate the chic space. The terminal is ode to all things made in Italy.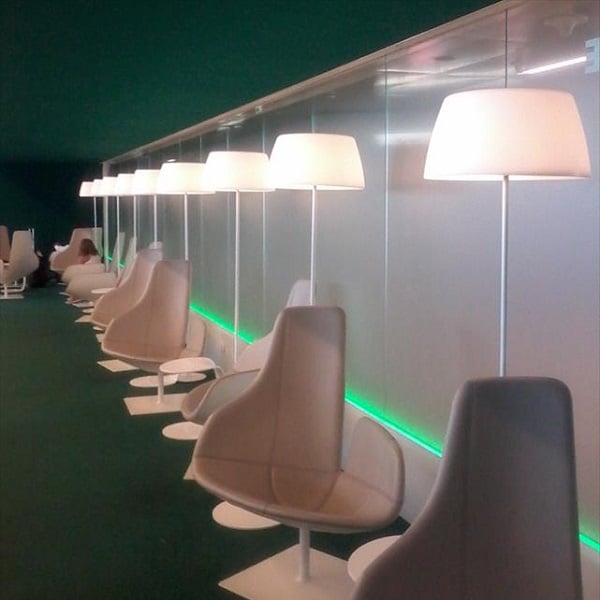 With their experience in glass work it has allowed the company to expand into new designs with a range of materials. The new Gong series of suspension lamps have proved particularly popular, the range of metallic and neutral colours means it will suit a multitude of homes or commercial spaces.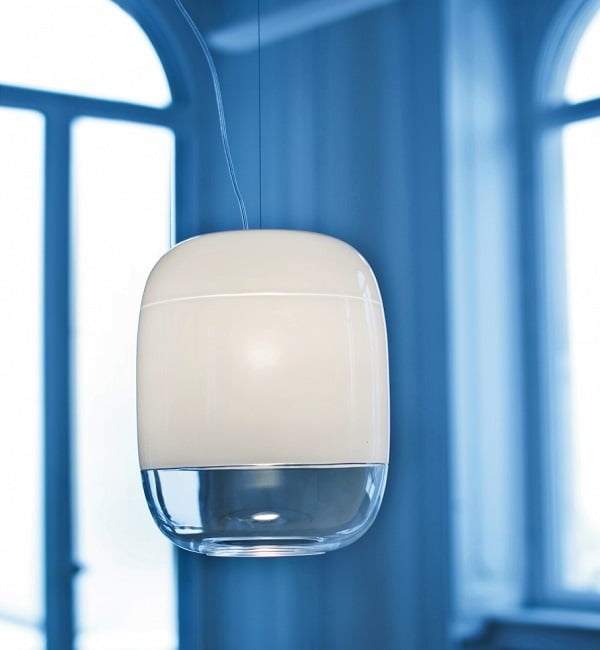 The gong collection is formed in one piece from blown crystal glass, it is then airbrush painted on the inside in a range of colours. The entire pendant is hand crafted and made in a range of sizes and finishes to suit the individual. The variety of sizes allows the Gong to be hung within an installation as well as the single hanging pendant, creating a range of effects within a space.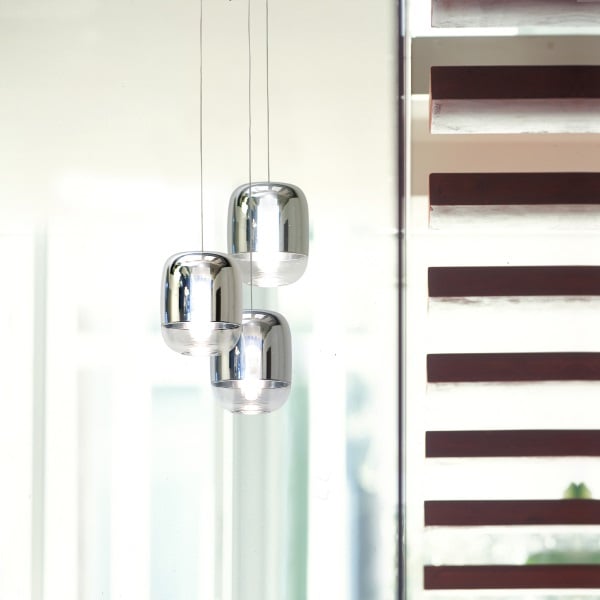 We are now happy to say we do sell the Gong Mini S1 pendant lamp on our site, it comes in Copper, Silver, Black and white Finishes.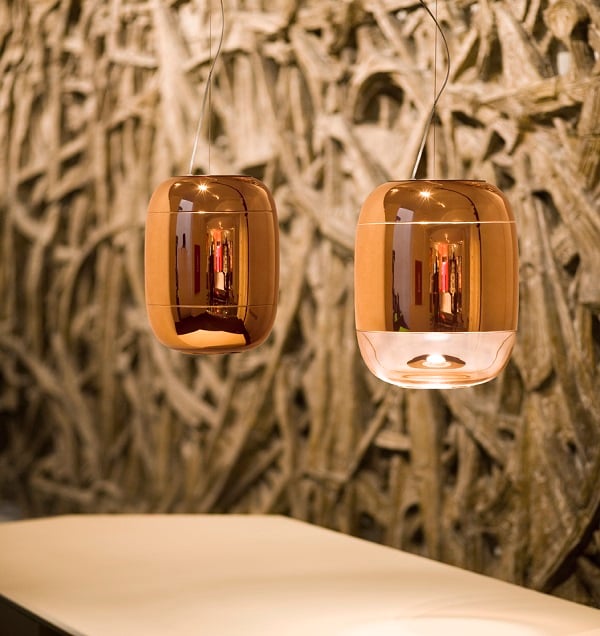 | | |
| --- | --- |
| Tags: | ceiling lamp, copper, gong, gong s1, italian, lighting, metallic, new, pendant, Prandina, silver |
Share this:
Prandina Notte Pendant
25 April 2014
Prandina has always aimed to design lighting which is simple, functional, high quality, and long lasting. The Notte suspension light encapsulates all of these aspects and has become one of Prandina's most popular designs. The Notte's simple design and wide range of sizes and finishes make it ideal for domestic or commercial use.
Share this: