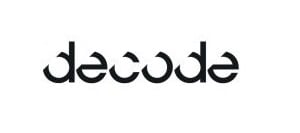 Product Focus – Decode Heavy
London-based design and manufacturing company, Decode was founded in 2007. Their products challenge conventions in design and give a fresh perspective on traditional materials.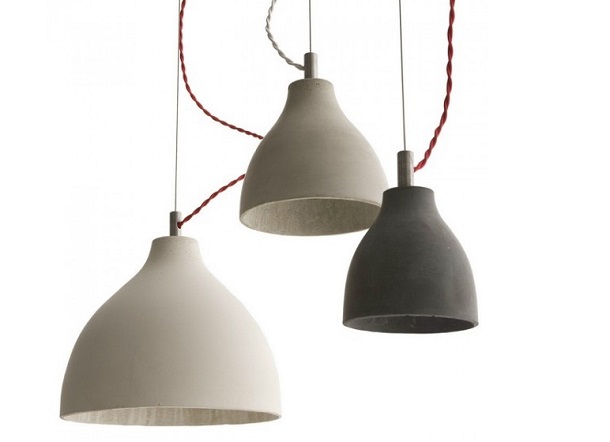 The Heavy collection includes a desk, a wall and four sizes of pendant. The family gives a new perspective on the use of concrete, usually an industrial material.
Each concrete shade is left in the mould to dry for a number of days allowing random air pockets and veins to develop on the interior of the shade. These markings vary on each shade creating a unique marble pattern in contrast to the shades smooth exterior.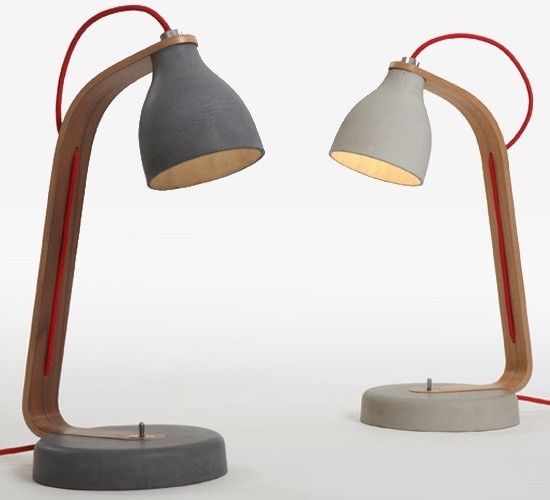 Click here to view the Decode Heavy collection!
Visit us on our social sites to keep up to date on new products and what's on trend! You can find us on Facebook, Twitter, Instagram, Pinterest and now Polyvore!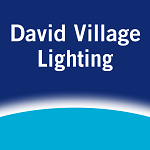 To celebrate Valentines Day and the release of the film Fifty Shades of Grey, we thought of no better time than to show you our Grey lighting! From a wide range of tones, sizes, ceiling to table lamps…here is our definitive collection: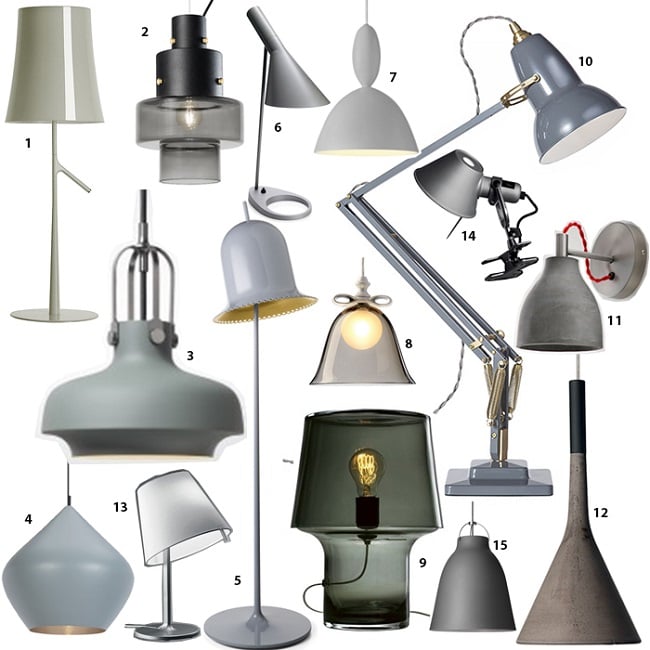 1. Foscarini Birdie Table Lamp 2. Diesel for Foscarini Gask Pendant 3. &Tradition Copenhagen Small Pendant 4. Tom Dixon Beat Stout Pendant 5. Moooi Lolita Floor Lamp 6. Louis Poulsen AJ Table Lamp 7. Muuto MHY Pendant 8. Moooi Bell Pendant 9. Muuto Cosy Table Lamp 10. Anglepoise Original 1227 11. Decode Heavy Wall Light 12. Foscarini Aplomb Pendant 13. Artemide Melampo Table Lamp 14. Artemide Tolomeo Pinza 15. Light Years Caravaggio P1 Pendant
Perfect as a gift or to simply add the monochrome style to your living space, one of these Grey showstoppers are sure to please!

The Maison and Objet event in Paris is a forecast for interior trends for the year ahead, comparable to Fashion week in Spring/Summer. This year the event has predicted four key trends based upon the popular themes and attention created by the exhibitors and exhibition visitors. The first unsurprising trend is Metallics. Particularly warm toned hues. This choice of metallic finishes has progressively become more popular for a few years now and has gradually filtered even down onto the high street! Here are our picks for the Metallic trend: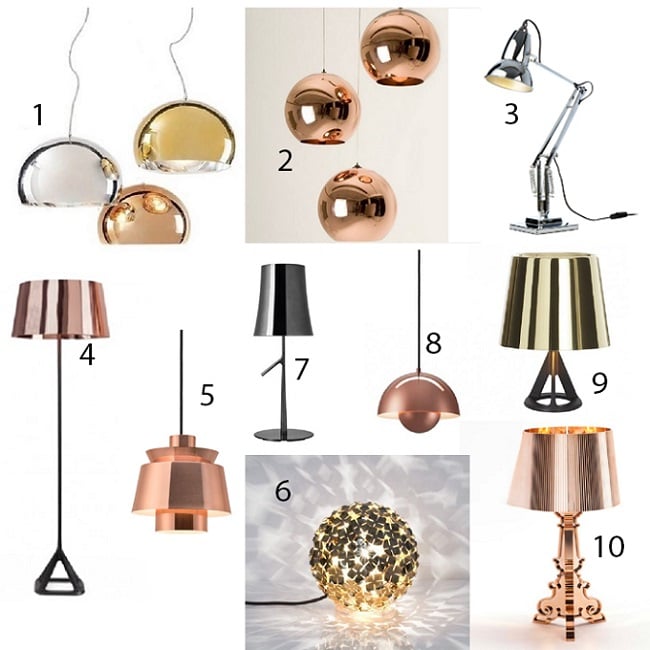 1 - Kartell Fly Precious Pendants 2 - Tom Dixon Copper Mirror Ball shade 3 - Anglepoise Original 1227 in Chrome 4 - Tom Dixon Base Copper Floor Lamp 5 - &Tradition Utzon in Copper 6 - Terzani Orten'zia Table Lamp in Gold 7 - Foscarini Birdie Table Lamp in Chrome 8 - &Tradition Flowerpot in Copper 9 - Tom Dixon Base Table Lamp in Polish Brass 10 - Kartell Bourgie Copper Table Lamp
Our second trend From Maison and Objet is Hints of Neon, maybe not to everyone's liking but a just a hint of a bright colour can add a bright cheerful pop of colour into our homes, especially appropriate for the Spring/Summer time. It is a nod to the 90's as Fashion has also done. Neon has been seen on textiles, furniture, home accessories and also lighting. Be brave and give it a try! Here are our Picks for Neon Trend: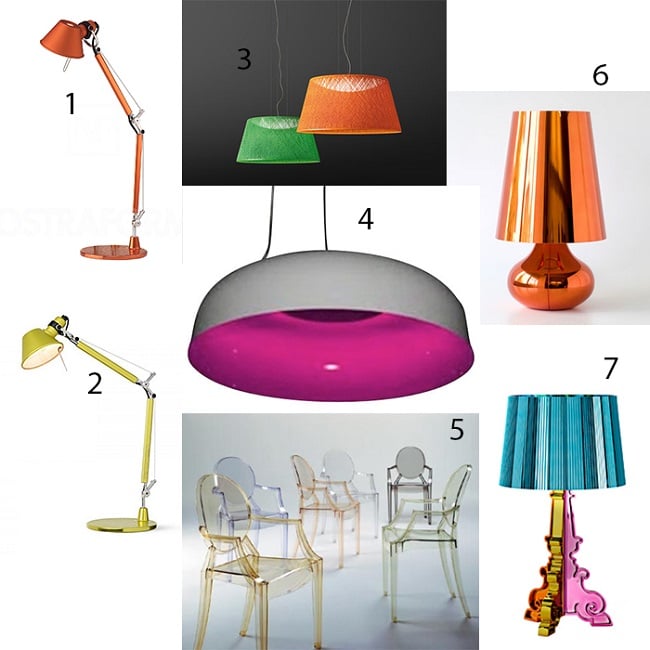 1 – Artemide Tolomeo Tavolo Micro in orange 2 – Artemide Tolomeo Tavolo Micro in yellow 3 – Vibia Wind Suspension in green or orange 4 – Oluce Canopy 422 in Pink 5 – Kartell Ghost Chairs in assorted colours 6 – Kartell Cindy Table Lamp in orange 7 – Kartell Bourgie Table Lamp in Blue
The third trend on the 2015 forecast is the colour Santorini Blue a shade to provoke a Mediterranean but modern vibe, a shade of blue to create tranquillity and timeless look within a space. These are our Santorini Blue Trend options: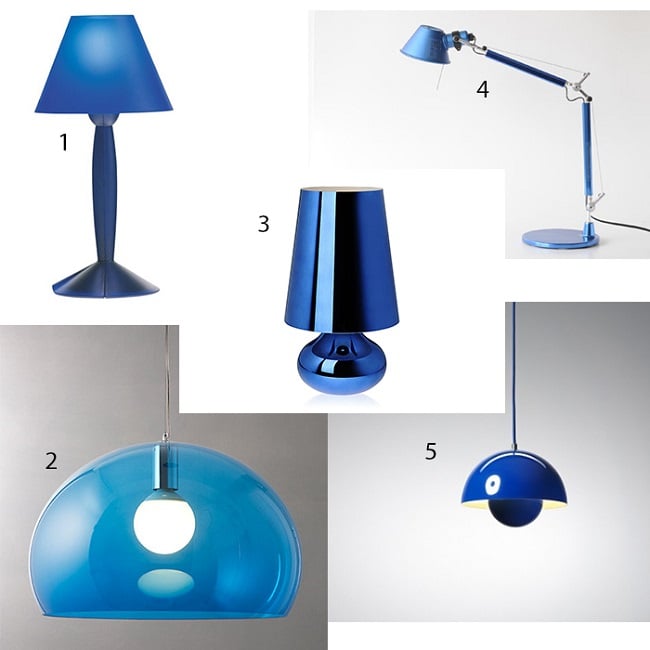 1 – Flos Miss Sissi Lamp in blue 2 – Kartell Fly Suspension in blue 3 – Kartell Cindy in blue 4 – Artemide Tolomeo Tavolo Micro in blue 5 – &tradition Flowerpot in Blue
Our final trend noted from Maison and Objet is the Natural Minerals, the style has come from the increasing need for eco friendly home fashions and is becoming increasing popular. Aesthetics showcasing a rustic, hand crafted and natural look, often paired with pastel and neutral colours to complete the highly stylish design. Here are our picks from this theme: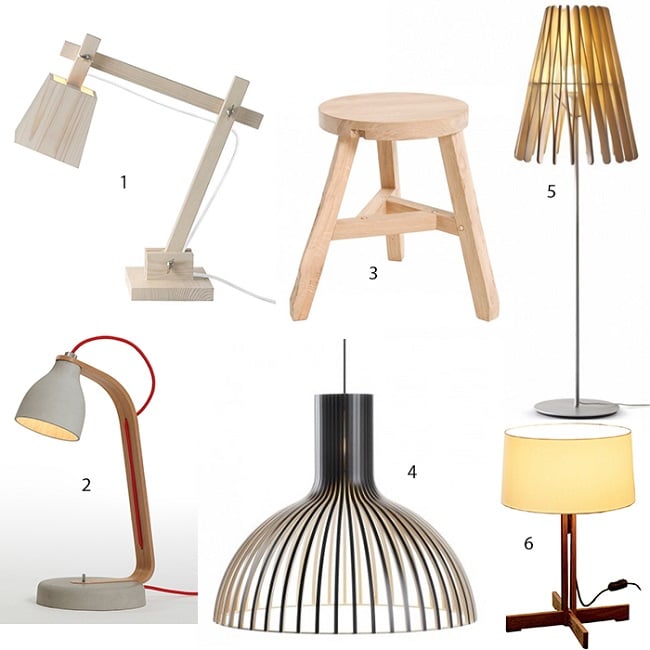 1 – Muuto Wood Table Lamp 2 – Decode Heavy Desk Lamp 3 – Tom Dixon Off Cut Stool 4 – Secto Victo Suspension Lamp 5 – Fabbian Stick Floor Lamp 6 – Santa & Cole Fad Table Lamp