New in
Anglepoise have just released their latest collections and we love them. The new additions are the Original 1227 Mini Ceramic collection, the Type 75 Metallic collection and the Type 1228 Metallic wall lamp.
The new ceramic collection from Anglepoise includes a pendant, a cluster, a table lamp and a wall lamp which all exude simplicity and elegance. The collection is made from a glossy bone china shade with smart chrome plated fittings and a grey fabric cable. Formed from the purest bone china, the white glossy shade turns translucent when on radiating a soft, ambient light around the room. The single pendant is extremely versatile and is both functional and stylish when placed in a row over, for example, a worktop, a kitchen island or table.
This collection see's an Anglepoise first, introducing the Ceramic Clustered Pendant which adds a contemporary take on a chandelier to the Anglepoise range. The ceiling rose has several cable exits allowing you to customise your cluster exactly as you wish. The table lamp is in keeping with the Original 1227 Mini collections structure and the delicate flexible shade is tailor-made for reading. The wall lamp is compact, directional and easy to use with an integrated switch.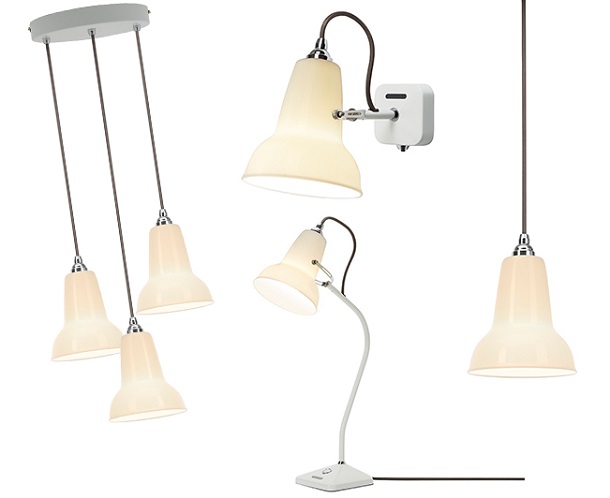 The new metallic Type 75 Mini range see the desk and wall lamp now available in three beautiful, anodised brushed aluminium finishes – Gold, Silver and Copper Lustre. The refined, elegant design now has the switch seamlessly integrated into the top of the shade. Both the table and wall are highly flexible and their shades can be adjusted to cast both a focused and ambient light creating a statement look in any room.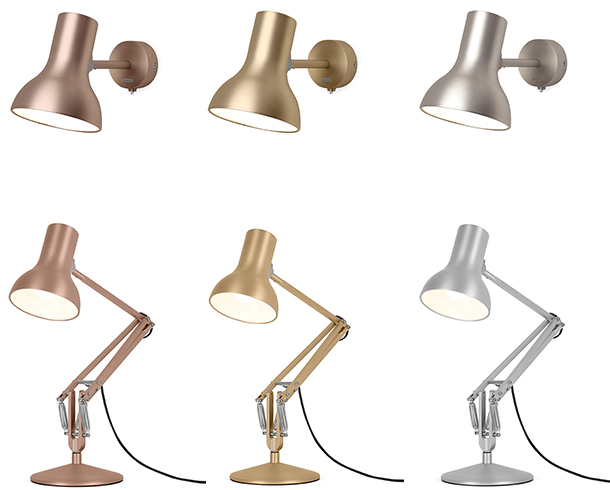 In addition to the Type 75 Mini the Type 1228 wall lamp is also now available in three metallic finishes, gold, silver and copper. The wall light combines functionality with the switch being neatly placed onto the top of the shade with elegance as the glamorous brushed aluminium finishe makes it suitable for any interior.

Click here to view the whole Anglepoise range!
Visit us on our social sites to keep up to date on new products and what's on trend! You can find us on Facebook, Twitter, Instagram, Pinterest and now Polyvore!