from David Village Lighting
Since 1949 Kartell has designed an incredible range of products. They are famous for designs such as the Louis Ghost chair and Bourgie table lamp. Their designers have embellished plastic, moulding it, playing with its infinite potentialities and transforming it into striking and practical creations that are fun and multifunctional.
Shop for Kartell now..
Kartell - from the Village Blog
Best sellers this month!
11 May 2015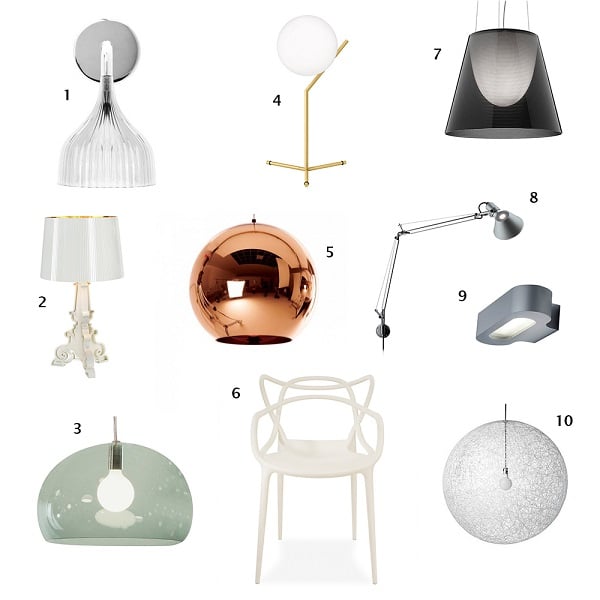 We are starting a new series on the blog showcasing the best sellers for each month, giving customers a view of what's on trend and which are constant favourites. For the month of April we have seen pale washes of colour or white which match the spring time theme, metallic hints are still popular in brands such as Tom Dixon, Artemide and Flos – a trend seemingly here to stay!
1. Kartell E' Wall Lamp 2. Kartell Bourgie Table Lamp
3. Kartell Fly Suspension 4. Flos IC High Table Lamp
5. Tom Dixon Copper Shade 45 Suspension 6. Kartell Masters Chair
7. Flos K-tribe S3 Suspension 8. Artemide Tolomeo Parete Wall Lamp
9. Artemide Talo Wall Light 10. Moooi Random 50 Suspension
Visit us on our social sites to keep up to date on new products and what's on trend! You can find us on Facebook, Twitter, Instagram, Pinterest and now Polyvore! 
Share this:
Spring Into The Easter Theme!
30 March 2015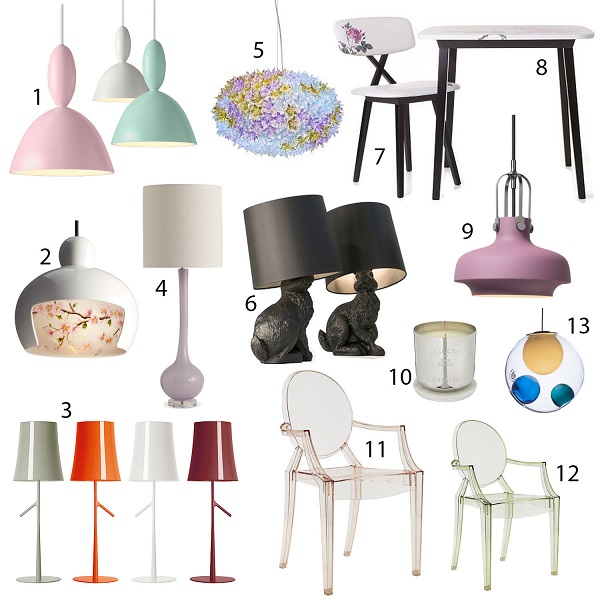 It's now officially spring! Which means Easter is approaching, why not browse our selection of spring coloured lighting and furniture for a simple update to your home. The collection consists of decorative pieces to appeal to children and adults a like, such as the Rabbit lamp by Moooi – very Easter appropriate! Our new selection of home scents by Tom Dixon is also featured in our selection, the Royalty candle has a sweet aroma of Earl Grey, scones and jam which is reminiscent of a English tea in spring time. Here is our collection of Spring time treats:
1-Muuto MHY Pendant 2-Moooi Juuyo Peach Pendant
3-Foscarini Birdie Table Lamp 4-Porta Romana Gourd Table Lamp (Lavender)
5-Kartell Bloom S1 Pendant 6-Moooi Rabbit Table Lamp
7-Moooi 5 O'clock Chair 8-Moooi 5 O'clock Table
9-&Tradition Copenhagen Pendant (Blush) 10-Tom Dixon Scent Candle in Royalty
11-Kartell Louis Ghost Chair (Sunset Orange) 12-Kartell Lou Lou Ghost Chair (Green)
13-Bocci 28.1 Pendant (Custom Colours)
Share this:
Elle Decoration April Lighting Features
16 March 2015
Looking through the ELLE Decoration UK April issue we came across a lot of our stocked lights! As seen below there was a fair few from Louis Poulsen, including the Artichoke which was featured in the article "What makes a design classic". The Louis Poulsen PH2/1 table lamp and Panthella floor lamp were also shown in this months most inspiring homes.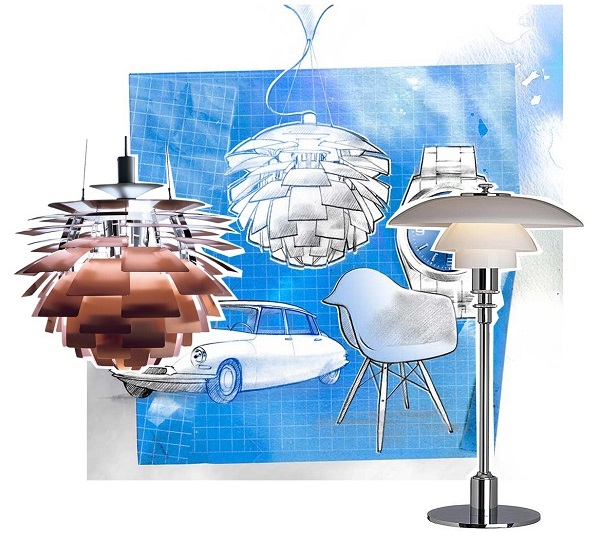 Another very commonly seen item was the Foscarini Twiggy floor lamp, this iconic and well loved design has been seen in yellow, black and red. The twiggy lamp has been a favourite amongst designers and modernists alike, lending itself to any contemporary home.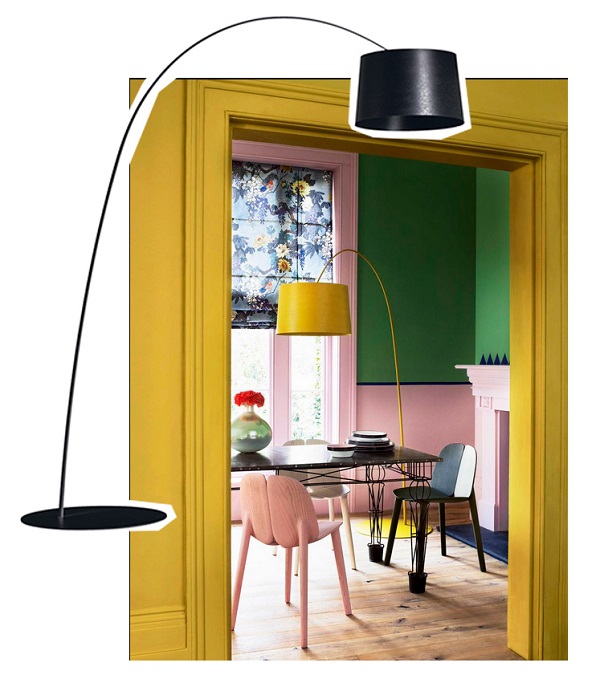 Flos as a brand really shone within the magazine this month, with many features throughout the inspiring homes section. Shown below are a selection which were popular on our website also, (from left to right) Flos 265 wall light, Flos Kelvin table lamp, Flos Guns floor lamp and the Flos Arco floor lamp.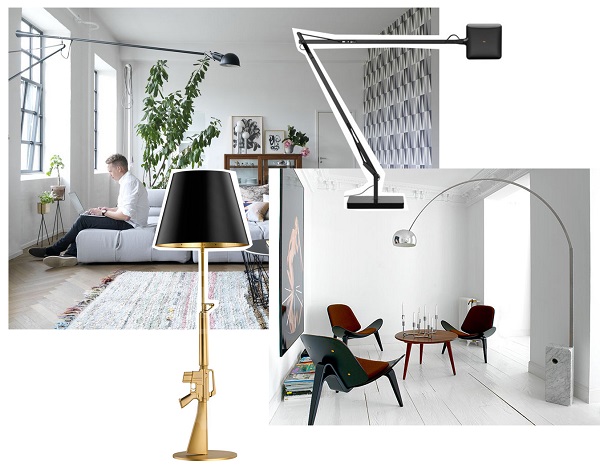 Finally there was mention of two of our table lamps, the Muuto Wood table lamp and the ever popular Kartell Bourgie in gold. Contrasting in style and design but appeals to a range of interiors as featured within the magazine, modern or edge of rustic styling. All items are available online now.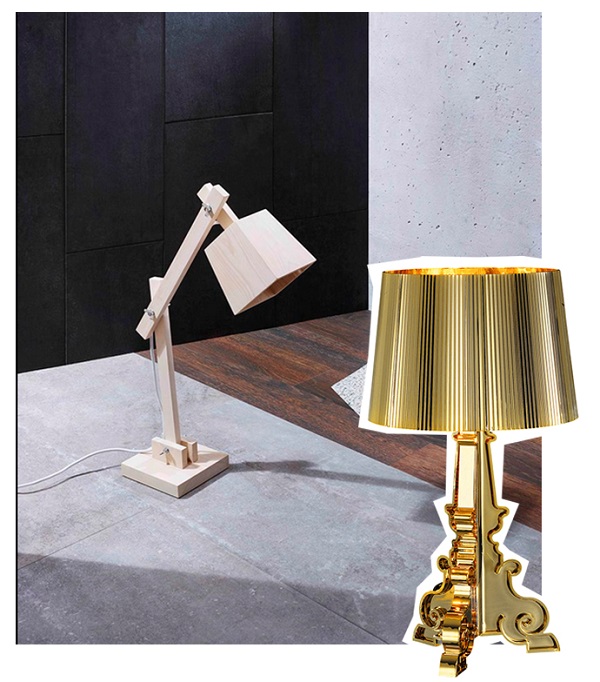 Visit us on our social sites to keep up to date on what's new and what's in trend! You can find us on Facebook, Twitter, Instagram, Pinterest and now Polyvore!
| | |
| --- | --- |
| Tags: | contemporary, design, Elle Decoration UK, features, Flos, Foscarini, Kartell, lighting, Louis Poulsen, modern, Muuto |
Share this:
Maison and Objet Key Trends for 2015
31 January 2015

The Maison and Objet event in Paris is a forecast for interior trends for the year ahead, comparable to Fashion week in Spring/Summer. This year the event has predicted four key trends based upon the popular themes and attention created by the exhibitors and exhibition visitors. The first unsurprising trend is Metallics. Particularly warm toned hues. This choice of metallic finishes has progressively become more popular for a few years now and has gradually filtered even down onto the high street! Here are our picks for the Metallic trend: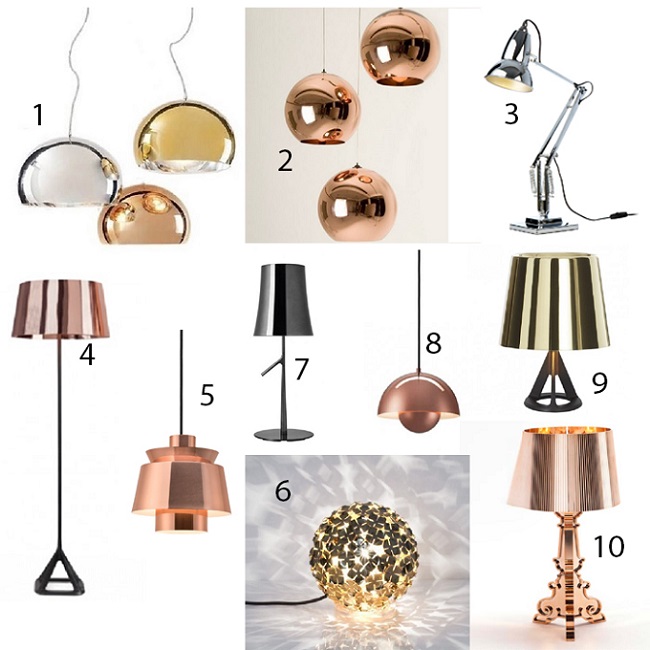 1 - Kartell Fly Precious Pendants 2 - Tom Dixon Copper Mirror Ball shade 3 - Anglepoise Original 1227 in Chrome 4 - Tom Dixon Base Copper Floor Lamp 5 - &Tradition Utzon in Copper 6 - Terzani Orten'zia Table Lamp in Gold 7 - Foscarini Birdie Table Lamp in Chrome 8 - &Tradition Flowerpot in Copper 9 - Tom Dixon Base Table Lamp in Polish Brass 10 - Kartell Bourgie Copper Table Lamp
Our second trend From Maison and Objet is Hints of Neon, maybe not to everyone's liking but a just a hint of a bright colour can add a bright cheerful pop of colour into our homes, especially appropriate for the Spring/Summer time. It is a nod to the 90's as Fashion has also done. Neon has been seen on textiles, furniture, home accessories and also lighting. Be brave and give it a try! Here are our Picks for Neon Trend: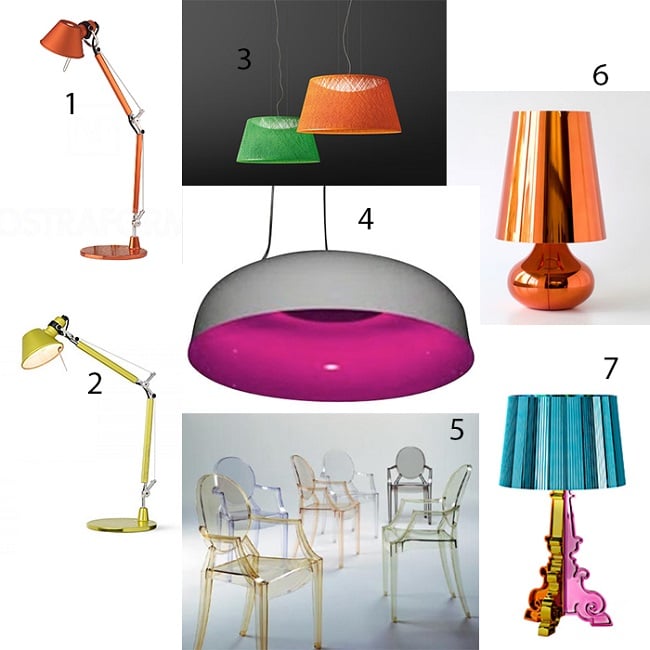 1 – Artemide Tolomeo Tavolo Micro in orange 2 – Artemide Tolomeo Tavolo Micro in yellow 3 – Vibia Wind Suspension in green or orange 4 – Oluce Canopy 422 in Pink 5 – Kartell Ghost Chairs in assorted colours 6 – Kartell Cindy Table Lamp in orange 7 – Kartell Bourgie Table Lamp in Blue
The third trend on the 2015 forecast is the colour Santorini Blue a shade to provoke a Mediterranean but modern vibe, a shade of blue to create tranquillity and timeless look within a space. These are our Santorini Blue Trend options: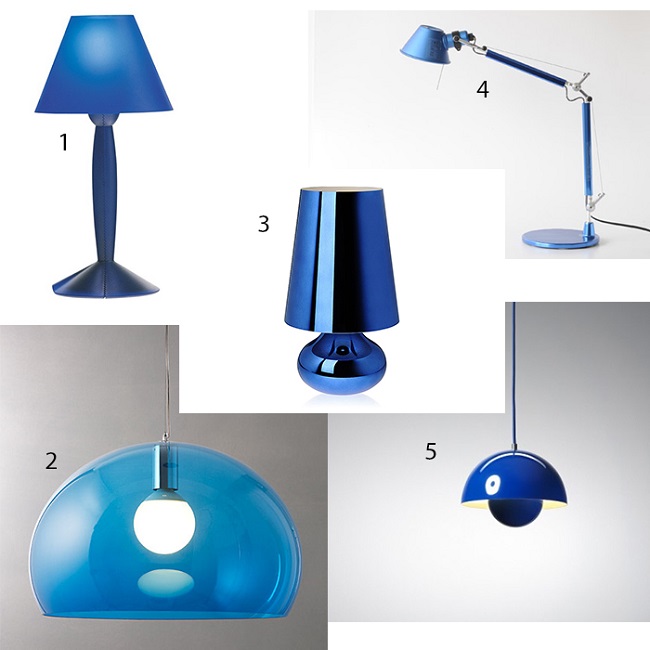 1 – Flos Miss Sissi Lamp in blue 2 – Kartell Fly Suspension in blue 3 – Kartell Cindy in blue 4 – Artemide Tolomeo Tavolo Micro in blue 5 – &tradition Flowerpot in Blue
Our final trend noted from Maison and Objet is the Natural Minerals, the style has come from the increasing need for eco friendly home fashions and is becoming increasing popular. Aesthetics showcasing a rustic, hand crafted and natural look, often paired with pastel and neutral colours to complete the highly stylish design. Here are our picks from this theme: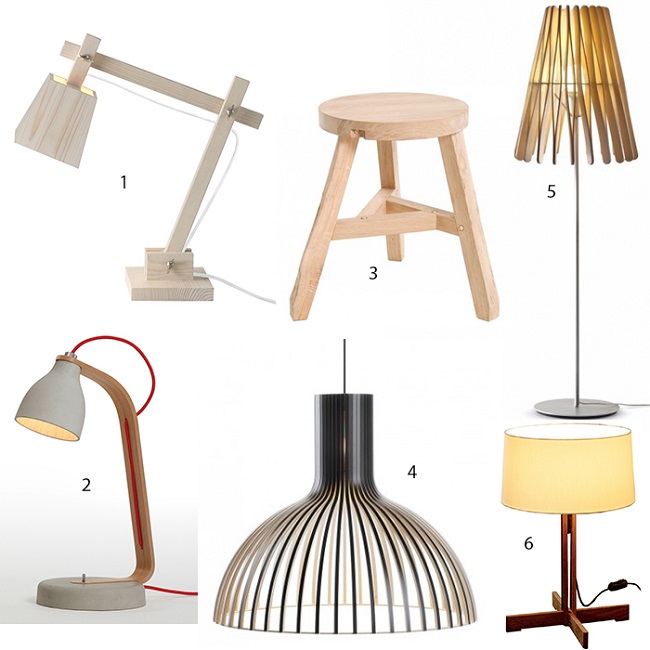 1 – Muuto Wood Table Lamp 2 – Decode Heavy Desk Lamp 3 – Tom Dixon Off Cut Stool 4 – Secto Victo Suspension Lamp 5 – Fabbian Stick Floor Lamp 6 – Santa & Cole Fad Table Lamp
| | |
| --- | --- |
| Tags: | 2015, Anglepoise, Artemide, Decode, Fabbian, Flos, Foscarini, Interiors, Kartell, Lighting, Maison & Objet, Muuto, Oluce, Santa & Cole, Tom Dixon., &Tradition, trends, Vibia |
Share this:
Merry Christmas From David Village Lighting!
19 December 2014
To celebrate this holiday season we have put together some of our favourite lights and brands with a Christmas touch!
Showroom Christmas Opening Times:
Open Tuesday 23rd Dec , Closed from 24th December 2014 until 5th January 2015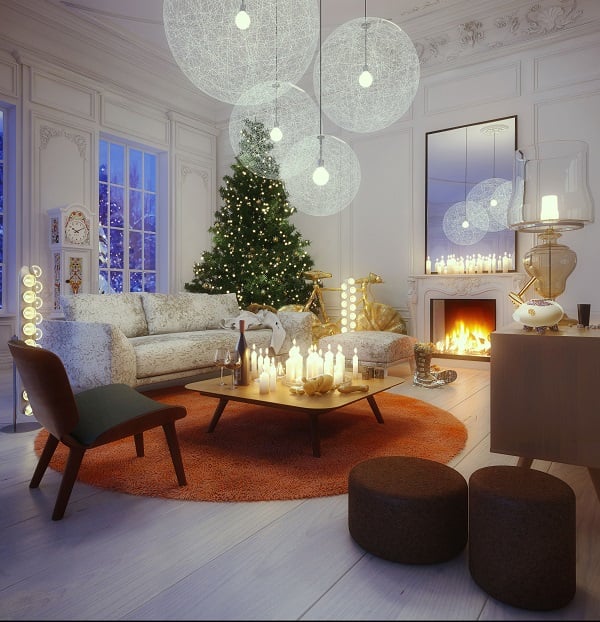 This photo features a collection of Moooi lighting including the Moooi Random and the Moooi Prop. The Moooi Random seen suspended from the ceiling in white look like giant snow flakes or baubles giving a lovely chritsmassy feel.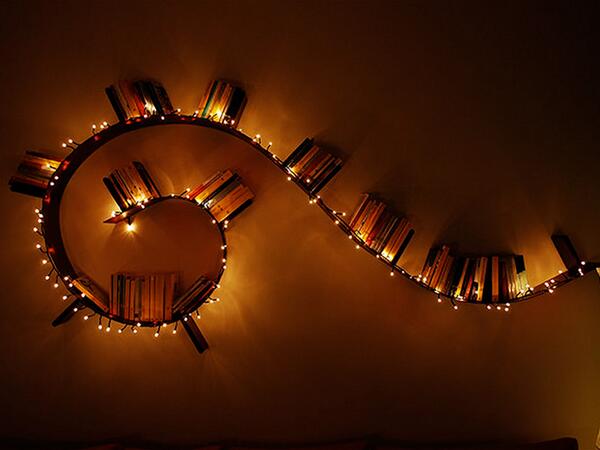 The Kartell Bookworm is given a touch of Christmas glamour with the addition of fairy lights!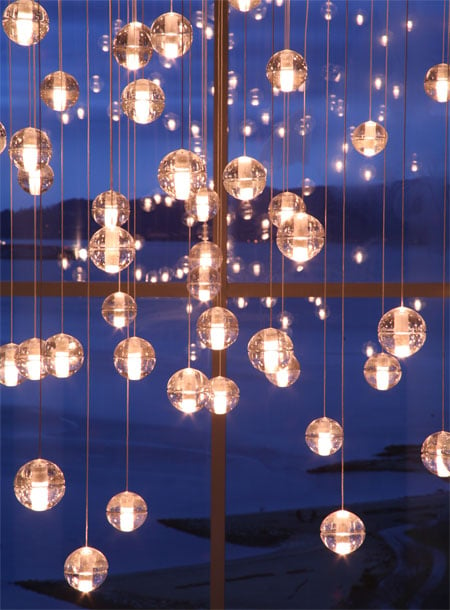 Bocci lights are magical and at christmas time they can be clustered together to created a Christmas Bauble inspired light feature. This photo pictures the Bocci 14 series lights.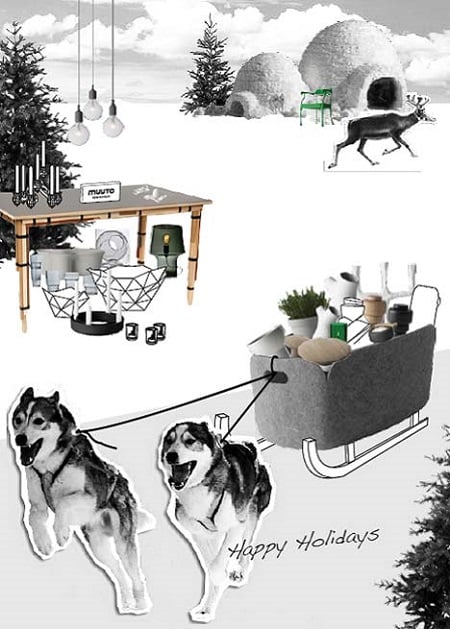 THis is one of our favourite Christmas E Cards from Muuto. It features the simplistic Muuto E27 in the top left hand corner.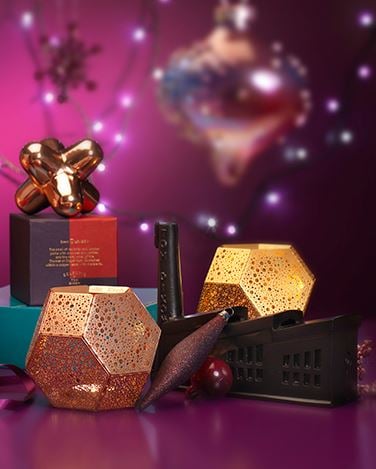 A small bit of Christmas Magic can be added by the Tom Dixon Etch Tea Light Holders. A Sparkley and glitzy Tea Light holder that fits in with the colours of Christmas.
Have a great time this festive season and we look forward to seeing you all in the New Year!
| | |
| --- | --- |
| Tags: | Bocci, Bocci 14, Christmas, Christmas Deisgn, Christmas Lighting, Holiday Season, Kartell, Kartell Bookworm, Moooi, Moooi Prop, Moooi Random, Muuto, Muuto E27, Tom Dixon, Tom Dixon Etch |
Share this:
The Telegraph - The top 50 interiors shops in the UK!
10 October 2014