from David Village Lighting
Vibia is based in Barcelona, a city famous for its design culture. Vibia's mission is to make it easier for every individual to identify with the space in which they live, work and visit by supplying the right lighting and inspiring the creative abilities and good taste of both consumers and design professionals with a unique range of lighting products. Vibia evolves by studying and understanding how people live in their spaces, surprising them with just the right proposals - often unexpected - to help create the desired feelings. Innovation is part of Vibia's DNA. Product development is a never-ending source of stimulation: constantly incorporating new technology, processes and materials to make every new product a new challenge, with no limits.
Shop for Vibia now..
Vibia - from the Village Blog
Vibia Puck Wall Art
17 August 2015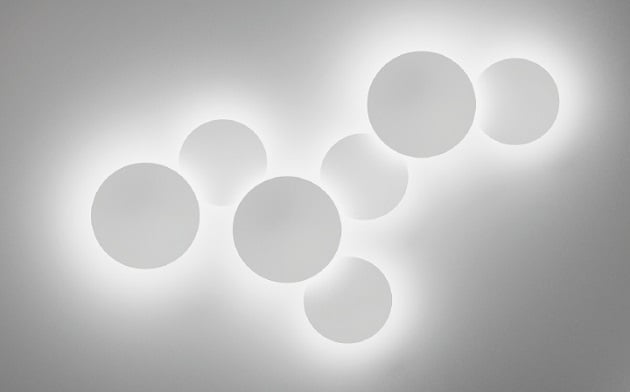 Vibia Puck was launched in 2012 and since then the product range has continued to grow. The design was created by Jordi Vilardell as a feature wall light which could be put together in different formations, the result would be a creative installation adding interest to environments. The collection comes in a range of sizes, colours, lighting outputs and even in premade arrangements to allow easy customisation for customers. The concept behind the design is to create truly unique installations to suit the needs of all.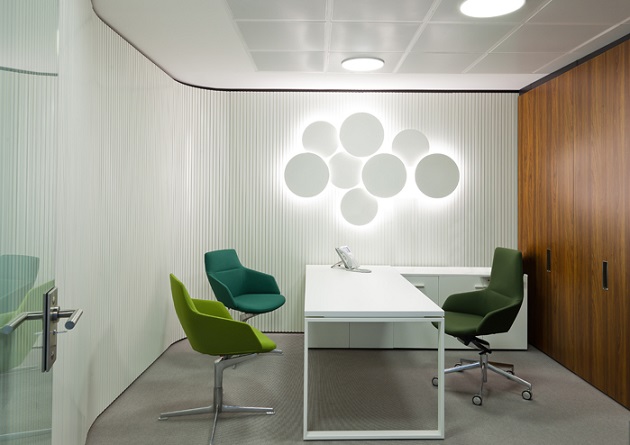 An extremely high quality finish is achieved by using premium opal triplex glass, injection moulded aluminium which creates the perfect finish to Vibia standard. Each individual 'Puck' emits a "very soft light which is pleasant and warm" as described by Jordi Vilardell himself.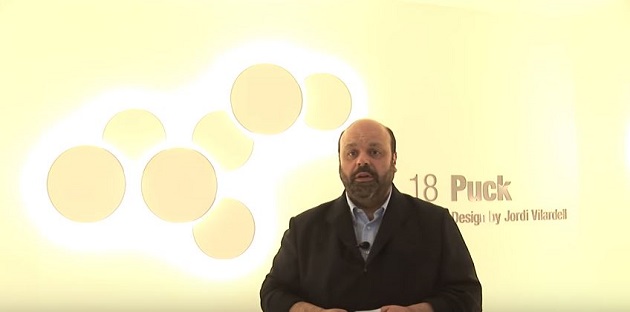 Vibia Puck wall art can create dynamic compositions for features in both residential and commercial environments, which is why this design has been featured frequently in publications such as Elle Decoration UK.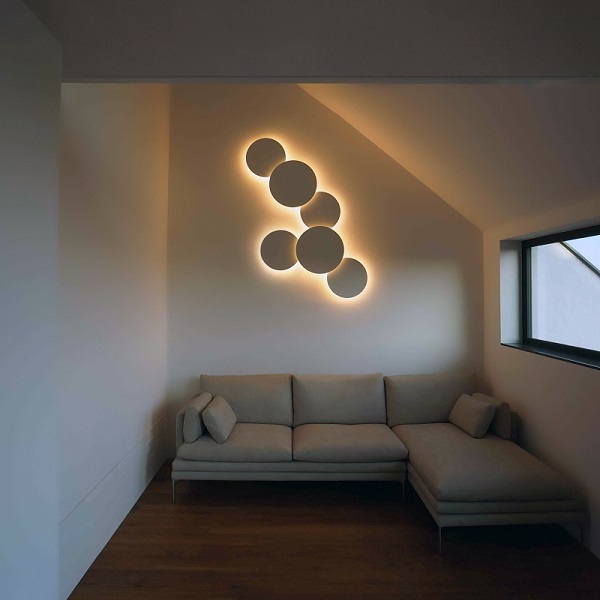 Vibia Puck lighting range is available on our website, for more options and customisations please contact us.
Visit us on our social sites to keep up to date on new products and what's on trend! You can find us on Facebook, Twitter, Instagram, Pinterest and now Polyvore!



Share this:
Elle Decoration UK September Features
11 August 2015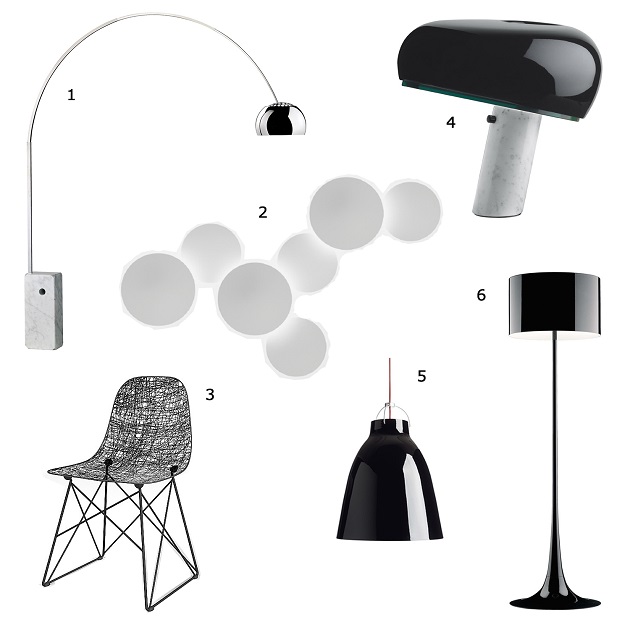 Another month…another Elle Decoration magazine, featuring stunning lighting and furniture available on our website. September's issue saw smart shopping tips, new trends and dream modern interiors. A theme of oceanic blue shades dressed the walls of Elle décor's homes, which meant monochromatic details from the lighting and furnishing within. Here are six most wanted items featured this month:
1 – Flos Arco floor lamp
2 – Vibia Puck wall lights
3 – Moooi Carbon chair
4 – Flos Snoopy table lamp
5 – Lightyears Caravaggio P1 suspension
6 – Flos Spun floor lamp
Visit us on our social sites to keep up to date on new products and what's on trend! You can find us on Facebook, Twitter, Instagram, Pinterest and now Polyvore!

Share this:
Vibia Wireflow – Best in Lighting!
3 July 2015
Elle Decoration is unmistakably one of the leading forums in interior design, setting trends and featuring only the best in design. July's issue has seen the return of Elle Decoration's International Design Awards. For the category Best in Lighting it was awarded to Vibia for their Wireflow pendant light.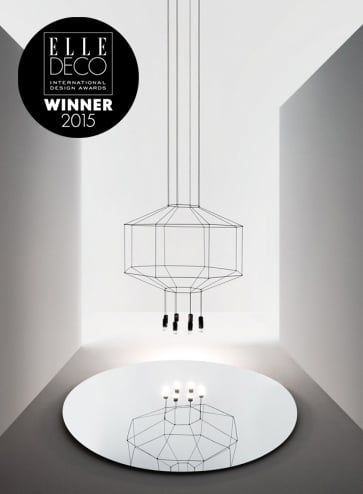 We are proud to be a Vibia distributor supplying the Wireflow and the full Vibia range to the UK market.
The Wireflow pendant series was designed by Arik Levy and has become an iconic product for the company. It was first released for display in 2013 at Euroluce Milan Salone de Mobile where it became a highly anticipated release for 2014.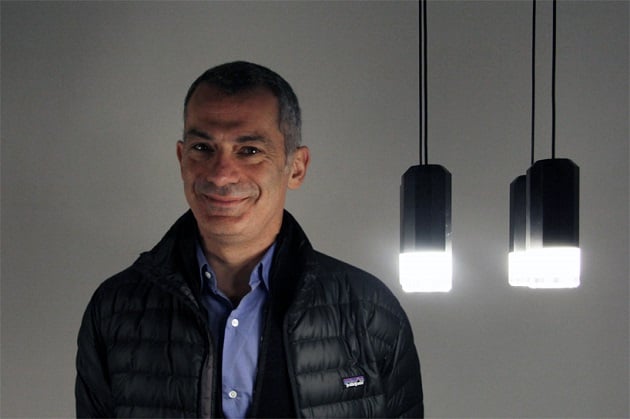 The idea behind the unique structure of the Wireflow is the deconstruction of a chandelier, taking it back to its simplistic form. The design reflects the outline of grand chandeliers often creating a 2D effect, comparable to a line drawing. Arik Levy was experimenting with the idea of extreme simplification, focusing on a delicate silhouette but maintaining a strong formal presence. Achieving this, Levy created a groundbreaking design which has won three awards to present. Futuristic and minimalist in its appearance, it is easy to see why the Wireflow is chosen time and time again for commercial projects and large residential spaces.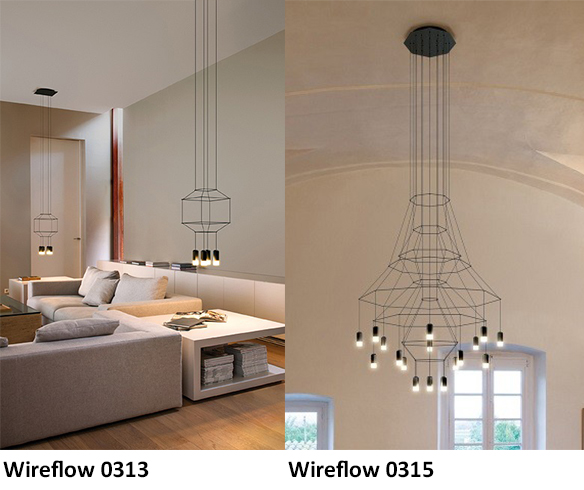 The series varies is size, simplicity and shape. Designs such as 0315 has a very complex geometric style and large scale, where as the 0313 is smaller and simplified making suitable for domestic use. The Wireflow range has a wide variety of formations to choose from, each of which are customisable to suit/fit into the interiors in mind. This design is a versatile lighting sculpture, which continues to be popular for its modern and impacting presence.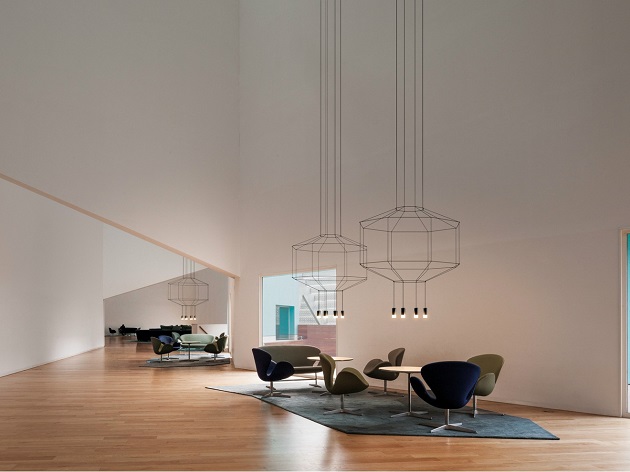 Visit us on our social sites to keep up to date on new products and what's on trend! You can find us on Facebook, Twitter, Instagram, Pinterest and now Polyvore! 

Share this:
Vibia New Products at Euroluce 2015!
23 April 2015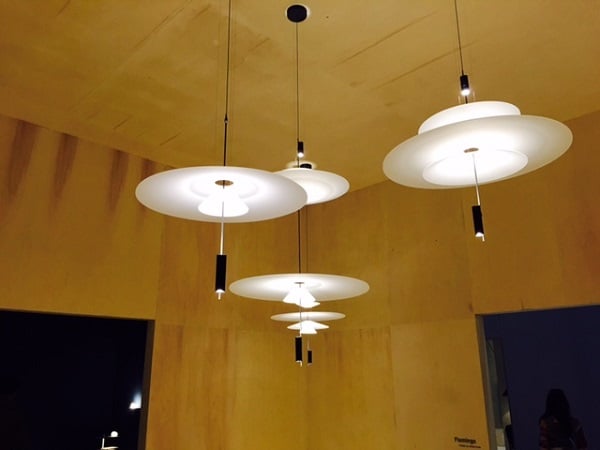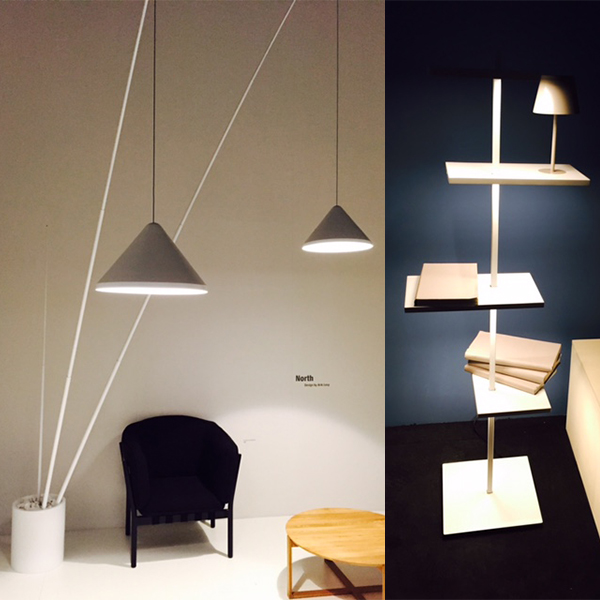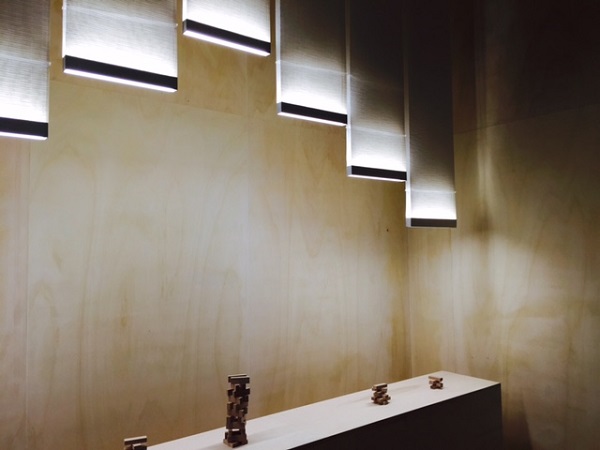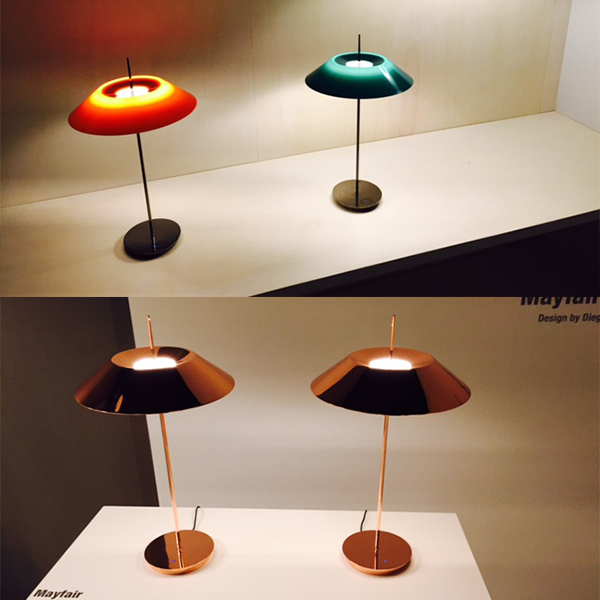 Vibia created a huge amount of attention with their new stunning collection releaved at Euroluce 2015. The Flamingo suspension light (first image) has been very well recieved, as well as interesting floor lights North and Suite (second image) for their unusual designs. Curtain is a Ceiling light, hung at the exhibition in an installation to create a very eye catching effect! Finally the Mayfair range of table lamps, featuring different colours and materials and simplistic design.
Visit us on our social sites to keep up to date on the Euroluce exhibition and what's on trend! You can find us on Facebook, Twitter, Instagram, Pinterest and now Polyvore! 

Share this:
Maison and Objet Key Trends for 2015
31 January 2015

The Maison and Objet event in Paris is a forecast for interior trends for the year ahead, comparable to Fashion week in Spring/Summer. This year the event has predicted four key trends based upon the popular themes and attention created by the exhibitors and exhibition visitors. The first unsurprising trend is Metallics. Particularly warm toned hues. This choice of metallic finishes has progressively become more popular for a few years now and has gradually filtered even down onto the high street! Here are our picks for the Metallic trend: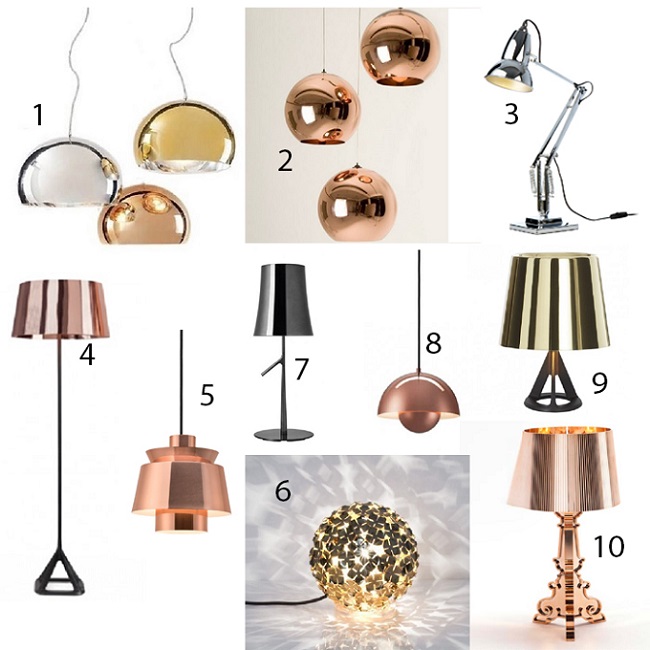 1 - Kartell Fly Precious Pendants 2 - Tom Dixon Copper Mirror Ball shade 3 - Anglepoise Original 1227 in Chrome 4 - Tom Dixon Base Copper Floor Lamp 5 - &Tradition Utzon in Copper 6 - Terzani Orten'zia Table Lamp in Gold 7 - Foscarini Birdie Table Lamp in Chrome 8 - &Tradition Flowerpot in Copper 9 - Tom Dixon Base Table Lamp in Polish Brass 10 - Kartell Bourgie Copper Table Lamp
Our second trend From Maison and Objet is Hints of Neon, maybe not to everyone's liking but a just a hint of a bright colour can add a bright cheerful pop of colour into our homes, especially appropriate for the Spring/Summer time. It is a nod to the 90's as Fashion has also done. Neon has been seen on textiles, furniture, home accessories and also lighting. Be brave and give it a try! Here are our Picks for Neon Trend: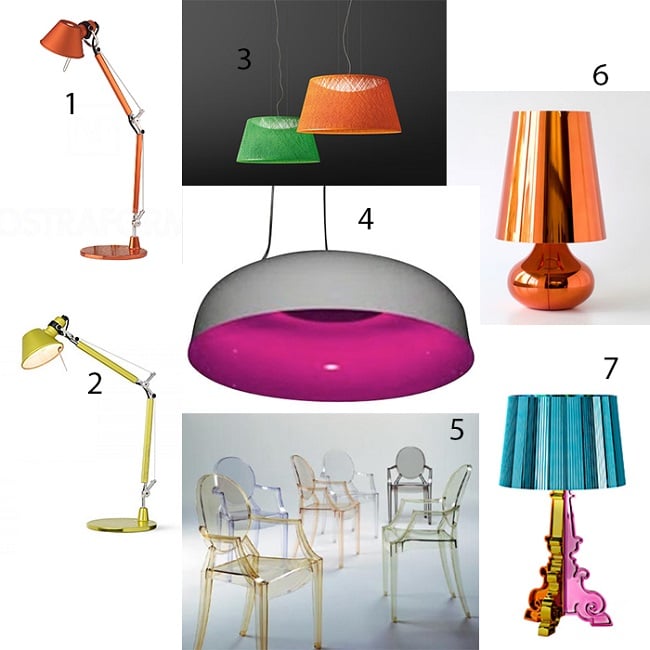 1 – Artemide Tolomeo Tavolo Micro in orange 2 – Artemide Tolomeo Tavolo Micro in yellow 3 – Vibia Wind Suspension in green or orange 4 – Oluce Canopy 422 in Pink 5 – Kartell Ghost Chairs in assorted colours 6 – Kartell Cindy Table Lamp in orange 7 – Kartell Bourgie Table Lamp in Blue
The third trend on the 2015 forecast is the colour Santorini Blue a shade to provoke a Mediterranean but modern vibe, a shade of blue to create tranquillity and timeless look within a space. These are our Santorini Blue Trend options: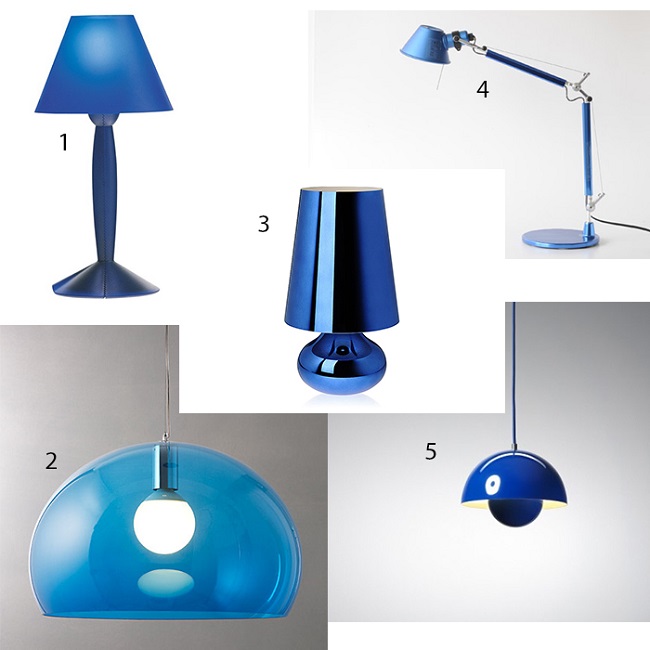 1 – Flos Miss Sissi Lamp in blue 2 – Kartell Fly Suspension in blue 3 – Kartell Cindy in blue 4 – Artemide Tolomeo Tavolo Micro in blue 5 – &tradition Flowerpot in Blue
Our final trend noted from Maison and Objet is the Natural Minerals, the style has come from the increasing need for eco friendly home fashions and is becoming increasing popular. Aesthetics showcasing a rustic, hand crafted and natural look, often paired with pastel and neutral colours to complete the highly stylish design. Here are our picks from this theme: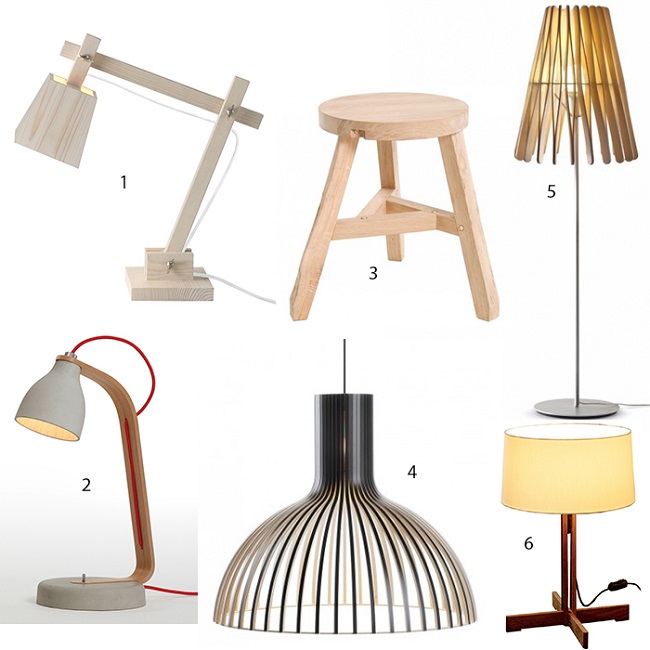 1 – Muuto Wood Table Lamp 2 – Decode Heavy Desk Lamp 3 – Tom Dixon Off Cut Stool 4 – Secto Victo Suspension Lamp 5 – Fabbian Stick Floor Lamp 6 – Santa & Cole Fad Table Lamp
| | |
| --- | --- |
| Tags: | 2015, Anglepoise, Artemide, Decode, Fabbian, Flos, Foscarini, Interiors, Kartell, Lighting, Maison & Objet, Muuto, Oluce, Santa & Cole, Tom Dixon., &Tradition, trends, Vibia |
Share this:
Vibia Match LED Lighting
5 June 2014
The Vibia Match can be configured in any number of different ways, forming a light sculpture that illuminates central themes of space and interior decoration. Match allows you to create chaotically arranged structures which can be adapted to fit into the room and the space available. The lights are made from thin rods of aluminium, each of which is tipped with an LED light terminal.
Share this: