from David Village Lighting
Established in 1945 by the master Giuseppe Ostuni, Oluce is the oldest Italian lighting design company that is still active today. For many years Oluce was one of only three design companies to dominate the Italian scene, creating a hub for the designers who strongly engaged first in the reconstruction and later in the birth of series production. These designers, which included Vittoriano Viganò and BBPR, Gigi Caccia Dominioni, Ignazio Gardella, Marco Zanuso and Joe Colombo, animated the Milanese forum. To this day Oluce continues to attract young designers from around the world, creating innovative and iconic designs.
Shop for Oluce now..
Oluce - from the Village Blog
Brighten up your summer – Exterior lighting!
5 June 2015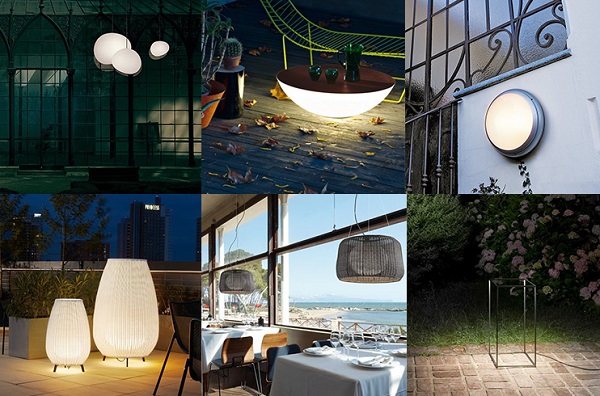 It's that time of year when it's beginning to warm up and we venture out into our gardens once again! For the summer months our gardens become another room of our house, a space for entertaining and relaxing. Atmospheric lighting creates a more inviting and liveable space for the season, making up for its neglect over the colder months! Here are our favourite picks of exterior lighting sure to liven up any garden!
(From left to right)
Foscarini Gregg Suspensions Media, Grande and XL
Bover Amphora Floor in Small, Medium and Large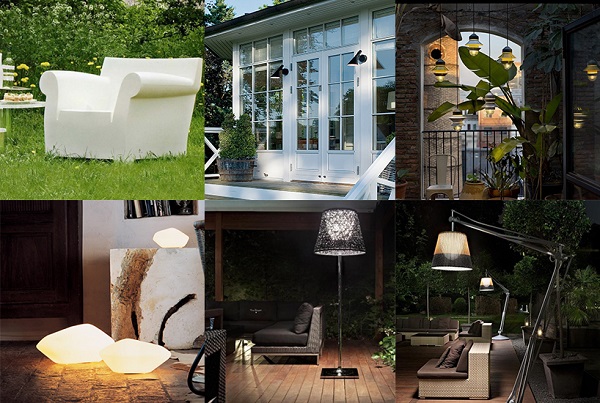 (From left to right)
Oluce Stone of Glass in Small, Medium and Large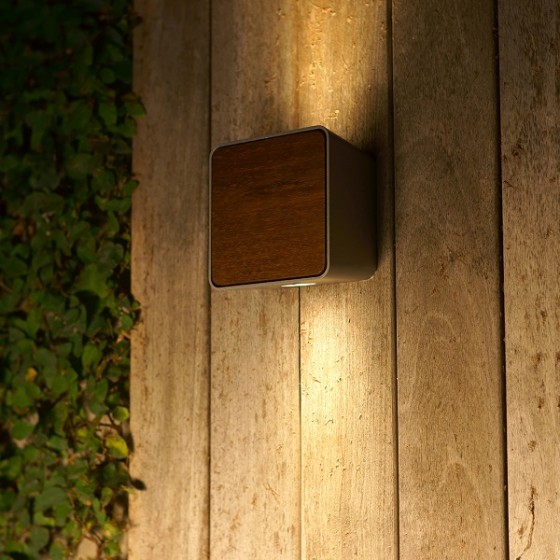 Also a wall light from our very own range Light Attack Pad 1, in dark wood finish.
Treat your garden and make it into an outdoor living room with decorative lighting and furniture. 
Visit us on our social sites to keep up to date on new products and what's on trend! You can find us on Facebook, Twitter, Instagram, Pinterest and now Polyvore! 

| | |
| --- | --- |
| Tags: | Artemide, Bover, Exterior lighting, Flos, Foscarini, Garden, Kartell, Light Attack, Louis Poulsen, Marset, Oluce, Summer |
Share this:
Maison and Objet Key Trends for 2015
31 January 2015

The Maison and Objet event in Paris is a forecast for interior trends for the year ahead, comparable to Fashion week in Spring/Summer. This year the event has predicted four key trends based upon the popular themes and attention created by the exhibitors and exhibition visitors. The first unsurprising trend is Metallics. Particularly warm toned hues. This choice of metallic finishes has progressively become more popular for a few years now and has gradually filtered even down onto the high street! Here are our picks for the Metallic trend: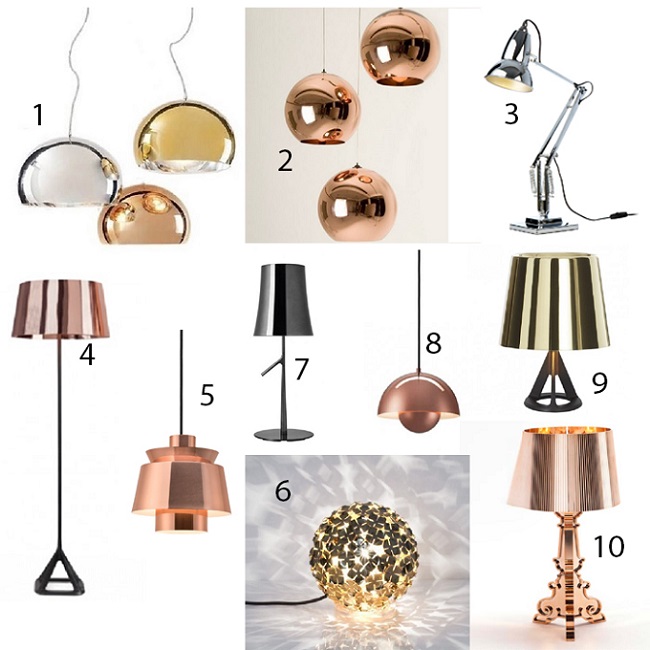 1 - Kartell Fly Precious Pendants 2 - Tom Dixon Copper Mirror Ball shade 3 - Anglepoise Original 1227 in Chrome 4 - Tom Dixon Base Copper Floor Lamp 5 - &Tradition Utzon in Copper 6 - Terzani Orten'zia Table Lamp in Gold 7 - Foscarini Birdie Table Lamp in Chrome 8 - &Tradition Flowerpot in Copper 9 - Tom Dixon Base Table Lamp in Polish Brass 10 - Kartell Bourgie Copper Table Lamp
Our second trend From Maison and Objet is Hints of Neon, maybe not to everyone's liking but a just a hint of a bright colour can add a bright cheerful pop of colour into our homes, especially appropriate for the Spring/Summer time. It is a nod to the 90's as Fashion has also done. Neon has been seen on textiles, furniture, home accessories and also lighting. Be brave and give it a try! Here are our Picks for Neon Trend: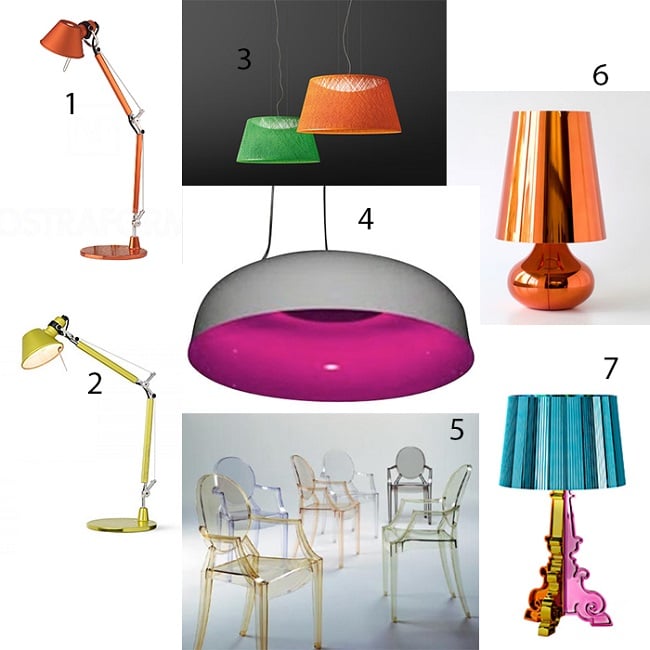 1 – Artemide Tolomeo Tavolo Micro in orange 2 – Artemide Tolomeo Tavolo Micro in yellow 3 – Vibia Wind Suspension in green or orange 4 – Oluce Canopy 422 in Pink 5 – Kartell Ghost Chairs in assorted colours 6 – Kartell Cindy Table Lamp in orange 7 – Kartell Bourgie Table Lamp in Blue
The third trend on the 2015 forecast is the colour Santorini Blue a shade to provoke a Mediterranean but modern vibe, a shade of blue to create tranquillity and timeless look within a space. These are our Santorini Blue Trend options: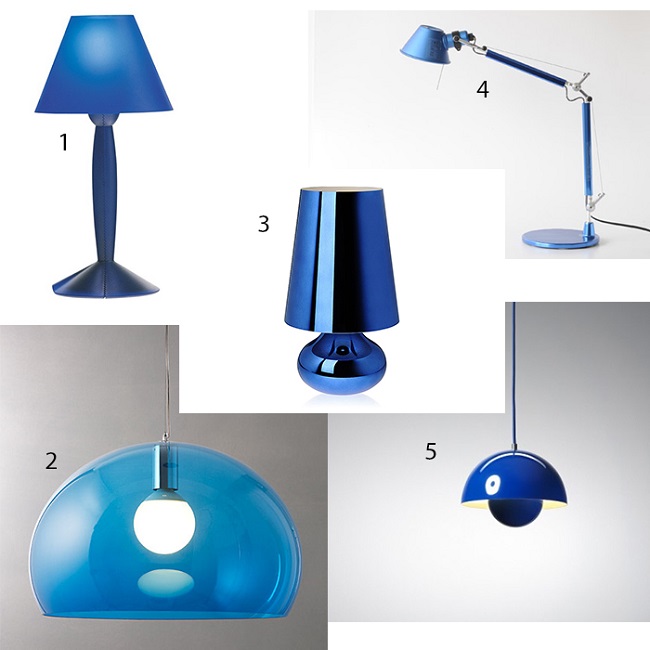 1 – Flos Miss Sissi Lamp in blue 2 – Kartell Fly Suspension in blue 3 – Kartell Cindy in blue 4 – Artemide Tolomeo Tavolo Micro in blue 5 – &tradition Flowerpot in Blue
Our final trend noted from Maison and Objet is the Natural Minerals, the style has come from the increasing need for eco friendly home fashions and is becoming increasing popular. Aesthetics showcasing a rustic, hand crafted and natural look, often paired with pastel and neutral colours to complete the highly stylish design. Here are our picks from this theme: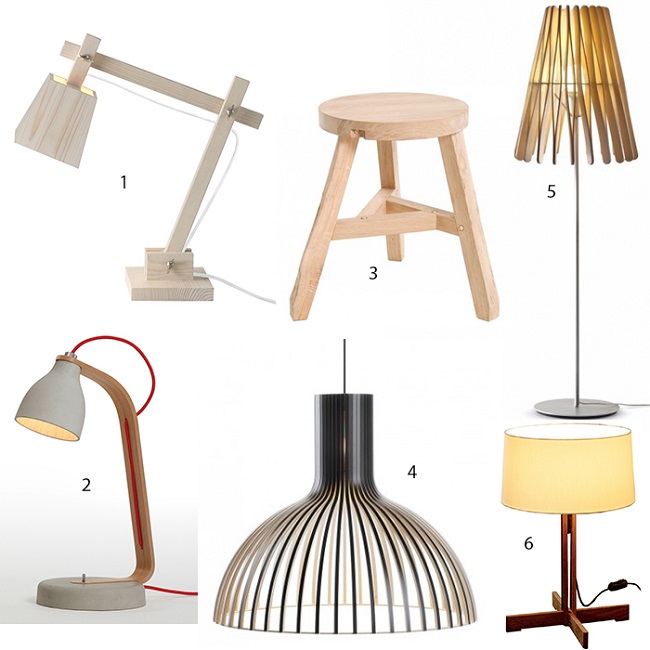 1 – Muuto Wood Table Lamp 2 – Decode Heavy Desk Lamp 3 – Tom Dixon Off Cut Stool 4 – Secto Victo Suspension Lamp 5 – Fabbian Stick Floor Lamp 6 – Santa & Cole Fad Table Lamp
| | |
| --- | --- |
| Tags: | 2015, Anglepoise, Artemide, Decode, Fabbian, Flos, Foscarini, Interiors, Kartell, Lighting, Maison & Objet, Muuto, Oluce, Santa & Cole, Tom Dixon., &Tradition, trends, Vibia |
Share this:
Oluce Atollo
25 April 2014
The Oluce Atollo has become one of the best know symbols of Italian design worldwide. Designed by Vico Magistretti in 1977, it was awarded the Compasso d'Oro in 1979 and became, since then, part of the permanent collections of the world's major museum of design. The simple geometry of the design creates a luminous sculpture from which nothing can be removed and to which nothing can be added.
Share this: