from David Village Lighting
Steve Jones & Russell Cameron founded Innermost in 1999. They gave up their jobs within design consultancy and furniture design to follow a dream to create a unique but diverse furniture and lighting brand that they hoped in time would achieve global recognition. They rented the corner of an old lighting factory in NW10 London and began to work with a variety of other designers from around the world who had all also made London their home. They still ruggedly adhere to their initial philosophy – to be 'as British as London itself' – that is to say very British and then again not British at all but a beautiful and exciting mix of what the entire world can offer.It is brand that is focused on the future but understands exactly where it has come from and what it is made of.
Shop for Innermost now..
Innermost - from the Village Blog
Elle Decoration May Lighting Features
1 May 2015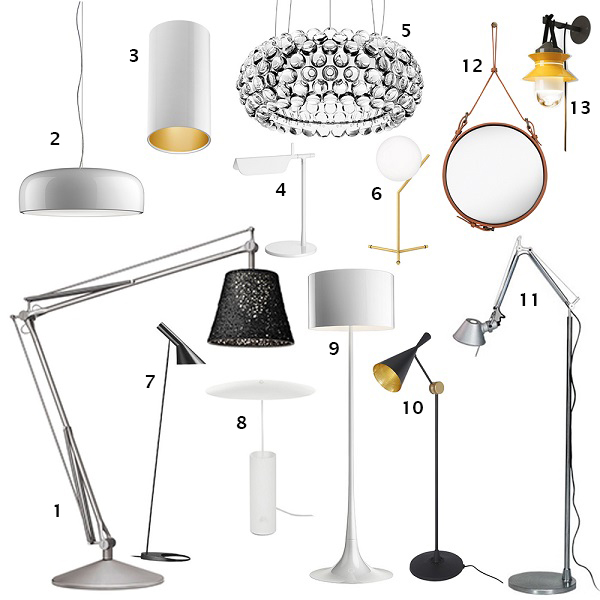 In case you missed the latest issue of Elle Magazine, here's a collection of our items featured for the spring trend! The over all theme and feel to the May issue was spring, suggested by its articles there is a light, fresh and airy feel to interiors by bringing the outdoors inside for the improving weather. This included a lighter and paler tone of lighting and accessories as well as more natural elements such as wood, there was also that hint of metallic details for interest. The darker lighting features were of a more minimal and subtle design, which means that these items do not stand out or distract within a space. Have a browse at what's on trend:
1. Flos Superarchimoon Outdoor Floor Lamp
2. Flos Smithfield Suspension Light 3. Flos Kap Surface Light
4. Flos Tab Table Lamp 5. Foscarini Caboche Media Suspension in Crystal
6. Flos IC 1 High Table Lamp in Brass 7. Louis Poulsen AJ Floor Lamp
8. Innermost Parasol Table Lamp 9. Flos Spun Floor Lamp
10. Tom Dixon Beat Floor Lamp 11. Artemide Tolomeo Micro Terra Floor Lamp
12. Gubi Adnet Circulaire Mirror Large 13. Marset Santorini Wall Lamp in Mustard
Visit us on our social sites to keep up to date on new products and what's on trend! You can find us on Facebook, Twitter, Instagram, Pinterest and now Polyvore! 

Share this:
New from Innermost - Asteroid in Petrol finish
20 February 2015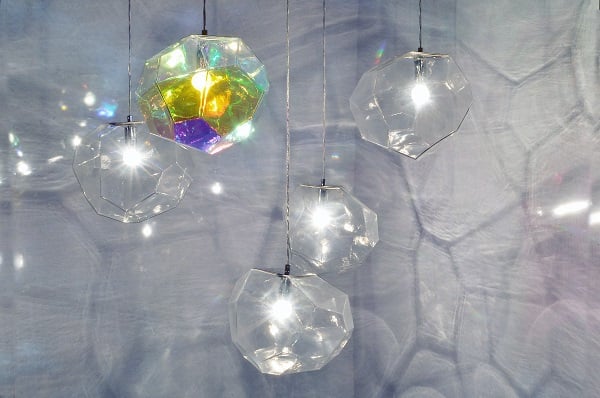 To mark the 10th anniversary of the unique Asteroid range, Innermost have created a matching table lamp and pendant light in petrol finish. The petrol finish of the lamp gives an iridescent effect to the irregular faced glass, where no single side is equal to another. The asteroid was originally designed by Koray Ozgen ten years ago for its reveal at the 100% Design London exhibition, since then the geometric pendant and table light have been exceedingly popular in both commercial and residential locations.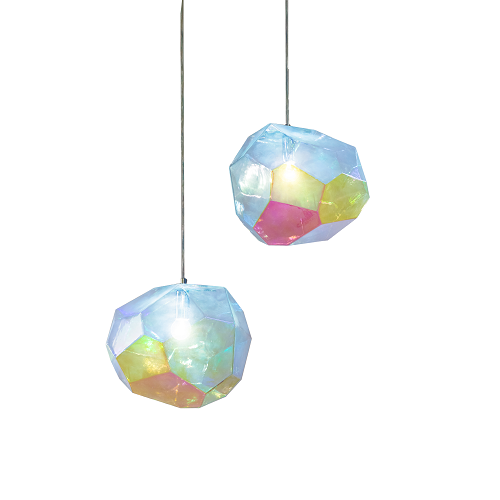 The pendants work well singularly and as a cluster, the cluster creating an eye catching effect of each being a different size from the next, which is the result of its 24 sides being completely different dimensions. They are now available to order online.

Share this:
Innermost Jeeves and Wooster
25 April 2014
Innermost have a quirky and rebellious approach to design driven by high-spirited London culture. The Innermost Jeeves and Wooster pendants designed by Jake Phipps are a blend of Great British tradition and modern technology. Hand-made wool felt hats are lined with an aluminium inner shell. They are named after P.G. Wodehouse's two most iconic characters.
Share this: