from David Village Lighting
Established more than forty years ago, vision, determination, and courage are essential ingredients in Gubi's success. The Gubi family has re-established a creative platform for the development of innovative functional design with global market appeal. The ability to create new concepts and the courage to swim against the tide has brought Gubi back to the forefront of the Danish design world. Since 1967, Gubi's core philosophy has been to create timeless designs, with aesthetics, innovation, functionality and quality as guiding principles. Our many new designs are developed partly in cooperation with designers who have previously left their mark on Gubi products and partly in association with a number of new designers who, in turn, will add new stories to the Gubi saga.
Shop for Gubi now..
Gubi - from the Village Blog
Clerkenwell Design Week 2015!
22 May 2015
We visited Clerkenwell Design Week 2015 in London to see some of our amazing manufacturers, to find out what's new in their collections. We were mainly eager to see Zero Lighting, Secto Design, Prandina, Artemide and Gubi – All of which are very popular on our website!
The first brand we saw in the Design Factory was Zero Lighting, where we were introduced to new additions in their range.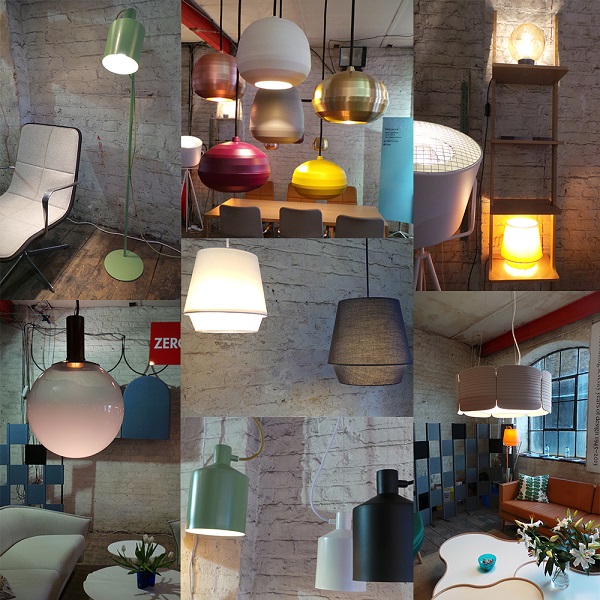 Seen here is the new Silo Floor lamp, Pom Pendants, Elements table lamp, Fog and Stampa pendants. All available in a range of colours as well as custom colours.
Prandina's stand made an impact with a huge cluster of Gong metallic pendants hanging around the company name, the new matching Gong table lamps were also on display. A new pendant has been released called Theodora and displayed in a set to show sizes and colour options available, the design is aimed at domestic spaces such as bedrooms because of its soft nature and diffused effect.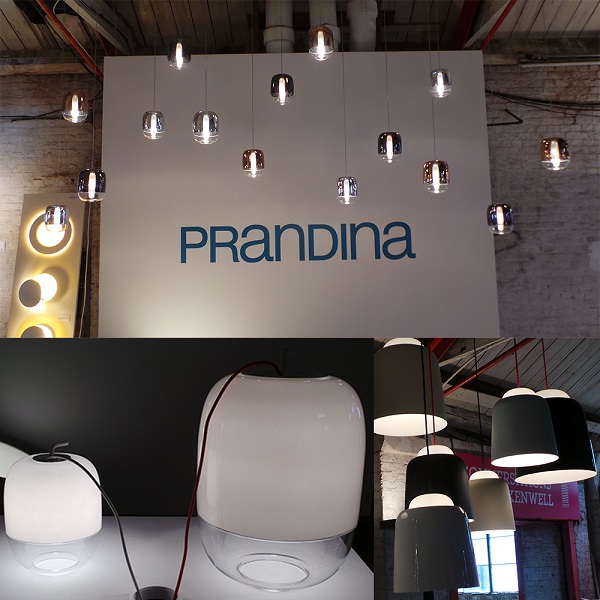 Secto Design made an appearance with the new oversized extendable wall lamp, which was designed to move around a space as the inhabitant changes it.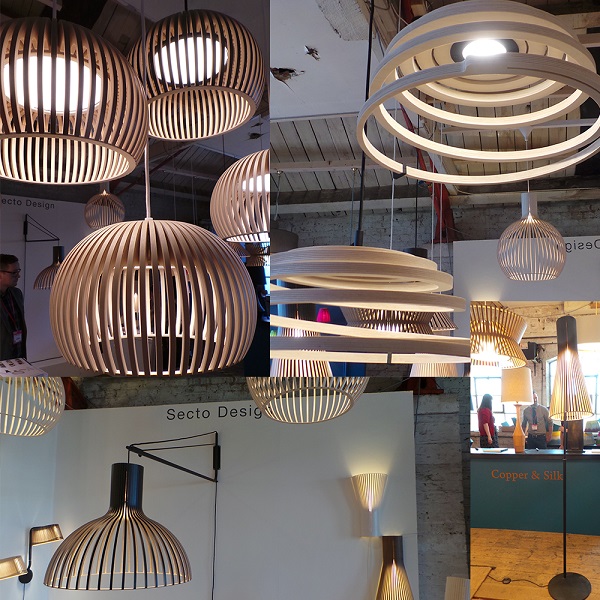 Artemide's stand was un-missable with their new Glass Collection, a range of handcrafted glass pendants with impressive detailing on the body. Also new for 2015 is the La Petite table lamp, with it's playful tilted design and sleek finish, were sure this lamp will prove popular.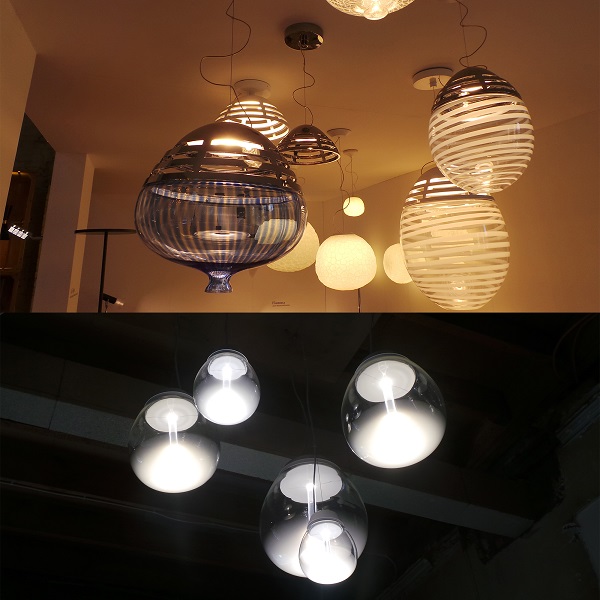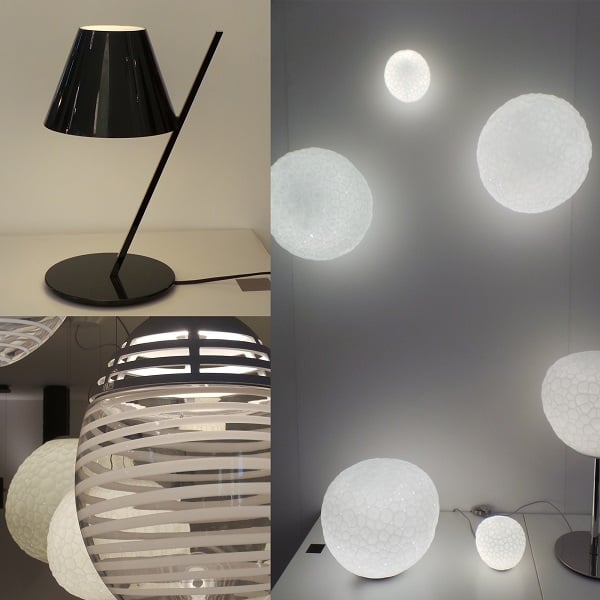 Finally we made a trip to the Icon House of Culture where Gubi put on a stunning display, amongst lush interiors and inside a shabby yet grand venue they created a very trendy take on the vintage chic style.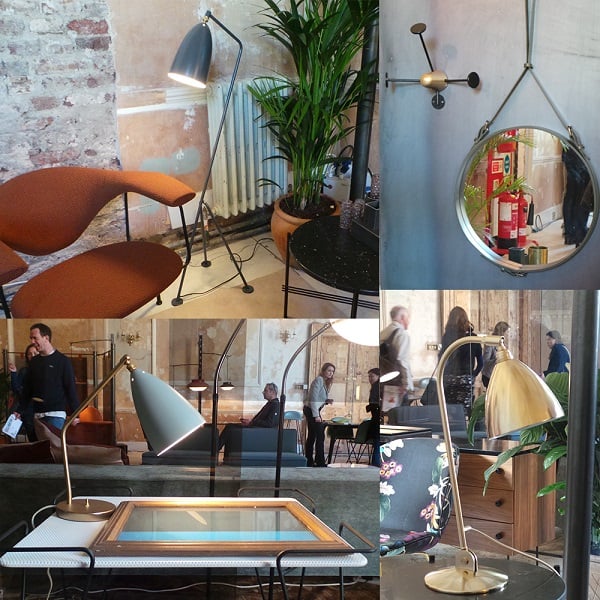 Gubi put on display the new Collar pendant which has been highly anticipated, this is the first look at the fitting since Euroluce Milan.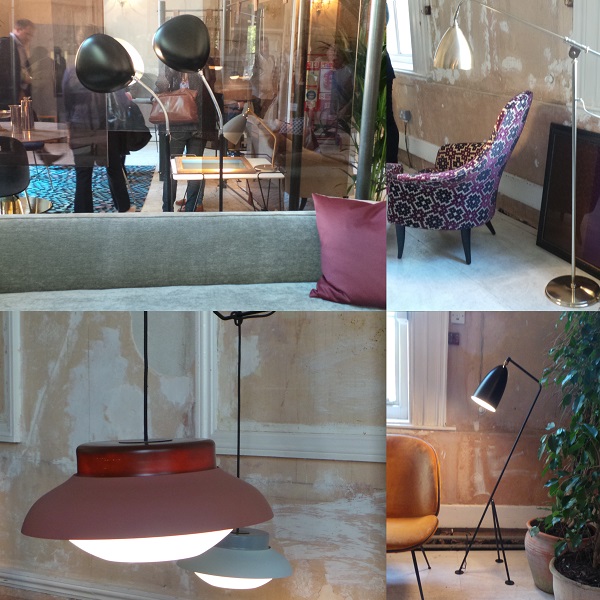 At Clerkenwell Design Week we also saw some new brands whose collections were interesting and enjoyed looking around, such as Orsjo and Deadgood. Watch our website for new brands becoming available!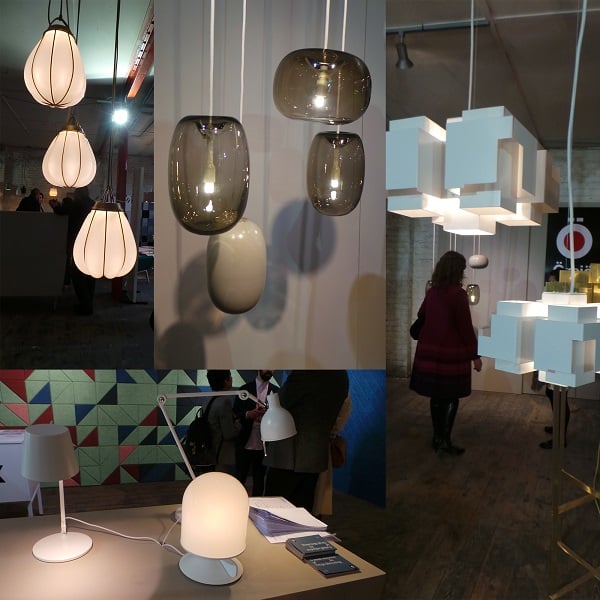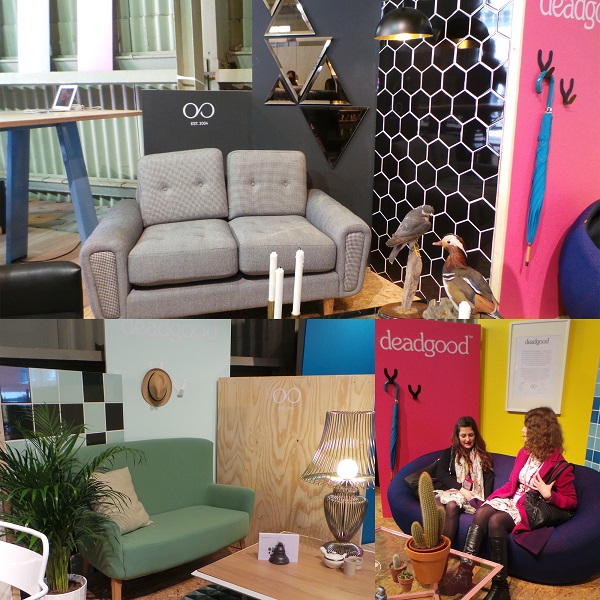 Thank you to everyone at the show who we met and made us feel welcome!
Visit us on our social sites to keep up to date on new products and what's on trend! You can find us on Facebook, Twitter, Instagram, Pinterest and now Polyvore! 
Share this:
Elle Decoration May Lighting Features
1 May 2015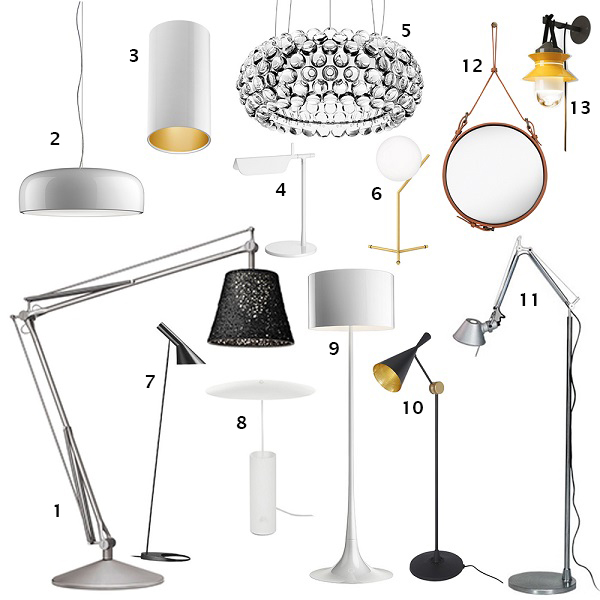 In case you missed the latest issue of Elle Magazine, here's a collection of our items featured for the spring trend! The over all theme and feel to the May issue was spring, suggested by its articles there is a light, fresh and airy feel to interiors by bringing the outdoors inside for the improving weather. This included a lighter and paler tone of lighting and accessories as well as more natural elements such as wood, there was also that hint of metallic details for interest. The darker lighting features were of a more minimal and subtle design, which means that these items do not stand out or distract within a space. Have a browse at what's on trend:
1. Flos Superarchimoon Outdoor Floor Lamp
2. Flos Smithfield Suspension Light 3. Flos Kap Surface Light
4. Flos Tab Table Lamp 5. Foscarini Caboche Media Suspension in Crystal
6. Flos IC 1 High Table Lamp in Brass 7. Louis Poulsen AJ Floor Lamp
8. Innermost Parasol Table Lamp 9. Flos Spun Floor Lamp
10. Tom Dixon Beat Floor Lamp 11. Artemide Tolomeo Micro Terra Floor Lamp
12. Gubi Adnet Circulaire Mirror Large 13. Marset Santorini Wall Lamp in Mustard
Visit us on our social sites to keep up to date on new products and what's on trend! You can find us on Facebook, Twitter, Instagram, Pinterest and now Polyvore! 

Share this:
Gubi Ronde Pendant
3 February 2014
The Ronde Pendant is designer Oliver Schick's first creation for Gubi. The bell-shaped piece is a modern interpretation of the traditional pendant lamp. Schick says that his aim is "to design products with character that are timeless and easy to comprehend." The Ronde's unique detail is the overhanging collar around the top of the pendant, which is reminiscent of a vase or an amphora. The hand-turned aluminium lamp shade has an ultra-matt lacquer which makes it look as if it is made of ceramics. With its simple yet lively expression the Ronde pendant has all the potential to become a future design classic.
Share this: