from David Village Lighting
Foscarini are best known for their artistic lighting creations in hand made murano glass. Based in Venice, the company has an enviable reputation as one of Italy's foremost lighting manufactures. The unique collection of Foscarini lights are at the cutting edge of fashion and the high quality of the materials used to combine to produce a lighting sensation that is recognised worldwide.
In our showroom in Sheffield we have one of the most comprehensive displays of Foscarini lighting in the U.K. We have been Foscarini dealers for 20 years and we are proud to be stockists of one of the best available lighting collections in the world.
Shop for Foscarini now..
Foscarini - from the Village Blog
Foscarini Tuareg by Ferruccio Laviani
8 August 2014
The Tuareg was designed for Foscarini by Ferruccio Laviani. Tuareg is composed of three dimensional aluminium tubes into which LED light sources have been incorporated. The LEDs can be switched on and off separately and adjusted 350 degrees in order to vary the light effect and the lamp's possible uses. Integrated touch switches and the system used to hide the power cables within tubular elements ensure that the design is as minimalistic as possible.
The bold sculptural design of the Tuareg makes it an ideal centrepiece for both large commercial and domestic spaces. The structure is made of extruded aluminium coated with liquid paint and is available in a choice of two finishes. The bright orange finish is inspired by the bright colours of industrial anti-rust paints and the black chrome finish is intended to evoke the lustre of precious metals.
Share this:
Diesel with Foscarini Glass Drop Pendant
3 April 2014
Foscarini Glass Drop resembles a white-hot drop of glass before it takes shape. When switched off the surface of the pendant has a beautiful mirrored finish. When it is turned on a warm light filters through its iridescent diffuser. Glass Drop is particularly striking in a multiple installation, like a jewel made up of many pendants.
Share this:
Foscarini New LED Products!
28 January 2014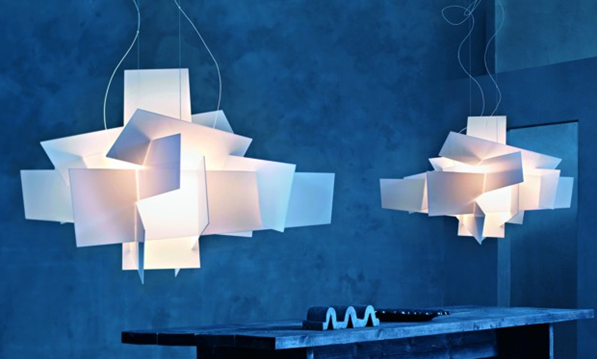 Foscarini have been established for over 30 years. Their classic designs, such as the Caboche pendant, Lumiere table lamp, and Twiggy floor light, are instantly recognisable. This year they have launched new LED versions of some of their most popular designs. The four icons of the Foscarini collection, the Twiggy, Tress, Big Bang, and Caboche have been totally redesigned. The LED versions of these classic lights retain the warm and emotion of the halogen versions whilst benefiting from an excellent consumption/efficiency ratio for lower energy consumption.
Share this: