from David Village Lighting
Founded in the 1960's in Italy, Artemide is a global leader in architectural design focused lighting. Based in Milan, Artemide has been responsible for some of the most iconic lights designed in the last 50 years. In 1972 Artemide collaborated with Richard Sapper to produce the Tizio desk light. The 1980's saw the launch of the Tolomeo designed by Michele De Lucchi and Giancarlo Fassina and today both lights are still symbols of design excellence throughout the world.
David Village Lighting are proud to be one of the longest established Artemide dealers in the U.K. Since 1981 we have been specialising in this range of lighting and our knowledge of the brand is unsurpassed.
Shop for Artemide now..
Artemide - from the Village Blog
Artemide Issey Miyake Collection
12 March 2014
Artemide's IN-EI Issey Miyake collection was winner of the 2013 iF Product Design Award. Artemide describe the collection as a sculpture of shadow and light. The design revolves around a fabric derived from recycled materials which diffuses light in interesting ways. The structure of the recycled material, made using PET bottles, together with an additional surface treatment allows the shades to keep their shape without the need for an internal frame.
Share this:
Artemide Empatia Collection
5 March 2014
The Empatia collection was designed for Artemide by Carlotta de Bevilacqua. These lights bring together the traditional art of glass blowing with new LED technologies. The glass diffuser is divided between areas of transparency and opacity so that the light is reflected without glaring and without losing efficiency.
Share this:
Artemide Scopas LED Suspension
30 January 2014
The stunning new Scopas LED suspension light has been designed for Artemide by award winning designer Neil Poulton. The incomplete spherical structure of the Scopas means that its appearance changes depending on the angle it is viewed from. The Scopas breaks the mould of traditional symmetrical design, and its apparent incompleteness is contrasted with its technical efficiency.
Share this:
Artemide Ilio LED Floor Light
28 January 2014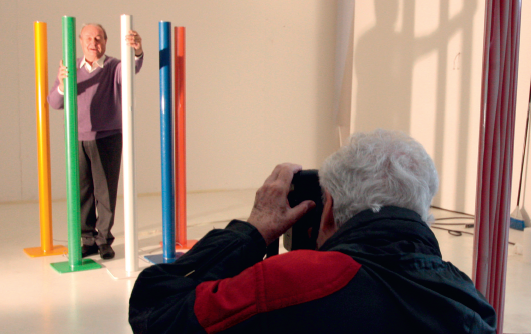 Designed by Ernesto Gismondi, founder of Artemide Group, the Ilio floor light brings a burst of colour to any space! Ilio is available in 6 vibrant rainbow colours, ruby red, electric blue, emerald green, cedar yellow, sapphire blue, and amber orange. The simple lines and classic shape allow the colour to really become the focus of this design. The Ilio has a LED light source which offers high-efficiency diffused indirect light.
Share this: