from David Village Lighting
Founded in the 1960's in Italy, Artemide is a global leader in architectural design focused lighting. Based in Milan, Artemide has been responsible for some of the most iconic lights designed in the last 50 years. In 1972 Artemide collaborated with Richard Sapper to produce the Tizio desk light. The 1980's saw the launch of the Tolomeo designed by Michele De Lucchi and Giancarlo Fassina and today both lights are still symbols of design excellence throughout the world.
David Village Lighting are proud to be one of the longest established Artemide dealers in the U.K. Since 1981 we have been specialising in this range of lighting and our knowledge of the brand is unsurpassed.
Shop for Artemide now..
Artemide - from the Village Blog
Exclusive insight into 2015 at Artemide!
14 April 2015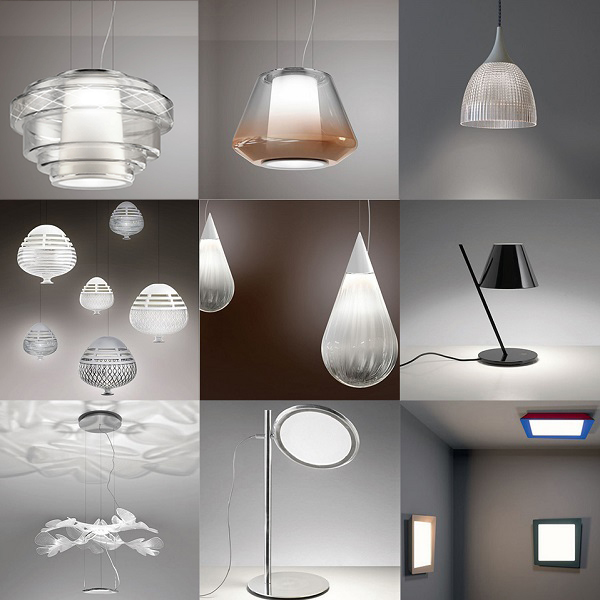 An exclusive insight in to the new products of 2015 from Artemide, to be released for preview at Milan Euroluce Exhibition! A new range from them is the 'Glass collection' featuring a selection of products mouth blown or hand crafted with the upmost care and detail. (From left to right) 'Reverso Strip' & 'Reverse Conic' by Arik Levy. 'Lana' & 'Invero' by Carlotta de Bevilacqua. 'Lutetia' by J.M. Wilmotte. 'La Petite' Andrea Quaglio & Manuela Simonelli. 'Chlorophilia' by Ross Lovegrove. 'Discovery' and 'Crazy' by Ernesto Gismondi.
Visit us on our social sites to keep up to date on the Euroluce exhibition and what's on trend! You can find us on Facebook, Twitter, Instagram, Pinterest and now Polyvore!

Share this:
Artemide's new product: Sisifo
11 March 2015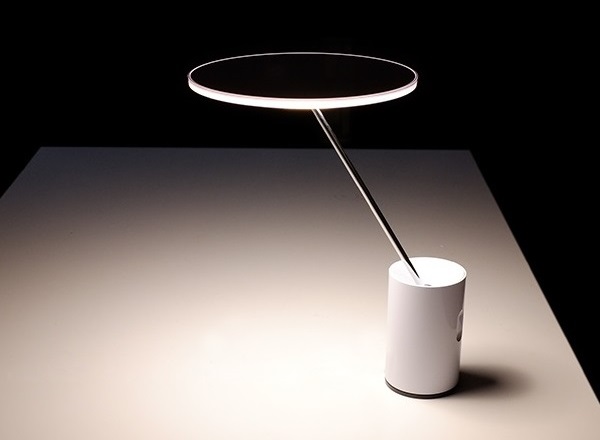 A truly unique new table light from Artemide, the Sisifo lamp consists of a floating illusion LED flat panel which is completely adjustable. The hybrid luminaire balances the need for illuminating a space and for focusing on tasks; this makes the light an ideal business/personal use lamp. With its freedom of movement, large base and LED panel it lends itself to large and small tables, the flat panel allows the lamp to fit in to smaller areas, the large base gives it stability to be moved freely.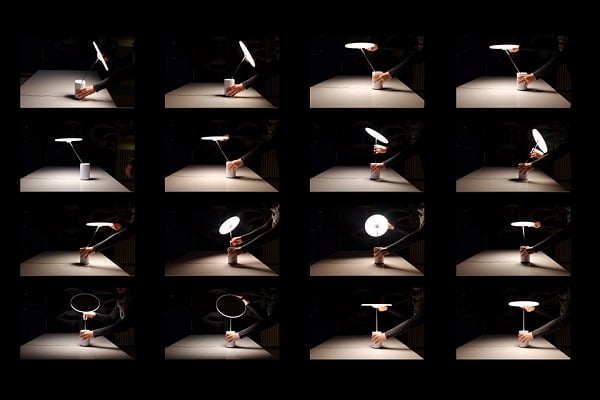 The LED source produces a warm white tone to create a soothing environment for relaxation or focused jobs. The Sisifo large diffuser eliminates any harsh shadows with its adjustable head and only throws out a soft, calming light which feels gentle in comparison to some LED lamps. Designed by Scott Wilson in 2012 and introduced at the Frankfurt light + Building show. Available online now.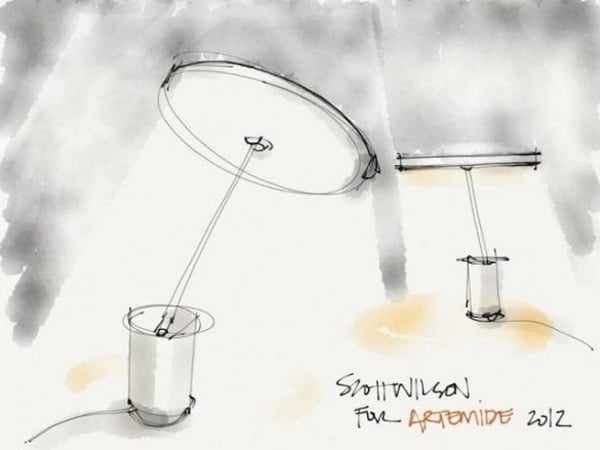 Visit us on our social sites to keep up to date on what's new and what's in trend! You can find us on Facebook, Twitter, Instagram, Pinterest and now Polyvore!
| | |
| --- | --- |
| Tags: | Artemide, contemporary, Design, Eco, Facebook, Instagram, LED, modern, Pinterest, Polyvore, Sisifo, Twitter |
Share this:
Additions to the Artemide range
20 February 2015
As of this week we have expanded on our range of Artemide products, a diverse collection to suit residential and commercial spaces. From pendants, to wall lights and table lights many of which are low energy LED, there is also a new outdoor range called Tetragono. You can view the new products via their families: Cariddi – Fato – Groupage – Issey Miyake – Laguna – Meteorite – Nebula - Null Vector – Objective – Sisifo – Tetragono
Here are some examples of the new products added to these collections: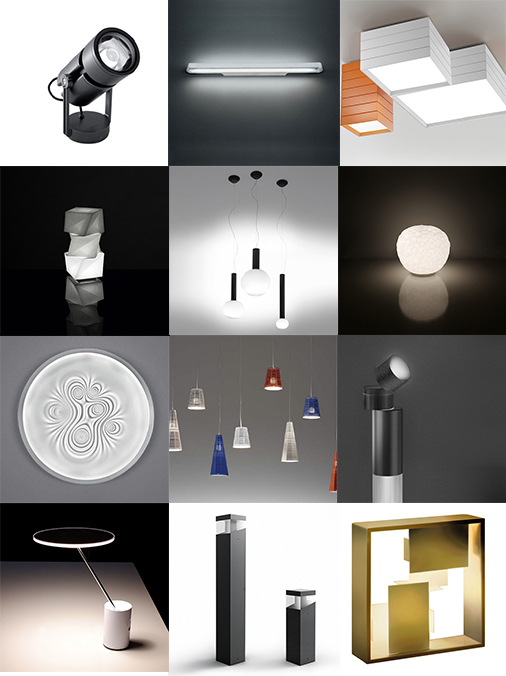 (From left to right)
- Cariddi LED spotlight - Talo Wall 90 LED - Groupage 20, 32, 45
- Issey Miyake Mogura Mini - Laguna suspension - Meteorite 15 Table
- Nebula wall - Null vector suspension Alfa, Beta - Objective table
Share this:
Fifteen Shades of Grey
13 February 2015
To celebrate Valentines Day and the release of the film Fifty Shades of Grey, we thought of no better time than to show you our Grey lighting! From a wide range of tones, sizes, ceiling to table lamps…here is our definitive collection: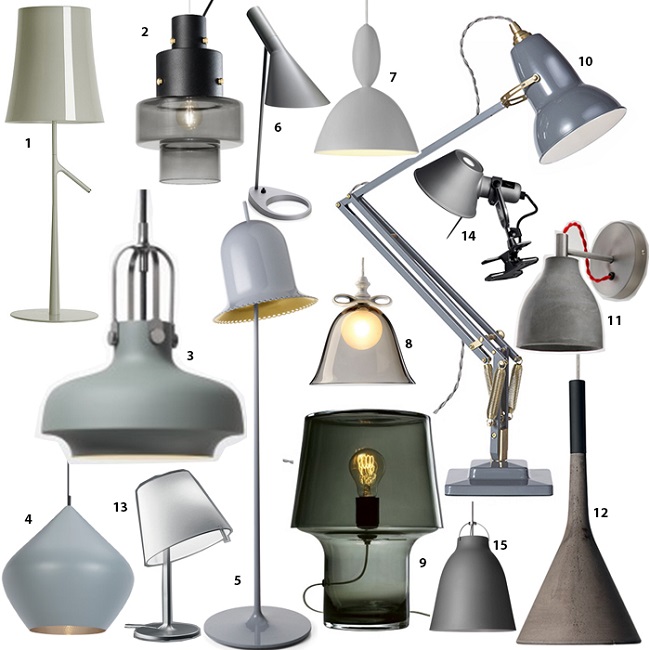 1. Foscarini Birdie Table Lamp 2. Diesel for Foscarini Gask Pendant 3. &Tradition Copenhagen Small Pendant 4. Tom Dixon Beat Stout Pendant 5. Moooi Lolita Floor Lamp 6. Louis Poulsen AJ Table Lamp 7. Muuto MHY Pendant 8. Moooi Bell Pendant 9. Muuto Cosy Table Lamp 10. Anglepoise Original 1227 11. Decode Heavy Wall Light 12. Foscarini Aplomb Pendant 13. Artemide Melampo Table Lamp 14. Artemide Tolomeo Pinza 15. Light Years Caravaggio P1 Pendant
Perfect as a gift or to simply add the monochrome style to your living space, one of these Grey showstoppers are sure to please!
| | |
| --- | --- |
| Tags: | Anglepoise, Artemide, Decode, Diesel with Foscarini, fifty shades of grey, floor lamp, Foscarini, grey, Light Years, Moooi, Muuto, pendant, table lamp, Tom Dixon., &Tradition, wall lamp |
Share this:
Artemide: Issey Miyake Growing in Popularity
12 February 2015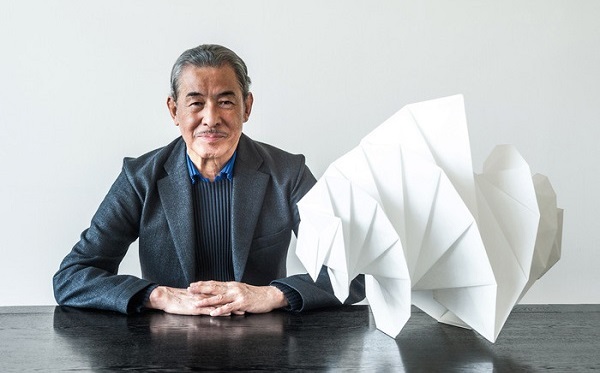 The online popularity of the Issey Miyake for Artemide range is undeniably huge, throughout social media particularly the fold away designs have received a lot of attention. Issey Miyake is dedicated to the needs and existence of men within his clothing designs. These values have aided him in the understanding of creating products for living. Miyake is very environmentally aware, creating the lighting pieces at his Reality Lab where the perfect material would be made from recycled matter. The lights are made up from PET bottles re-treated fibres, this material both created a unique diffused lighting effect, but more importantly would reduce energy consumption and CO2 emissions up to 40% compared to making new materials for production.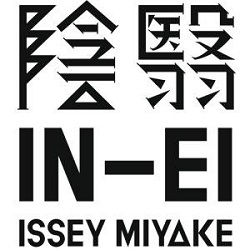 The design of the lights are based up on traditional Japanese lighting and shapes of origami, but combined with Miyaki's ability to add a modern twist for contemporary interiors. Since the release of the collaborative range the Artemide X Issey Miyake lights have become the most relevant and favoured sustainable lighting technology.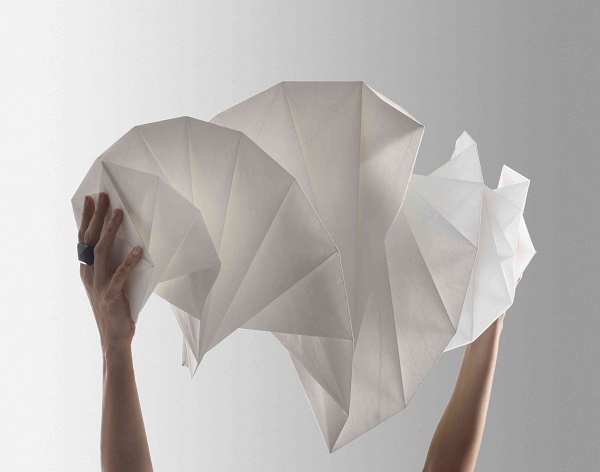 A new addition to this range is the Wuni Suspension and Mogura Table lamp. The Wuni suspension is quite unique within the collection, the angular folds concertina into a spherical shape which is slightly reminiscent of the Hoshigame table lamp, but more elaborate and designed for ceiling display. The Mogura Table lamp is very much like the Hakofugu Table lamp design, unusual angled 3D squares, but four of them stacked to create the Mogura lamp.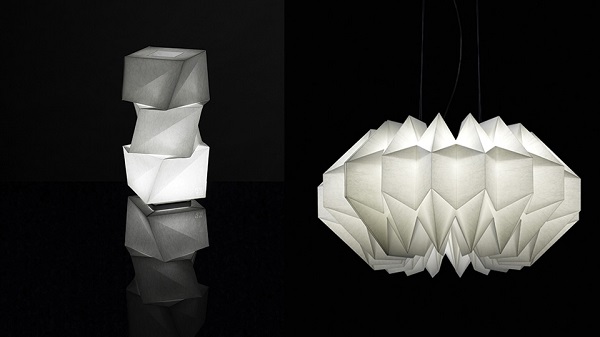 | | |
| --- | --- |
| Tags: | Artemide, designer, eco, environmently friendly, fashion, fold away, hakofugu, Issey Miyake, japanese, lighting, mogura, wuni |
Share this:
Maison and Objet Key Trends for 2015
31 January 2015

The Maison and Objet event in Paris is a forecast for interior trends for the year ahead, comparable to Fashion week in Spring/Summer. This year the event has predicted four key trends based upon the popular themes and attention created by the exhibitors and exhibition visitors. The first unsurprising trend is Metallics. Particularly warm toned hues. This choice of metallic finishes has progressively become more popular for a few years now and has gradually filtered even down onto the high street! Here are our picks for the Metallic trend: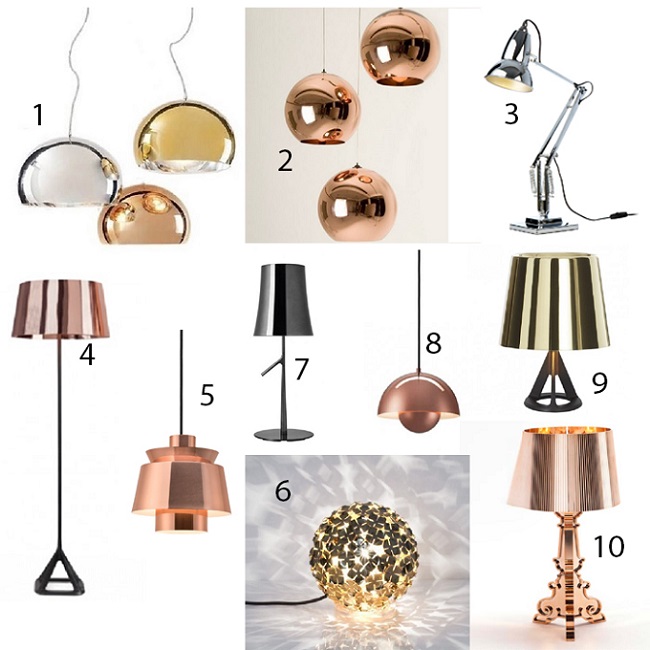 1 - Kartell Fly Precious Pendants 2 - Tom Dixon Copper Mirror Ball shade 3 - Anglepoise Original 1227 in Chrome 4 - Tom Dixon Base Copper Floor Lamp 5 - &Tradition Utzon in Copper 6 - Terzani Orten'zia Table Lamp in Gold 7 - Foscarini Birdie Table Lamp in Chrome 8 - &Tradition Flowerpot in Copper 9 - Tom Dixon Base Table Lamp in Polish Brass 10 - Kartell Bourgie Copper Table Lamp
Our second trend From Maison and Objet is Hints of Neon, maybe not to everyone's liking but a just a hint of a bright colour can add a bright cheerful pop of colour into our homes, especially appropriate for the Spring/Summer time. It is a nod to the 90's as Fashion has also done. Neon has been seen on textiles, furniture, home accessories and also lighting. Be brave and give it a try! Here are our Picks for Neon Trend: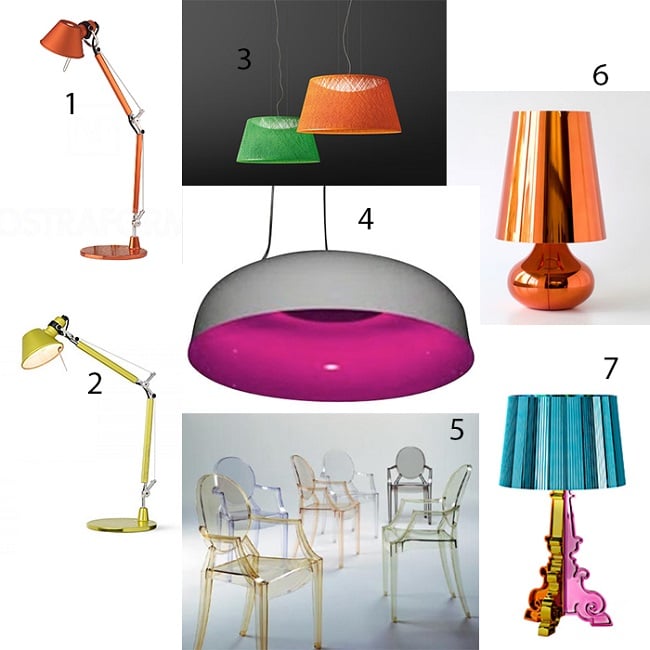 1 – Artemide Tolomeo Tavolo Micro in orange 2 – Artemide Tolomeo Tavolo Micro in yellow 3 – Vibia Wind Suspension in green or orange 4 – Oluce Canopy 422 in Pink 5 – Kartell Ghost Chairs in assorted colours 6 – Kartell Cindy Table Lamp in orange 7 – Kartell Bourgie Table Lamp in Blue
The third trend on the 2015 forecast is the colour Santorini Blue a shade to provoke a Mediterranean but modern vibe, a shade of blue to create tranquillity and timeless look within a space. These are our Santorini Blue Trend options: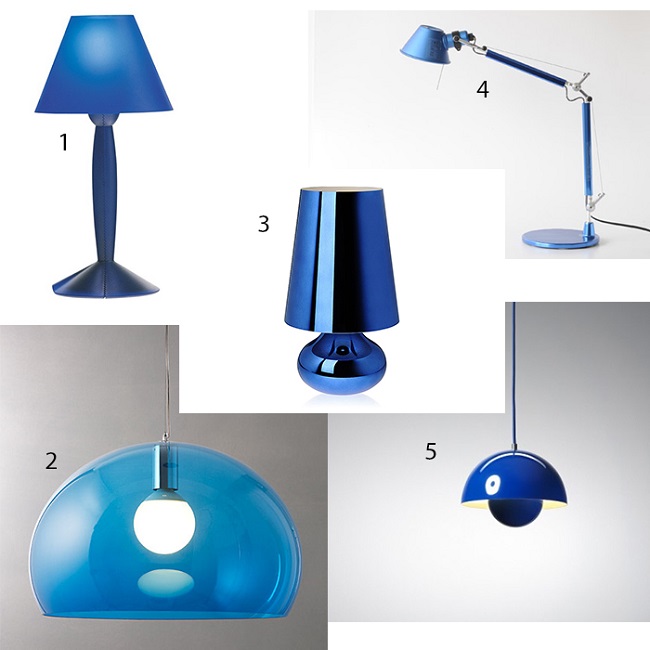 1 – Flos Miss Sissi Lamp in blue 2 – Kartell Fly Suspension in blue 3 – Kartell Cindy in blue 4 – Artemide Tolomeo Tavolo Micro in blue 5 – &tradition Flowerpot in Blue
Our final trend noted from Maison and Objet is the Natural Minerals, the style has come from the increasing need for eco friendly home fashions and is becoming increasing popular. Aesthetics showcasing a rustic, hand crafted and natural look, often paired with pastel and neutral colours to complete the highly stylish design. Here are our picks from this theme: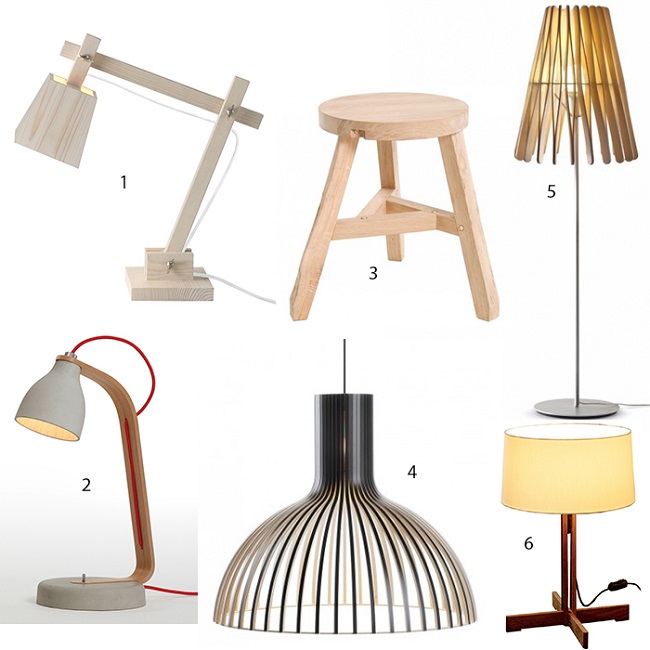 1 – Muuto Wood Table Lamp 2 – Decode Heavy Desk Lamp 3 – Tom Dixon Off Cut Stool 4 – Secto Victo Suspension Lamp 5 – Fabbian Stick Floor Lamp 6 – Santa & Cole Fad Table Lamp
| | |
| --- | --- |
| Tags: | 2015, Anglepoise, Artemide, Decode, Fabbian, Flos, Foscarini, Interiors, Kartell, Lighting, Maison & Objet, Muuto, Oluce, Santa & Cole, Tom Dixon., &Tradition, trends, Vibia |
Share this:
The Telegraph - The top 50 interiors shops in the UK!
10 October 2014