Celebrating 60 years of the PH collection
Here at David Village Lighting, we are celebrating 6 decades of the iconic Louis Poulsen collection by taking a look at some of their most memorable pieces. Imagined by the legendary Poul Henningsen, this classic collection was a groundbreaking step in technological innovation. With that, let's take a walk down memory lane and commemorate the history of the PH collection.

The infamous PH5 is a highly popular collection, available in a variety of shades and sizes, making it easy to integrate into any setting.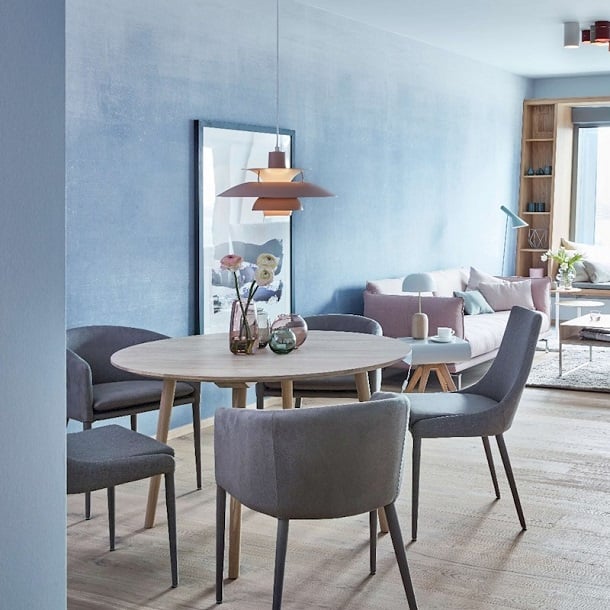 One of most notable and popular piece from Louis Poulsen, the world of premium lighting was changed when the PH5 was imagined. Whether turned on or off, this pendant light interacts seamlessly with a variety of interiors, creating a visually stunning, engaging, unified focal point. Due to its popularity, Louis Poulsen has designed the infamous mini and various colours hues. This allows the PH5 to be entirely transferrable into any interior.
Snowball is a popular eye-catching piece with an artistic flare, ideal for any contemporary modern space.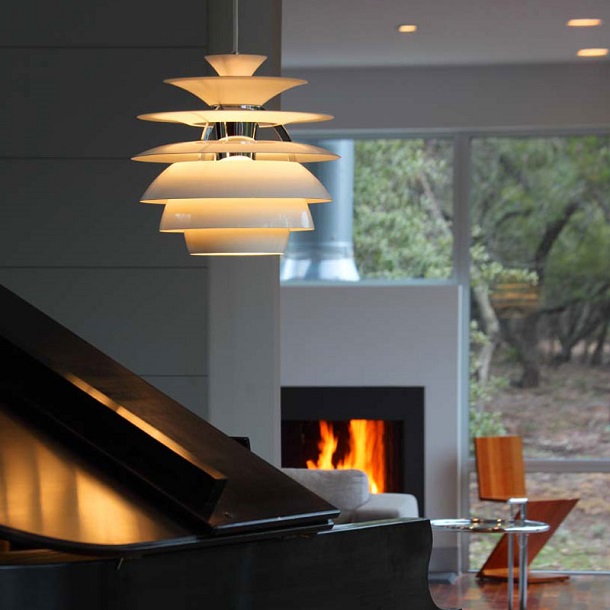 One of their very original designs was the PH Snowball, which is an eye-catching artistic piece that maintains its modernist, minimalistic chic that made it so iconic. This collection is so memorable that it still continues to be a popular piece, even decades after its inception. This is mainly due to its unique shape, with 8 shades being mounted on 3 legs; a glossy top (creating sparkling light) and a matte underside (avoiding reflection). The shape ensures all sides are illuminated, creating optimum, lighting performance but shielding inhabitants from any glare.
A favoured piece by many from Louis Poulsen, the PH Artichoke is an elegant piece, admired by many for decades.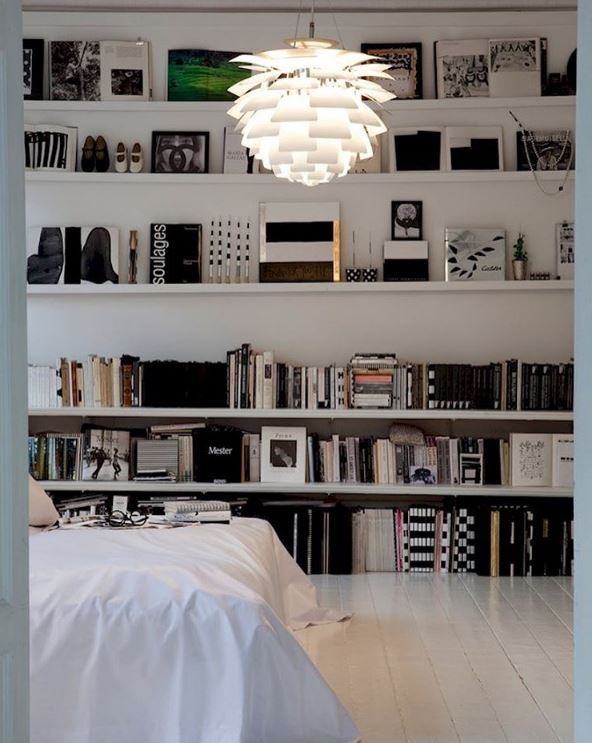 Drawing attention with it's organic form, the PH Artichoke was first designed for the Langelinie Pavilloen restaurant in Copenhagen, but was so popular it has quicklybecome a must have for any contemporary space. Oozing elegance and ambience, the PH Artichoke consists of 72 lovingly crafted "leaves" that protect the light source, redirecting the light to create a distinct, unique effect. The leaves, when both lit and unlit, create an elegant "ice look" that brings lightness to any space. Reflecting its extreme popularity, the range has been expanded to include a variety of sizes and colours.
Invest in your very own piece of Louis Poulsen history at David Village Lighting.
Subscribe to our monthly newsletter or follow us on social media - for a daily dose of noteworthy design.
David Village Lighting Pinterest: @davidvillage
David Village Lighting Twitter: @DVlighting
David Village Lighting Instagram: @davidvillagelighting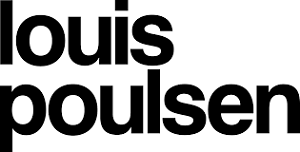 The latest releases from Louis Poulsen
PH5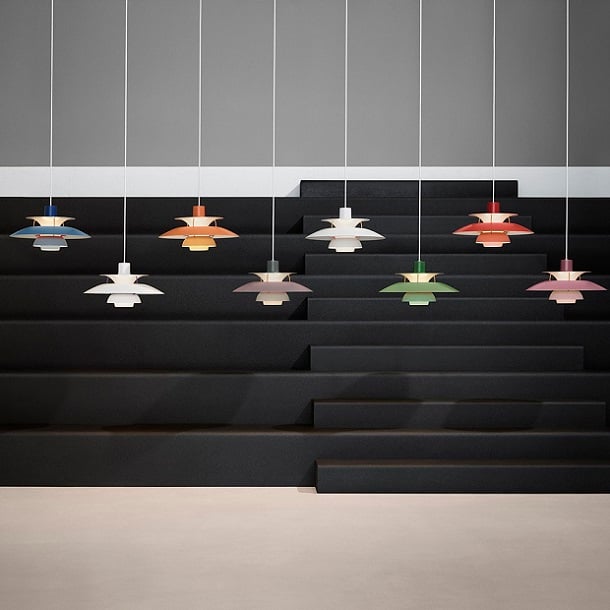 To celebrate the PH5 pendant's sixtieth anniversary Louis Poulsen are releasing it in eight new finishes.
The PH5 was designed in 1958 by Poul Henningsen and six decades later still remains the best selling design in Louis Poulsen's portfolio.
Poul Henningsen designed the PH5 as a follow-up to his celebrated three-shade system, which was launched in 1926 and put Louis Poulsen on the map as the leading manufacturer of innovative lighting. Henningsen's original design had been inspired by his mother's wish for more flattering, softer light.
The new finishes include; Classic White, Modern White, and six vibrant new colour combinations: Hues of Orange, Hues of Rose, Hues of Red, Hues of Green, Hues of Blue and Hues of Grey.
The different hues on each lamp's five iconic shades create a dynamic gradient effect, enhancing the pendants' visual impact.
"Every interior – whether classic or modern – can benefit from the exceptional lighting and aesthetic qualities of Poul Henningsen's most popular design. We wanted to celebrate the six-decade legacy by expanding the PH 5 family to complement any space, and open it up for new, modern and personal expression. The lamps can be subtly incorporated with existing décor – or bring a bold pop of colour. We look forward to seeing how people interpret the new options to create their ideal ambience."
Rasmus Markholt - Idea & Design Director at Louis Poulsen.
Click here to view the new PH5!
Cirque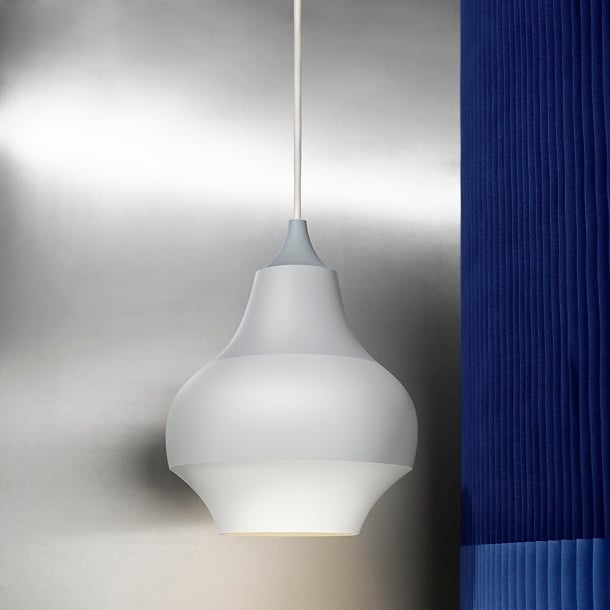 The original Cirque pendant was introduced in 2016 by designer Clara von Zweigbergk. The original pendant features three bold colour combinations in three sizes. Now the Swedish designer has explored a new territory of hues releasing the Cirque in a Scandinavian palette of soft grey tones. 
Cirque provides beautiful, soft and atmospheric lighting. Its unique form and matt white interior ensures direct, downwards light.
This style of light, paired with the sense that the pendant could be spinning mid-air, alludes to von Zweigbergk's original theme park inspiration.
While its matt painted finish creates a soft look and feel, the pendant is in fact made of aluminium. Sturdy and easy to maintain, the design is ideal for kitchens (particularly above tables, bars or islands), children's bedrooms, entryways, and living and dining areas. The pendant can be hung individually or suspended in rows or clusters.
"In the grey version, the pendant becomes more about the shape."
Clara von Zweigbergk
"While the grey tones give Cirque a subtler expression, the visual impact of the sculptural form is enhanced, highlighting each contour. The simple Scandinavian aesthetic also gives it a different kind of presence: both more introspective and very inviting."
Rasmus Markholt, Idea & Design Director at Louis Poulsen
Click here to view the Cirque!
Tolbod 120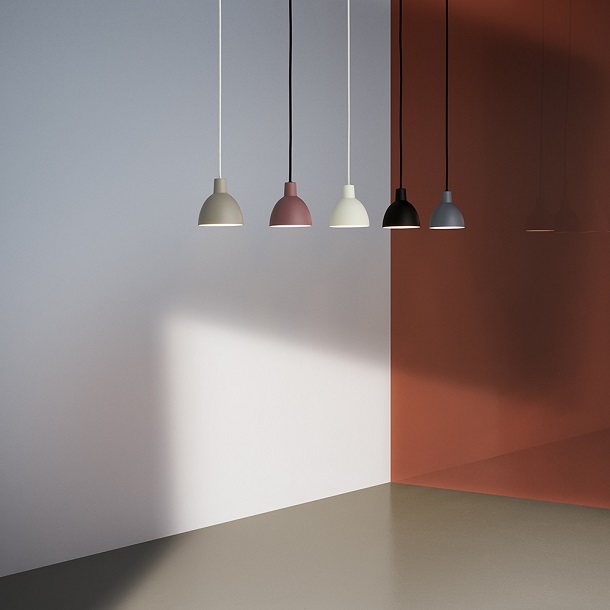 Louis Poulsen original Toldbod 120 lamp was based on the philosophy that the simpler the design, the greater its flexibility.
The new Toldbod 120 design colour variants draw from a subtle, elegant palette of Black, White, Dark Rose, Light Grey and Blue-Grey all with a white interior.
The new hues give the familiar design a fresh, modern look and feel. The classic pendant looks great both on its own and in multiples: both in a single hue or a mixed palette; in a row or in scattered, multi-height arrangements.
The pendant's soft yet precise form makes it a natural fit for a variety of architectural styles and environments, from kitchens, dining and living rooms to hallways, offices and bedrooms.
"We developed the Toldbod with the vision of a very classic shape whose simple form would allow us to experiment almost infinitely with size and finish," "The new colour range offers new opportunities to get creative – and reimagine the impact that lighting can have on a room. We wanted to offer our customers every opportunity to create a very individual layout, grouping various colour arrangements to really play up the desired atmosphere. A straight row of Toldbods is serious and structured. A multi-level, scattered arrangement becomes artistic and even more personal. The idea behind the design is to really make room for individual vision and self-expression in a given space."
Rasmus Markholt, Idea & Design Director at Louis Poulsen.
Click here to view the new Tolbod 120!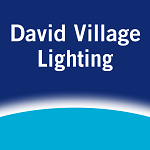 Visit us on our social sites to keep up to date on new products and what's on trend! You can find us on Facebook, Twitter, Instagram, Pinterest and now Polyvore!
For a limited time only, we are discounting the iconic PH5 suspension in white. This offer is only availble until April 23rd! Hurry...before time runs out!
Designed by Poul Henningsen in 1958, the PH5 has become a well loved and universally recognised interior design feature. The suspension light came about originally to facilitate the use of any kind of light bulb, this was at a time when manufacturers would frequently change the size and shape of their light bulbs. Forcing design houses to adapt their styles to fit the ever changing incandescent lamp. Henningsen with his radical opinions created a light that didn't have to change.
"For a generation I have believed that consideration for the consumer and common sense would prevail, but now I have become a fatalist. I have accepted fate, and with Louis Poulsen´s permission I have designed a PH fixture which can be used with any kind of light source, Christmas lights and 100 W metal-filament bulbs!"
Henningsen created the PH5 with the consumer in mind. The iconic shades were angled to prevent glare from any viewpoint. Small red and blue shades were inserted within to subdue the bright light, the colours were cleverly chosen because our eyes are least sensitive to these on the colour spectrum.
Since 1958 the PH5 family has grown. Louis Poulsen then added five new glossy colours on its 50th anniversary and renamed it the PH50. Four more matt colours were introduced to PH5, as of 2013.
The PH5 is one of the best selling items by Louis Poulsen, widely used in domestic and commercial interior design schemes. Its iconic design has made it the feature light of choice amongst designers and enthusiasts alike.

Visit us on our social sites to keep up to date on new products and what's on trend! You can find us on Facebook, Twitter, Instagram, Pinterest and now Polyvore!