Marset Lighting is about more than just lamps, they seek to produce innovative and clever designs which are both refined and contemporary. They dedicate their time and effort to create first-class designs which create atmospheres with character and ensuring the flawless completion of each product.
Marset have released their 2016 collections and below we introduce them to you!
Theia Table & Floor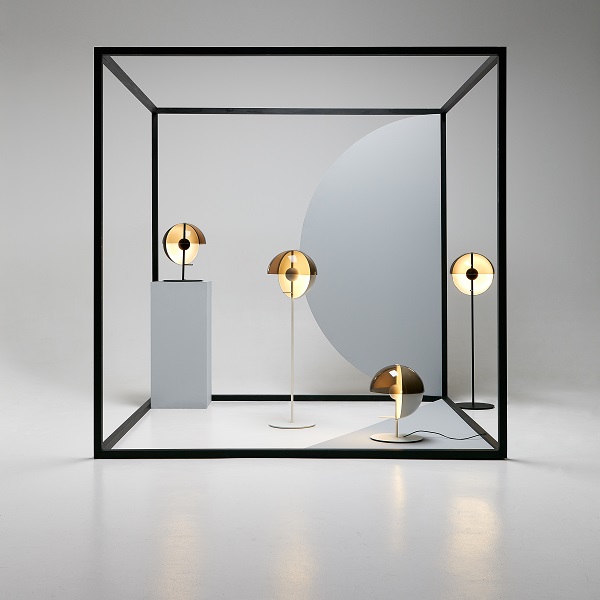 The Theia collection is named after the Greek Goddess – mother of the sun, the moon and the dawn. Theia has two faces which change simply by swivelling the fixture around. The design by Mathias Hahn can be pointed toward you for use as a reading lamp or towards a wall or object, creating a subtle, indirect light which immediately warms the atmosphere. Because Theia's metal lampshade is totally opaque, the swivelling movement totally shifts the perception of the lamp. The design is created with two half-spheres, one placed horizontally and the other vertically, these elements make it possible for the light to be simultaneously projected, reflected and absorbed by objects creating a visual to enjoy. The Theia collection has also recently been awarded the NYCxDesign award presented by Interior Design magazine and ICFF. The awards celebrate outstanding talent across major areas of design such as architecture, interiors, furnishings, lighting, and technology.
Aura Wall Light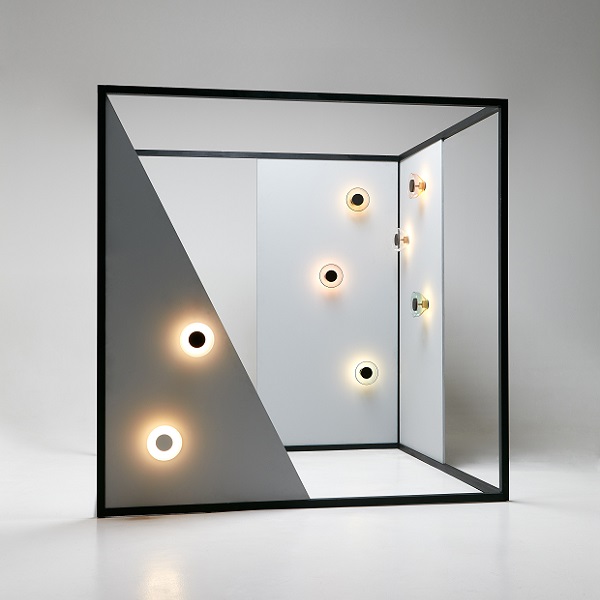 The Aura wall light was inspired by traditional carafes which were common household items for years. This decorative lamp provides outstanding light while turned on but stands out beautifully while off. A humble glass carafe imprinted on the eye of its designer was the start of the design process. Both a rational and contemporary design the Aura uses LED technology to achieve efficiency and subtlety. The wall lamp comes with opalescent, transparent or coloured glass which allows the light to bathe the wall and create a luminous effect without harshness.
Soho 38 LED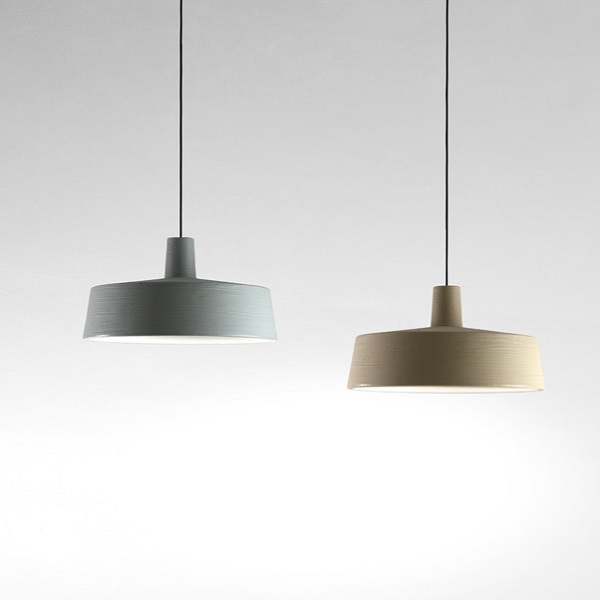 The Soho collection has grown with Marset adding a new smaller version of the pendant, ceiling and floor Lamp in both interior and exterior. The Soho lamp is presented as a statement piece is recognition of the lamps traditionally used in markets, tavern and cafeterias. Whereas before the collection was available in either a diameter of 57cm or 112cm it is now also available in a small size measuring 38cm in diameter. The new smaller size makes it more appropriate for smaller spaces and increases the overall versatility of the fixture. The existing colour range—black, grey and translucent white—is now joined by two new tones: sand and sky blue.
Pleat Box now available in LED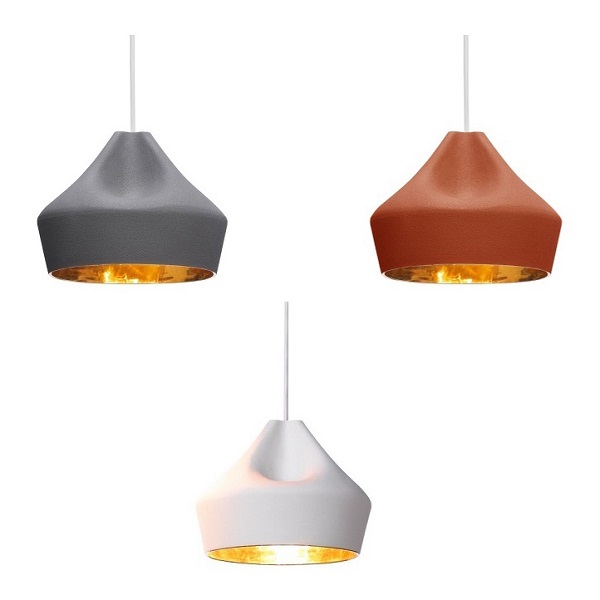 The Pleat Box is the result of the first collaboration between Xavier Mañosa, a master ceramist from Barcelona, the mashallah design studio in Berlin, and Marset. The inspiration behind the Pleat Box suspension is the sophisticated combination between a digitally designed crease in a piece of cloth and a silhouette that is applied to a ceramic base. The interior of the shade is available in either brilliant white enamel, which enhances the luminous light or, 24K gold, which generates an extremely warm light.
Concentric Wall Light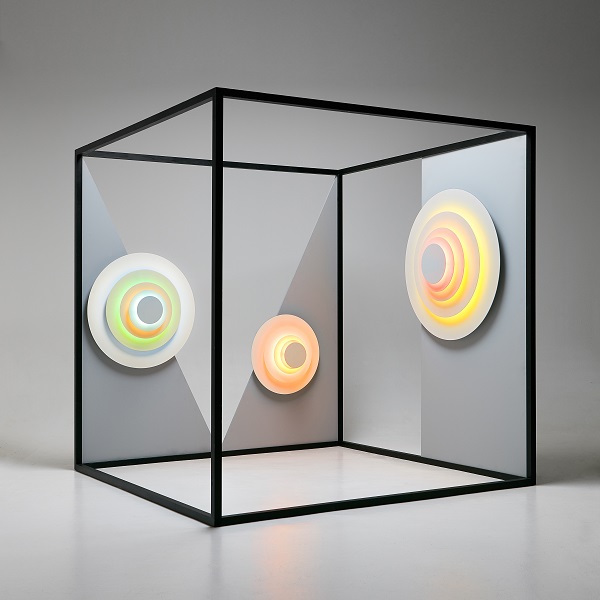 The Concentric wall light is visually striking both on or off however, when turned on in the dark is when it becomes its most impressive and dynamic. The way the light vibrates when you view it creates an almost hypnotic effect. The design is inspired by the sunlight which enters through the window of an aeroplane reflecting vibrant colours onto the passengers clothing. The Concentric collection is based on an artistic endeavour to highlight this interaction between light and the reflection of colour, as each white circular panel has a different colour on its back. The collection comes in three different sizes and three different colour combinations: the Corona model with neon colours, the Major model with warm colours, and the Minor model with cool colours.
Ginger Collection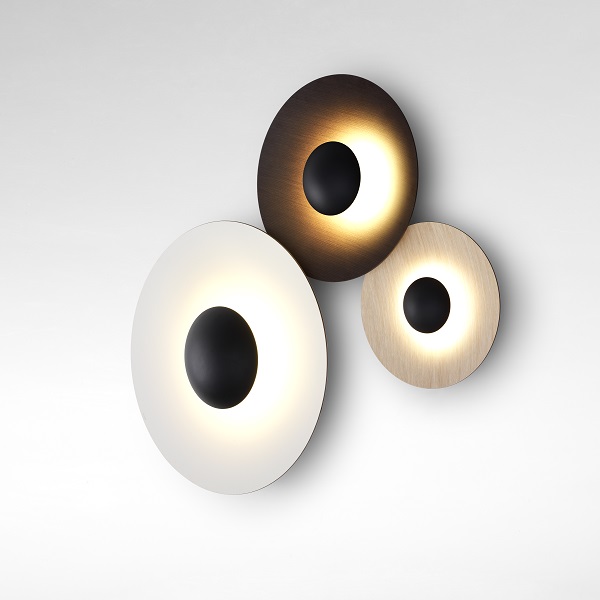 This year Marset have added to their Ginger collection with a new, smaller suspension lamp, a portable table lamp, another version of the wall lamp with a moveable arm, and three different sizes of flush-mount wall lamps. The collection is created from wood; a material which is hard to mould. The combination of sheets of wood, paper and resins pressed together under high pressure achieve a laminate which appears almost entirely flat. The new smaller suspension with a diameter of 20cm is ideal for areas that need a smaller focus point of light and the wall version is perfect for lighting up beside a bed. Thanks to a rechargeable lithium-ion battery the new portable table version allows spaces to be independently lit with no need for wires. The interior of the shade is available in not just white but in an oak and wenge finish, creating different shades of light.
View all of Marset's Collections by clicking Here!
Visit us on our social sites to keep up to date on new products and what's on trend! You can find us on Facebook, Twitter, Instagram, Pinterest and now Polyvore!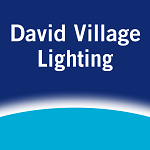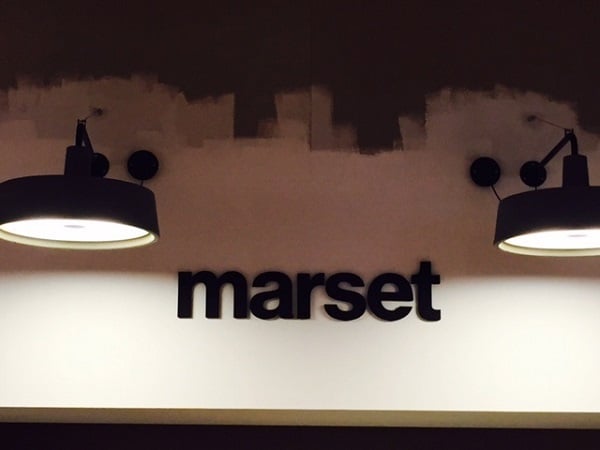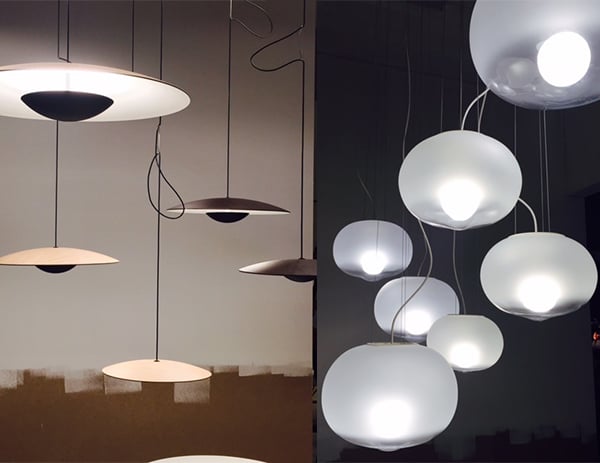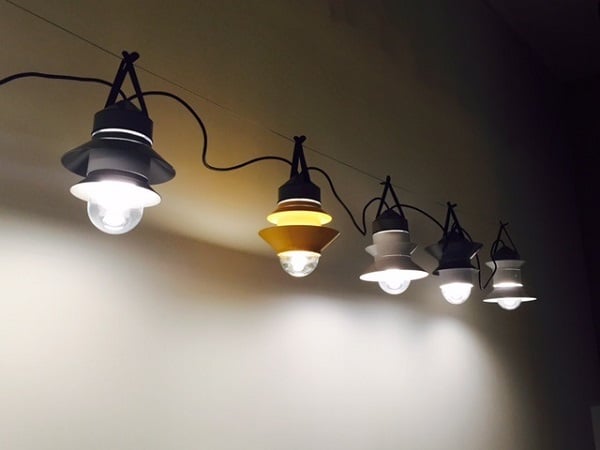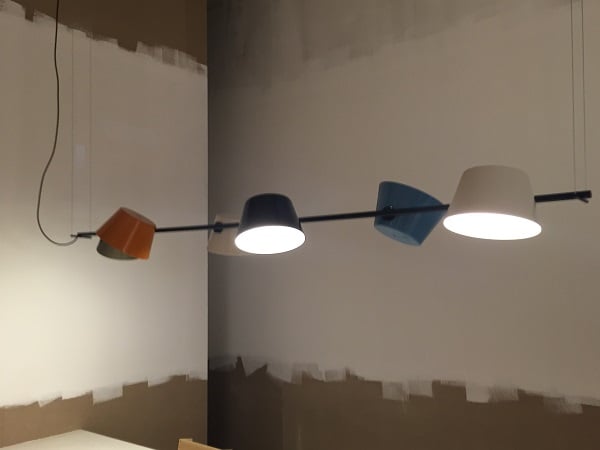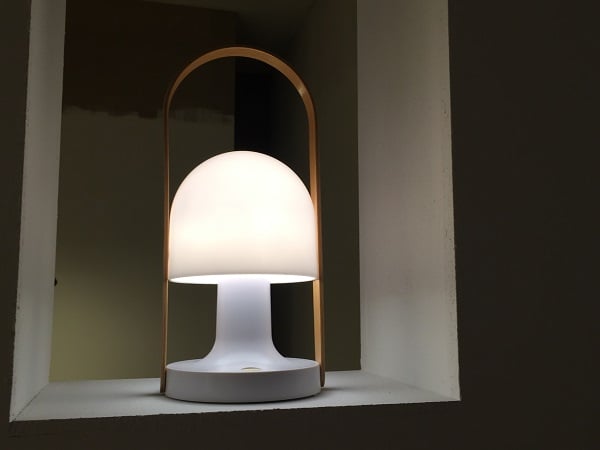 Marset revealed their new collections at Euroluce 2015, Ginger pendants, Hazyday pendants and Santorini garland. Since adding the collections to our website we have been anticipating seeing them on display, they are stunning to see and have been very popular.
Visit us on our social sites to keep up to date on the Euroluce exhibition and what's on trend! You can find us on Facebook, Twitter, Instagram, Pinterest and now Polyvore! 
The FollowMe Lamp: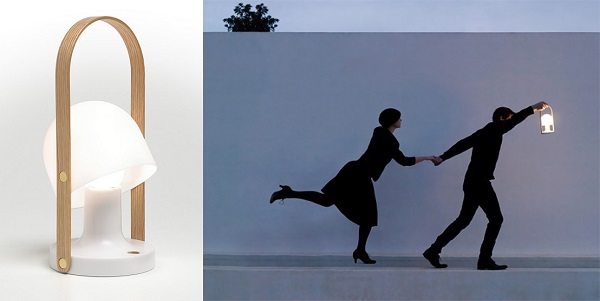 The FollowMe lamp a new release as of last year and has proved to be extremely popular since! The lamp's portability and whimsical design has attracted many people, its multifunctional uses have proved to be a strong attribute of the light. Many use this indoor and outdoor because of its durability, the FollowMe lamp is also completely wireless and rechargeable which makes it perfect to 'follow' you where ever you may need it. The FollowMe is rechargeable by USB for easy use, it was designed to replace candle light indoors, or outdoors to illuminate where wired lights cannot reach. The handle was made to stand out, the natural element of the oak wood stands out – tempting you to pick it up. FollowMe lamp is loved by many and we think you will too!
The Polo range: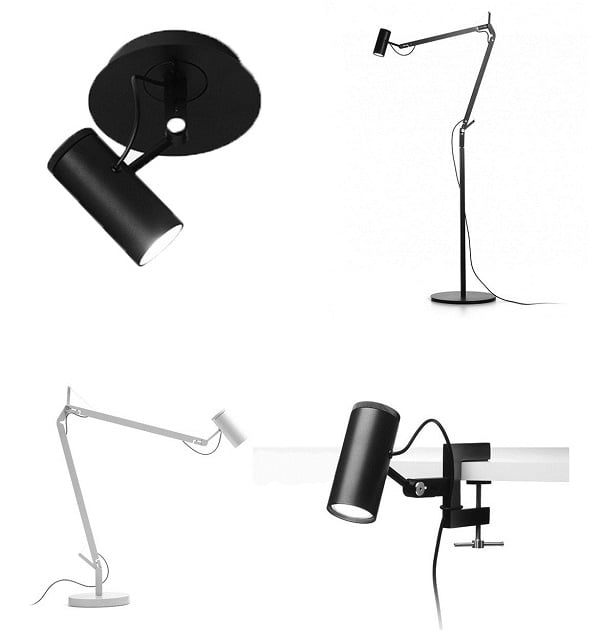 The Polo collection consists of a new ceiling spotlight, table lamp, floor lamp and spotlight with clamp which allows it to be either wall or table suitable. This collection of lights are of a spotlight style, giving concentrated and focused light which is adjustable to where it is needed. They contain an LED light source which is not too bright, making this range appropriate for home and commercial uses. The Polo range is already proving to be a popular set of lighting features, see for your self how adaptable these lights are.
The Ginger range: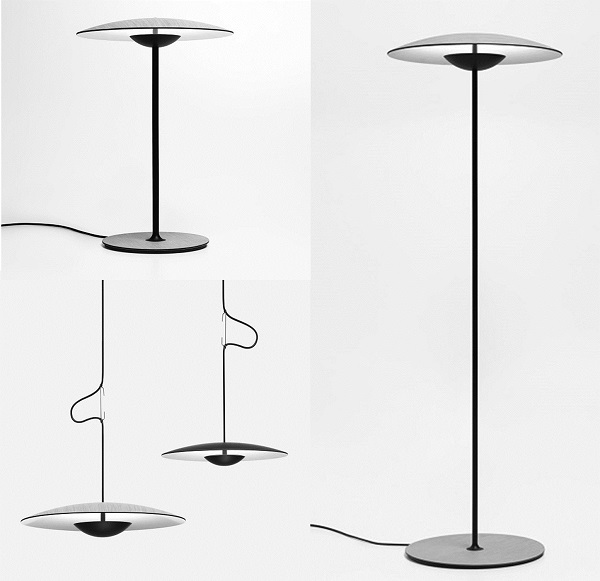 The Ginger collection features a table lamp, floor lamp, 32 suspension light (small) and 42 suspension light (large). The light weight disk is made up of layers of paper and wood pressurised to make this shade just 4 mm thick, painted white internally to reflect light and a wood finish on the outer. The collection comes in two shades of wood, Oak which is lighter in colour and Wenge which is a lot darker. This chic and minimal collection is sure to suite most interiors with its stylish and high quality aesthetic, with a user friendly design and effective functionality.
The Santorini Collection: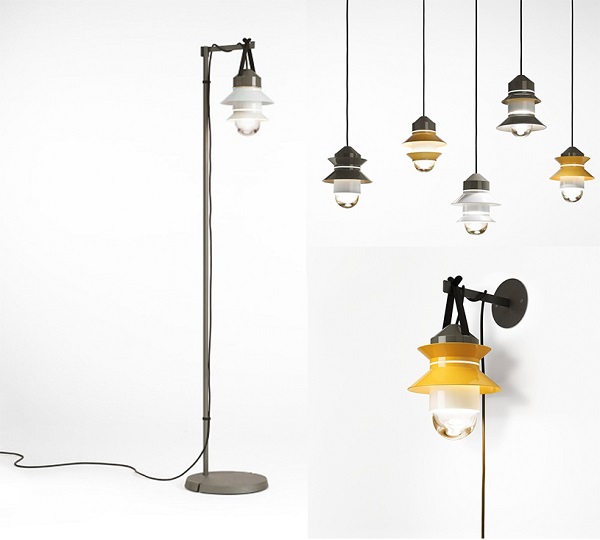 The Santorini collection is designed specifically for outdoor use with an IP rating of 65, polycarbonate structure and glass diffuser makes this range weather proof. This collection comprises of a floor lamp, suspension light and wall light, available in three colours – mustard, white and grey. These lamps were inspired by the colourful lanterns used on fishing boats. They are adjustable to allow direct or reflective light to illuminate an outdoor space, an element of delicacy and fun especially with the suspension lights as they can be displayed as cluster or as a garland with the correct accessories.
The Hazy Day Suspensions: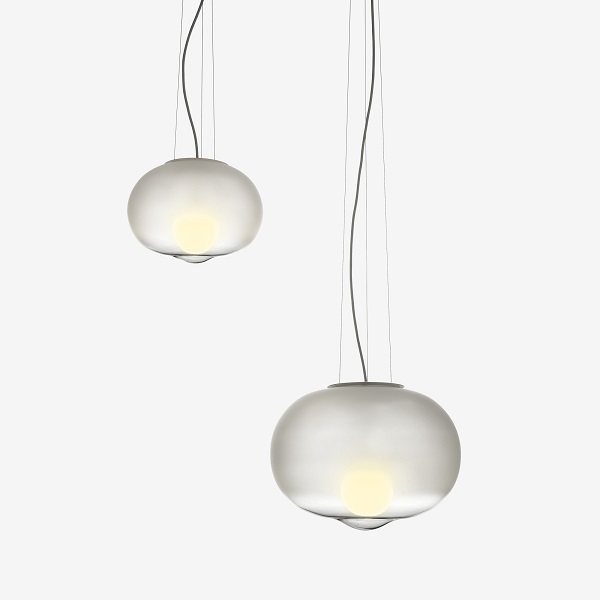 The Hazy Day suspension light comes in two sizes – 32 and 44, pertaining to the diameter of the glass shade which is the feature of this light. The lamp is formed from a blown glass globe which has a graduated pale colour of sand, this dissipates to transparent glass at the bottom where the bulb within is revealed slightly. The Hazy Day lamp creates a glow by sun light, when lit the pendant emits a warm diffused radiance which is almost dream like.