Bellevue – Arne Jacobsen's greatest achievement
Bellevue, is an iconic designer collection of lighting created in 1928 by the infamous Arne Jacobsen. One of the most admired architects and designers in the world, ahead of his time and a true visionary.

Bellevue was Jacobsen's first lighting design. It was named after the Bellevue theatre which is one of his earliest accomplishments and it still stands today as a relic of historical value. Picture below.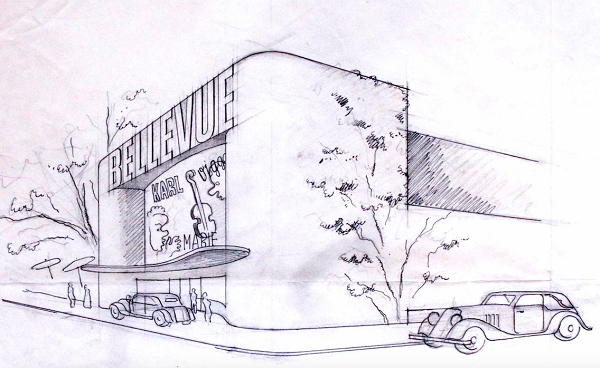 The Bellevue Lighting collection is recognised by its elegant silhouette, swan like neck and contemporary angular shade.
Designed in the Bauhaus era, Jacobsen took inspiration from the creative arts movement which originated from the iconic German school and created modernist designs/innovations.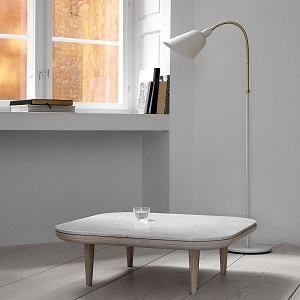 The range was expanded to floor, table and wall lights available in contemporary colour finishes.
This timeless design still proves popular even in 2017 and the functionality of this lamp as well as the aesthetic is still highly desirable to modern lifestyles.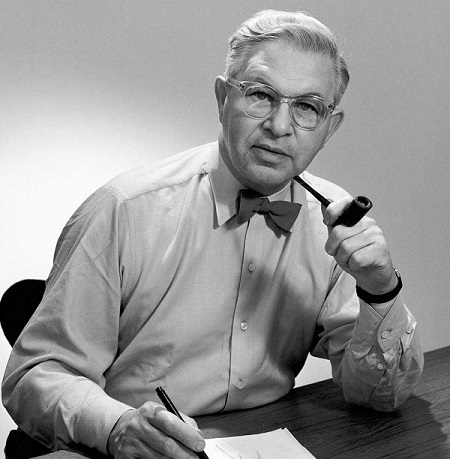 Visit us on our social sites to keep up to date on new products and what's on trend! You can find us on Facebook, Twitter, Instagram, Pinterest and now Polyvore!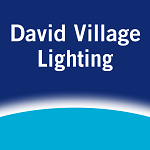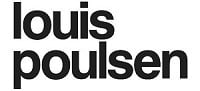 New Colour – AJ Collection
Louis Poulsen is honouring Arne Jacobsen and celebrating the 60th anniversary of his iconic AJ design by releasing new and dynamic colours to the range. The collection includes a floor, table and wall version.
The 3 piece collection is still available in the original black, white and pale petroleum options but now has 7 new colours. The new colours in the collection consist of dark green, ochre, rust red, midnight blue, aubergine and two grey midtones.
The colours are linked closely to Arne Jacobsen's universe and have been selected to show of the essence of the lamp.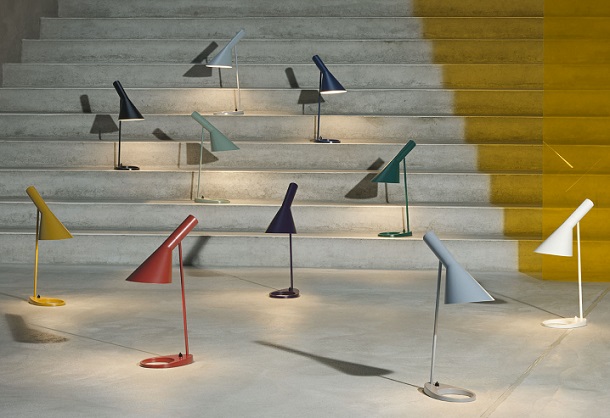 "The AJ lamps are famous for their sculptural design. The new colour collection consists of both classic and more contemporary tones, which all share the trait of highlighting the design of the AJ lamp itself," says Idea & Design Director Rasmus Markholt from Louis Poulsen.
The AJ table, floor and wall lamps were designed by Arne Jacobsen in 1957 for the SAS Royal Hotel in Copenhagen where they were an integral part of the hotels design concept. The AJ lamp has since become a world famous design and one of Arne Jacobsen's most popular lamps.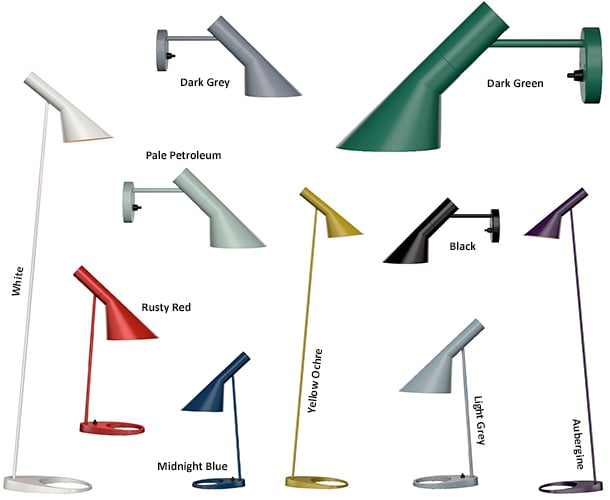 "Arne Jacobsen was an aesthete to his fingertips, and it is no accident that he was often given responsibility for the interiors of the buildings he designed – right down to the smallest detail. He originally dreamed of being an artist before choosing to train as an architect, and his artistic talent and courage clearly shine through in both his unique design idiom and his sense of colour. That is why we feel it is in keeping with his spirit to update the AJ lamps with a range of classic and inspirational colours," adds Rasmus Markholt.
The design for the AJ shade was based on using two geometric shapes; the cylinder for the socket and the cone shade. The lamp directs the light where it's needed making is ideal for use as both a work light and a reading lamp.
Click here to view the new colour collection!
Visit us on our social sites to keep up to date on new products and what's on trend! You can find us on Facebook, Twitter, Instagram, Pinterest and now Polyvore!