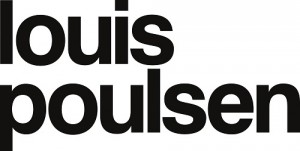 Louis Poulsen has released their newest collections for 2016 and we love them all.
The Mini Panthella Table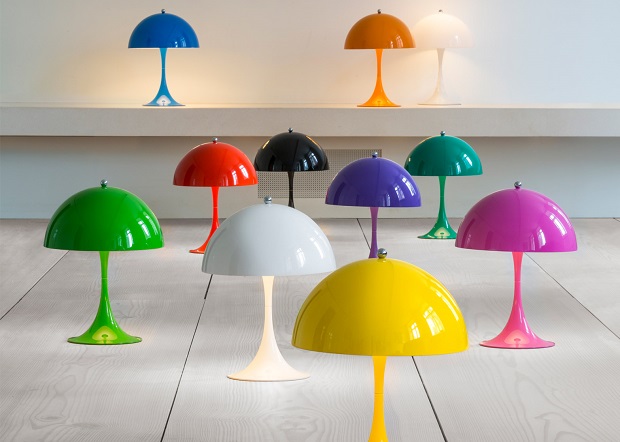 The Mini Panthella Table is a new smaller version of the iconic Panthella Table designed by Verner Panton in 1971. The new design has a diameter of 25cm, scaled down from the standard 40cm size.
Verner Panton (1926-1998) is famous for his colourful personality and his unique sense for colour, shape, light function and space rd 40cm size.
The colours of the table lamp are taken from the last exhibition he was working on before his death in 1998: 'Lyset og Farven' ('Light and Colour') hosted at Trapholt Museum of Modern Art in Denmark. The exhibition was eight rooms each with different colours where the furniture, light fittings and fabrics were all designed in the same shade.
The Mini Panthella Table features a painted metal shade and is available in eight eye-catching colours; Yellow, Orange, Violet, Red, Pink, Blue, two shades of Green as well as White, Opal Acrylic and Black. The Mini Panthella Table features three light intensities and the latest integrated LED technology. The metal shade directs the light directly downwards and creates a soft and comfortable illumination reflecting off the trumpet shaped stem.
NJP Wall & Floor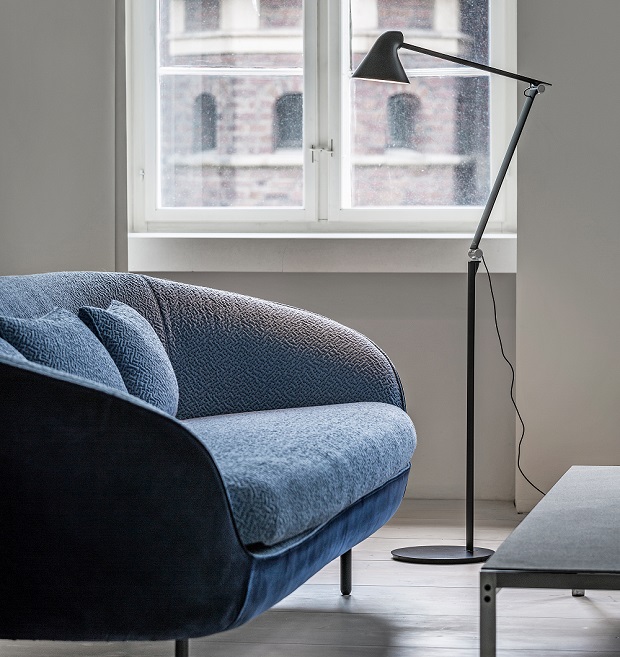 The NJP Table Lamp from Louis Poulsen quickly became a success when it was launched last year. This year they have followed in its success and added a new floor and two wall-mounted versions.
The NJP family is designed by Oki Sato and features two light intensities: one for directed work lighting and one for dimmed, ambient lighting suited for a lounge or bedroom.
The lamps are fitted with an LED light source which is positioned high as to avoid a dazzling light and should you forget to switch the light off, it switches off itself saving both money and energy.
The NJP collection was designed with the principle of keeping things simple and to resemble the classic Anglepoise lamp, yet boast new functions intended to make it easily adjustable for work or relaxation.
Rasmus Markholt, Design Manager at Louis Poulsen said "The world is changing every day, as is the way we lay out our assignments and our workstations today. This weighed heavily in the design of the lamp. I would say that we have succeeded spectacularly in creating a modern version of the anglepoise lamp thanks to Oki Sato's minimalist, elegant design, combined with the technological finesses and functions of the lamp itself,".
VL38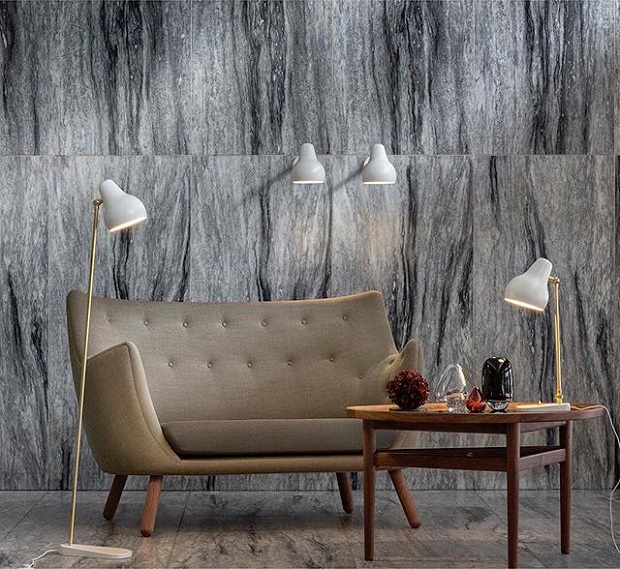 Louis Poulsen has re-launched the lamp which was originally designed for the Radiohuset building in Copenghagen. The new series of lamps under the name of VL38 features a table, wall and floor version. The VL38 family features a lamp head which is organically shaped and painted white with the arms of the light fittings made of brass, and fitted with an LED light source.
Rasmus Markholt, Design Manager at Louis Poulsen says "From the perspective of design, the VL38 family is related to the chandeliers Vilhelm Lauritzen created for Radiohuset. It is an extremely simple, function and elegant series of lights, and the combination of white and brass is both beautiful and timeless. The shape of the lamp head directs the light downwards, so it always provides pleasant, non-dazzling illumination. All the lamp models are typical examples of Vilhelm Lauritzen's approach to a modern and functional design idiom that also distinguishes his architecture".
Demand for the original lamp proves that Vilhelm Lauritzen's lamps never go out of fashion.
VL45
Louis Poulsen is re-launching another original design, the Radiohus Pendant from the 1940's. Again this light was originally designed for the Radiohuset building in Copenhagen. The Original Pendant was Louis Poulsen's best-selling lamp when it was first launched 80 years ago and has become a cherished design, one which is still in great demand. The lamp has been renamed the VL45 Radiohus Pendant and will be available with two different diameters; 25cm and 37cm. The VL45 Pendant consists of three layers of mouth-blown glass and accommodates modern advances in light technology, accommodating an LED light source.
"The historical ties between the Radiohus Pendant and the building for which it was created are clearly reflected in the design and the light-technology properties of the light itself. It was originally used for general illumination in many parts of the Radiohuset building. And with its powerful downwards light combined with gentler illumination via the opal glass – which generate softer tones in the room – it is simply ideal for illuminating both everyday objects and more decorative items" says Rasmus Markholt, Design Manager at Louis Poulsen.
Patera 45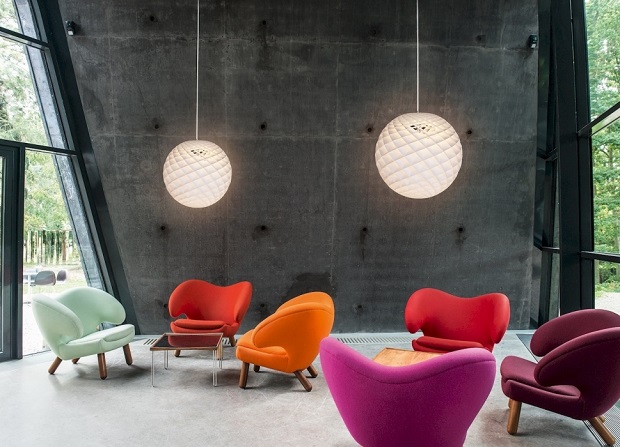 The Patera 45 Pendant is a new smaller version of the original design, a creative result of the relationship between Louis poulsen and Øivind Slaatto. The Original pendant was launched last year and became an instant success with is organic shape and beautiful structure. The Patera Pendant is now available in its standard 60cm size as well as the new smaller 45cm version which are both available in E27 and LED versions.
No matter what angle you view the patera, it is a attractive, decorative globe of light which streams out gently in all directions. Design Manager at Louis Poulsen, Rasmus Markholt highlights the ease of placing the light as one of the reasons to it popularity.
"At first glance, it appears to be nothing but a white, perforated ball, but closer inspection reveals its detailed design, which features a host of circles, angles and holes. Øivind Slaatto has created a pattern that is exciting and enchanting to look at, because it is mathematical, natural and poetic all at once," adds Rasmus Markholt.
It is intended to serve as a modern chandelier, a lamp that ties the space together making the room more welcoming and accommodating.
To view the whole Louis Poulsen range click here!
Visit us on our social sites to keep up to date on new products and what's on trend! You can find us on Facebook, Twitter, Instagram, Pinterest and now Polyvore!