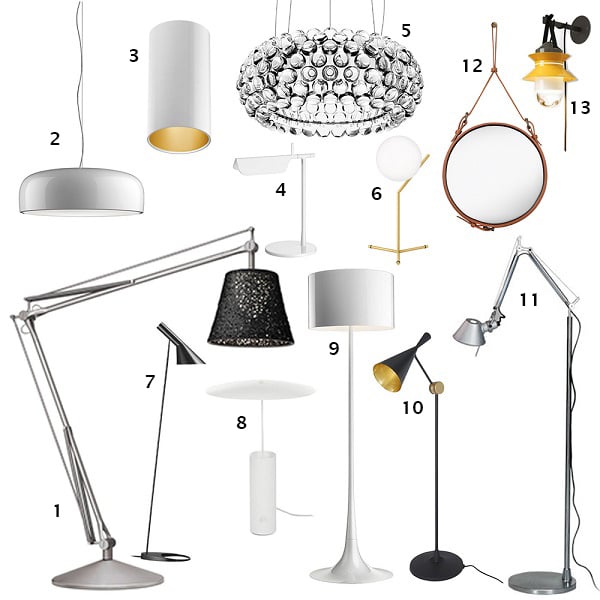 In case you missed the latest issue of Elle Magazine, here's a collection of our items featured for the spring trend! The over all theme and feel to the May issue was spring, suggested by its articles there is a light, fresh and airy feel to interiors by bringing the outdoors inside for the improving weather. This included a lighter and paler tone of lighting and accessories as well as more natural elements such as wood, there was also that hint of metallic details for interest. The darker lighting features were of a more minimal and subtle design, which means that these items do not stand out or distract within a space. Have a browse at what's on trend:
1. Flos Superarchimoon Outdoor Floor Lamp
2. Flos Smithfield Suspension Light 3. Flos Kap Surface Light
4. Flos Tab Table Lamp 5. Foscarini Caboche Media Suspension in Crystal
6. Flos IC 1 High Table Lamp in Brass 7. Louis Poulsen AJ Floor Lamp
8. Innermost Parasol Table Lamp 9. Flos Spun Floor Lamp
10. Tom Dixon Beat Floor Lamp 11. Artemide Tolomeo Micro Terra Floor Lamp
12. Gubi Adnet Circulaire Mirror Large 13. Marset Santorini Wall Lamp in Mustard
Visit us on our social sites to keep up to date on new products and what's on trend! You can find us on Facebook, Twitter, Instagram, Pinterest and now Polyvore!